Ceremony Date & Time
The ceremony starts at 4:30pm (or as Mark would say, 16:30) on Saturday, June 15, 2019, followed by cocktail hour and dinner.
Location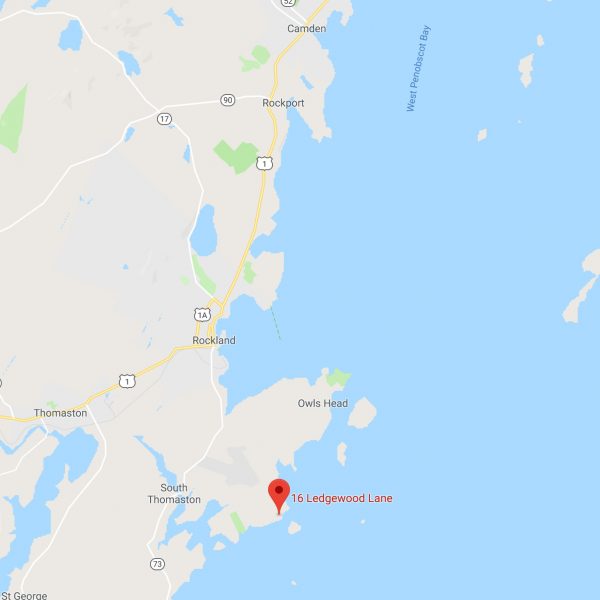 The ceremony, drinks, and dinner all happens at the lovely home of our friends Ruth and Ed Kenney:
16 Ledgewood Lane
Owls Head, Maine, 04854
Here is a Google Map. Just so you know, the place Google thinks is number 16 isn't exactly accurate. We're at the house at the end of the cul-de-sac.
Parking
We're still working this out, so check this space closer to the date for more info. (Short version: it'll be fine don't worry.)
Weather
Today's weather (should just link to whatever today is)
10-day forecast: note, for the wedding day this has gone from clear to raining to "morning rain" to partly cloudy and only 10% chance of rain as I have checked it over the past week. Moral of the story: we'll know what the weather is like when it happens.
Food & Drink
Everything about our ceremony is pretty low-key and informal (but hopefully amazing). Cocktails, beers, snacks, and dinner are being catered by a well-loved Rockland restaurant. Everything will be semi-self-serve, and there will be a variety of dishes including vegetarian options (not vegan, though, and not sure about gluten-free).
The Drunk Monk
Tito's Vodka
Benedictine
Mint
Lemon juice
Prosecco
The bar will be serving our favorite cocktail, the Drunk Monk, as well as other festive adult beverages. We'll have some delicious Maine beers as well as what the caterer calls "American Classic Beers". And pop/soda, etc.
Other stuff
Guests
Here are the folks who have RSVPed. We're not putting email addresses on here, but if there are people you'd like to be in touch with or coordinate anything, let us know and we can share info.
This list isn't in any particular order – just however they were sorted in one of my innumerable spreadsheets – so don't read anything into that.  :-D I did try to group them by relevant parts of our lives (Kari's relatives, my relative (singular…hmm), Cornell days, grad school, Maine-ahs, etc).
Scott McNeilly
Kristi Wilson
Dersk
Rich Hovorka
Scott Southard
Matt & Sherri
Ruth & Gerhard
John & Mercy
Jonathan Adams
Shane, Heather, Austin
Tablewine & Jen
Ersk & Amy
Bob Pieri
Emma Bouthillette
Dawn & Jerry (mother and father of the bride!)
Greg Wehrs
Kiara & Makayla
Sarah & Ryan
Dave & LuAnn
Paul & Deb
Stacy & Nolan (Cora and Emmitt)
Kia & Phil & Kids
Barb & Eric
Leslie & Gordon
Loren
Vernagaye
Kari & Mark (duh)
Mary Ann & Hubby
Ed & Ruth
Skip & Judy
Brenton & Deanna
Cindy & Fred
Elizabeth & Howard
Gifts
We know we are asking most of our guests to travel a long way to be with us for our wedding, and that is more than enough of a gift. We're not registered anywhere, and we don't really need more stuff (especially once Mark empties out two storage units in Ohio).
We are so happy that you will be celebrating with us, and that's all we need!
(If this is not acceptable to you, our next best idea is to contribute to a honeymoon fund.)
Attire
Everything is taking place outside, although we will have a tent in case it rains. It's Maine, in June, and on the coast, so in terms of clothing, be prepared for anything from a brilliant warm summer evening to a breezy cool summer evening to a torrential (but still beautiful) Maine summer evening.
Other events
April 23: We have not been able to figure out anything else, yet, such as rehearsal dinners or other festivities. We want to hang out with everyone as much as possible in the days around the wedding, but we just haven't figured it all out yet.
Hotels, Airbnb, etc
Since we've always just lived there, we don't have much direct experience with hotels and such. It's a vacation destination, and there are a ton of options, although relatively few of the big chains.
Town names you might run across that should be viable, from a distance standpoint, include but are not at all limited to Owls Head, Rockland, Rockport, Camden, and Thomaston. Just keep in mind that travel is a little slower up there than you may be accustomed to, especially in the summer anywhere along the coast (Route 1).
Restaurants & Bars
Caveat: we haven't lived there for 4 years, so not sure what's still around. I banged this list out in a hurry before work one morning, so it is extremely incomplete – just a few things as a placeholder until I think of more:
Breakfast: Mariner's, Camden
Townie bar: Cuzzy's, Camden. Get a PBR with a slice of lime for $2.50. And some "Cuzzy's fries".
Fancy bar: 40 Paper, Camden. Good happy hour specials, tons of eccentric eclectic locals. And Bob!
Amazing pan-Asian food: Long Grain. Just don't expect to walk in and sit without a reservation. Either make one, wait a couple hours, or get it to go. But get it some way or another, it's amazing.
Take out a second mortgage dinner: Primo, Rockland. I've never eaten there, as I am a starving artist. Kari has had the privilege a couple of times.
MANY other great restaurants, but I'm out of time for now. Will try to add more later.
Other activities
We might try to organize other stuff, either all together or in groups, not sure what. But if you're up there for a few days, there are a ton of things to do:
Boat rentals / cruises from Camden, among others.
Acadia National Park
Lots of nature. Just beware of ticks – use insect repellent, tuck pant legs in, and definitely inspect your bods after any off-pavement activity!
Definitely something for transportation nerds, the Owls Head Transportation Museum.
Liberty Tool in the …town(?) crossroads(?) of Liberty, Maine, is an awesome…complex of used stuff: tools, antiques, books, junk, mystery. But double check – I heard a rumour about it closing or something. And it's in the middle of nowhere, so you might want to check before heading out there.
Monhegan Island: beautiful hikes through fairy forests, cliffs, and tons of artists doing their art thing. You have to take a ferry to get there (or…swim). It feels like an all day thing.
Center for Maine Contemporary Art, in Rockland
The Farnsworth Museum – pretty awesome stuff.
Lighthouses, like the "Forrest Gump" one. I'll try to post more info here, but you can also Google as well as I can.  :-D   Marshall Point Lighthouse, Pemaquid Point Lighthouse, Cape Elizabeth Lighthouse