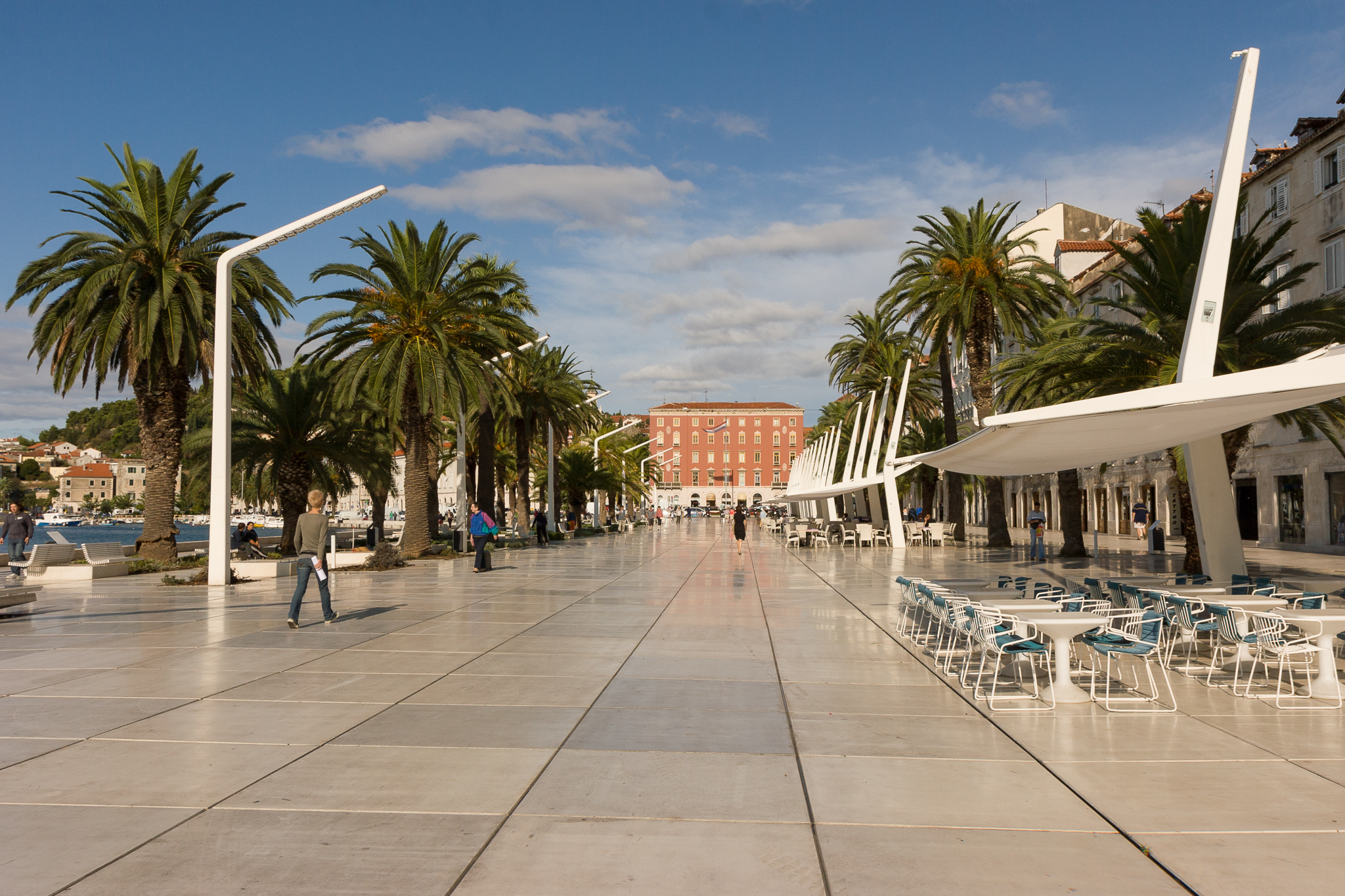 [Split bus station] Got to Split no problem. Got to laundrette, no Julie (the woman who had been arranging my cruise for me). Woman who was there was very friendly. Said nice new public showers were on the other side of the old town, so I left my backpack and went for a shower. No shower. Nice new public restrooms, but unless I wanted a sponge bath in the toilet, no bathing facilities.
Got topfenstruedel (cheese strudel) and good coffee, which made me feel a bit better. Found a bookstore, got a guidebook for Bosnia and Herzegovina (BiH from here on out) (€22!), got cash, found Julie. She hadn't been to BiH, so didn't really have much info for me, but had a nice fruit smoothie and a chat. Unfortunately her employee back at the laundrette charged me for storing my luggage – she was going to charge me the full day's amount (10 kuna, about €1.50) but generously said "oh just give me 5". Good, since I only was storing my stuff to walk clear across town to get a shower which didn't exist and then to wait on Julie (as a paying client).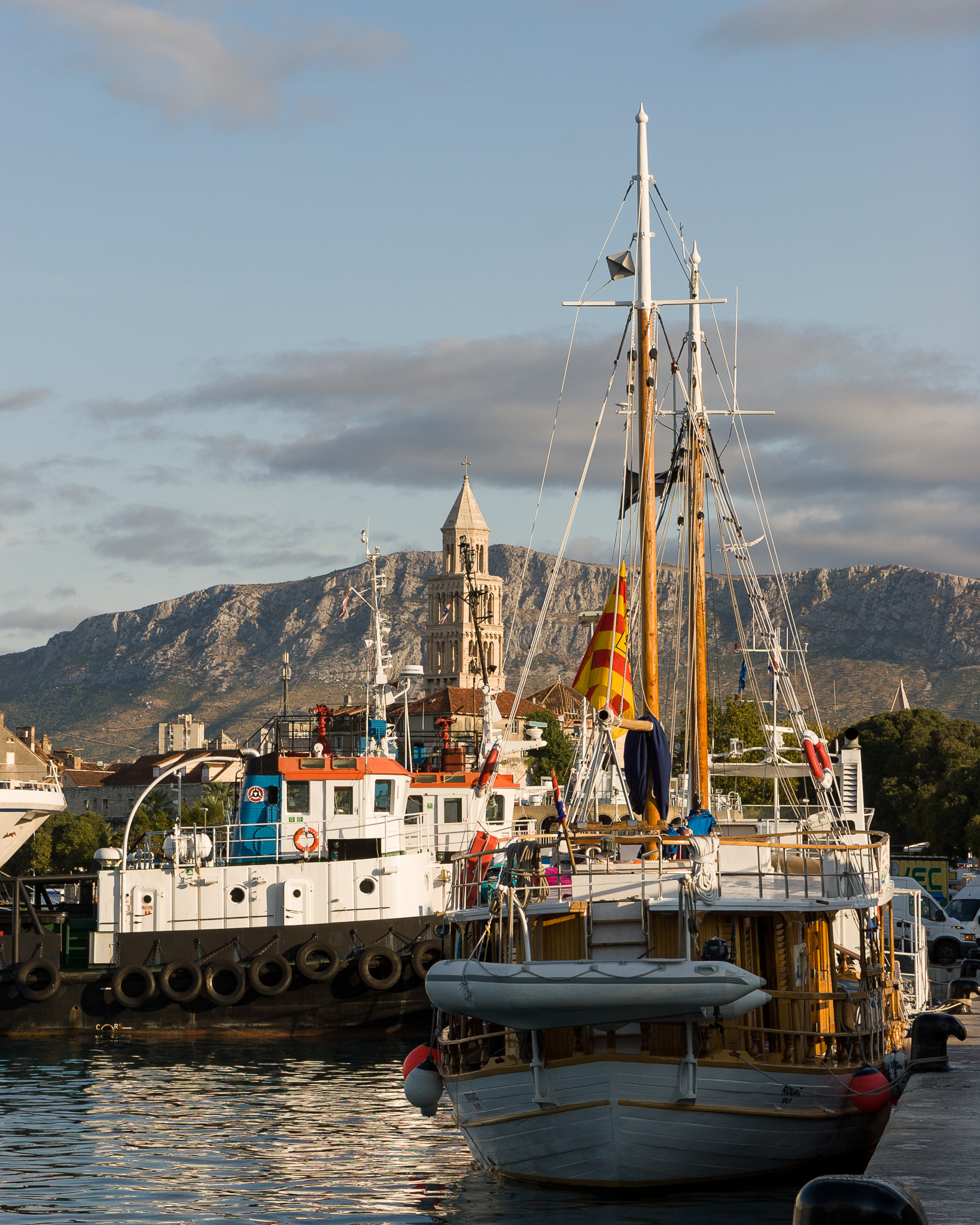 Otherwise, Split seems beautiful! Very nice waterfront and old town (what little I saw as I was running my errands). It's a wonderful morning – chilly, by their standards, but perfect for me – sun, blue skies, breeze. Wish I could enjoy, but my bus for Mostar "leaves"… 20 minutes ago.
[Later] Despite the bus been 3/4 empty it was forbidden to take my pack on board, so I had to pay another 15 kuna for baggage. At least I won't show up in Mostar without local currency: the bus driver gave me KM 1 (BiH money) as change (and slightly ripped me off in the process).
Seeing a lot of German/Austrian influence – Billa grocery stores, Gõsser beer, etc.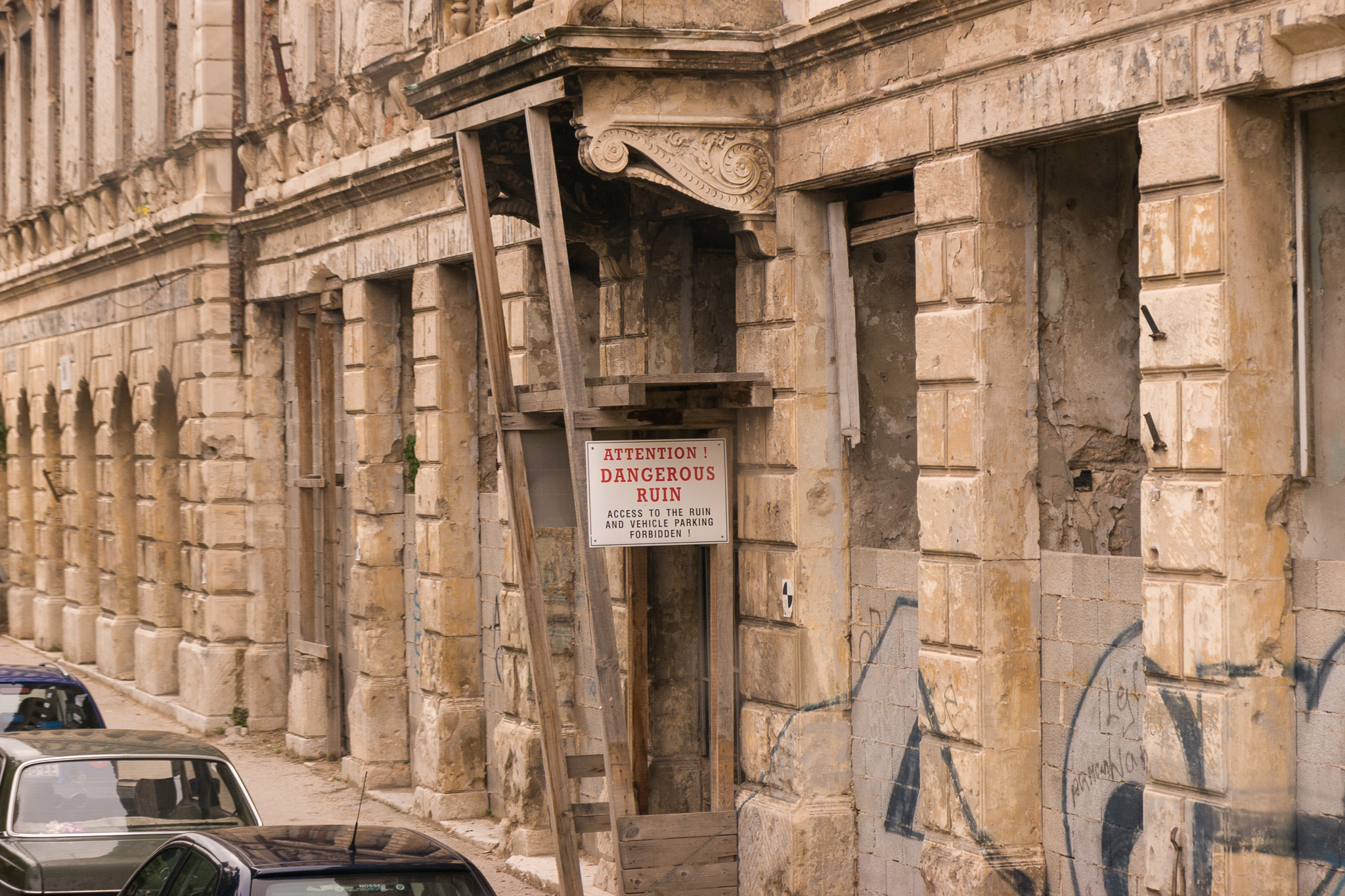 [Croatian-BiH border] We're back in the lands where they stamp passports! Most of western Europe doesn't bother with it since the Schengen Treaty, so aside from paying €5 for a stamp in San Marino (no thanks) Croatia is the first new place I got stamped in a while.
14:09: No man's land. The bus ride from Split was amazing. Beautiful country. The bus itself is fine, too – modern, comfy, no smoking. Been on the road 3 hours just getting to the border… I thought the entire ride to Mostar was only 3 hours?
14:12: Bummer, no stamp for BiH.
14:23: First mosque sighting since that one back in Brussels.
14:38: Spoke too soon about the nice bus. We just had to suddenly (for us ignorant foreigners at least) change buses, and this one is a musty beat up piece of junk. Filthy, cigarette ash everywhere, greasy.
First impression of BiG is that it is much poorer than Croatia, at least the Dalmatian coast bits I had briefly seen. This looks more like a post-Soviet eastern European country, but of course all of this is based on about 1/2 hour and one border-area village and bus stop.
This bus is foul. The headrests covers…ew. I thought the whole point was that you could pull them off and wash them, say once a decade or so?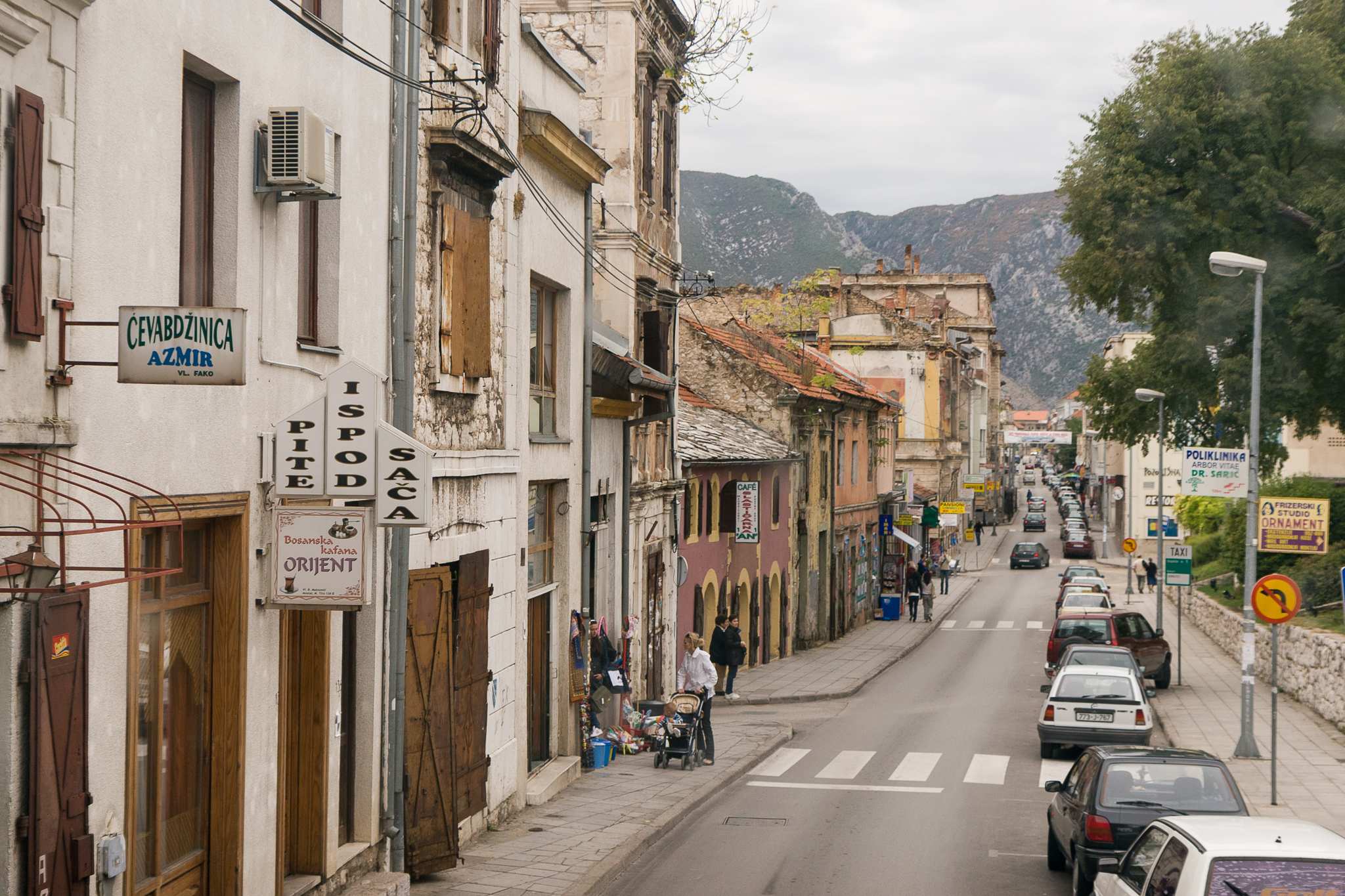 So I looked back to check on the baggage, and there is a taxi pulled in tight against the luggage bay, with all the doors and trunk open. Suspicious? I checked it out, but all I could see was some woman handing rope from the trunk to a guy in the cargo hold which he was then using to lash stuff down… I hope.
Boy I'm glad I didn't find the shower this morning. Silver lining: a) traveling, which is always dirty, and b) this bus is extra grimy. Shower and fresh clothes in Mostar! Unfortunately I'm down to my last pair of underwear.
18:46: Mostar has been a bit frustrating, but it's hard to be pissy because they give me a bottle of beer instead of draft, when you're surrounded by the devastation of the recent (?) war.
I'll get my bitching out of the way first, then go on to the nicer things about the city. First, I could not find the tourist agency the Bradt guide mentioned. Didn't feel like going with somebody hustling me from the bus stop… too early in the trip for that. I need to expand my comfort zone a bit more. Plus the woman who invited me to her home wouldn't show me where it was on the map, so no thanks.
Then a different tourist office would call only 2 places, and not the one I wanted. Clearly has agreements with some places and not with others. Anyhow, the second place promised to be in a good location, decent price (€16), and they said they would pay for the taxi ride there.
The place turned out to be fine, although the proprietress tried to get me for €20. I told her I'd been promised only 16 and she fell over herself to say that was fine (weird… should I have negotiated further?) Then when I got out 30 in bills and was fishing for the remaining 2 euro coin she said "this is fine, fine, don't worry".
Finally, I think my laptop is dead. I charged up the battery back in Ancona. Maybe I left it on and it drained… or overheated and fried? I don't think so though, I had double checked. And when I plugged it in at the pension the light on the power supply goes out. Weird.
Oh, and when I went to get cash the first machine wouldn't accept my card. Mild panic, but the second bank was ok.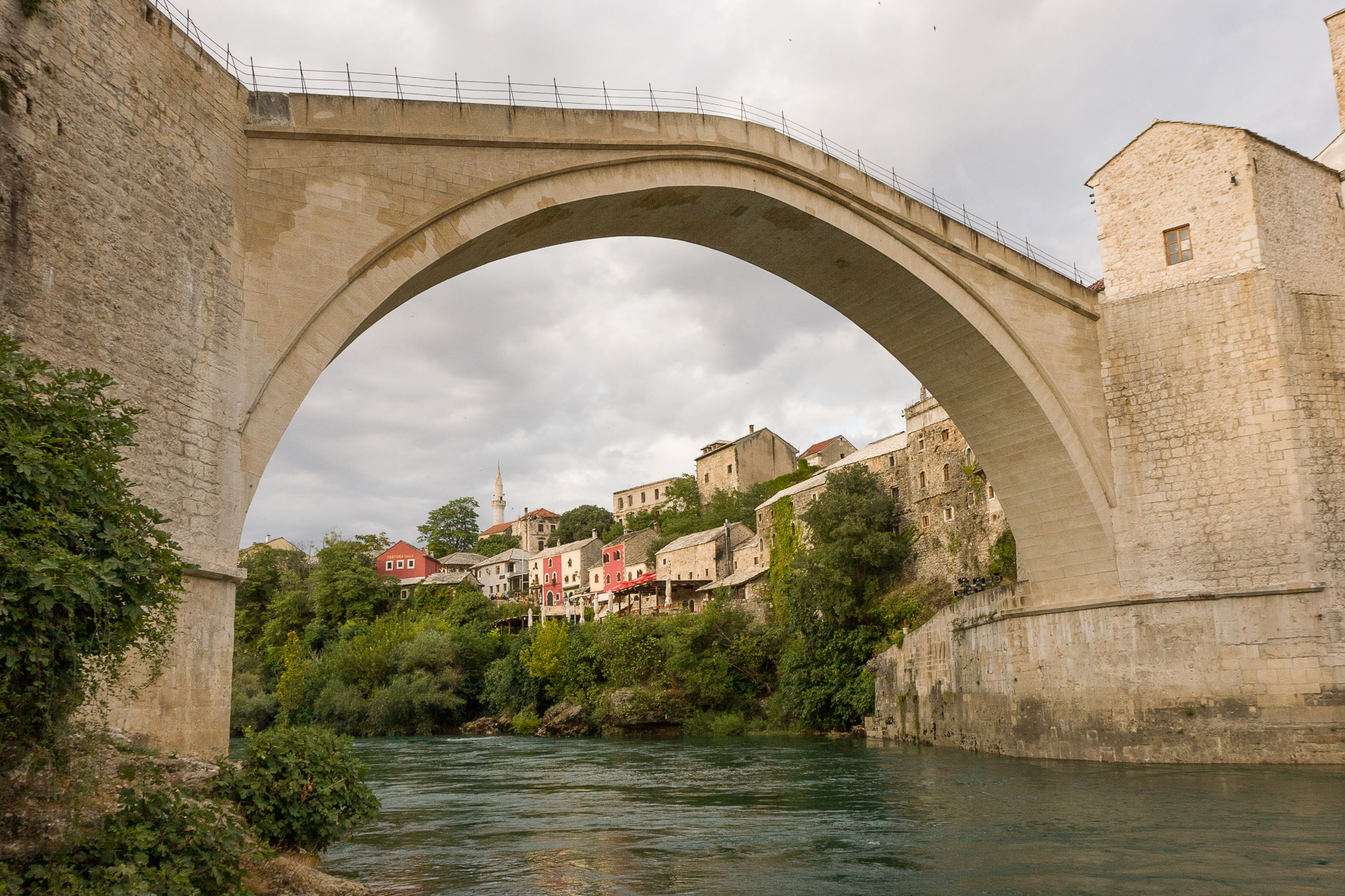 Nope, still not done: after getting cash I sat down on a curb to read the guidebook and think about what next. A cop in a portable booth (with one-way mirrored windows, so it looked unmanned, hence I didn't even notice it) opened a door and wagged a finger at me like I was a bad puppy. He could have just politely pointed out that I'd happened to pick the curb outside the Turkish consulate. Whatever.
I wanted to sit outside for dinner, but either the restaurant either didn't want me or didn't understand, so I got shunted up to a small hot smoky room upstairs, where I was generally ignored or treated as a burden. Had to order my wine twice, and sat with empty dirty plates for most of my meal.
I'd slept badly on the floor of the ferry (inside, though, at least) and I hadn't had anything to eat since my 08:30 strudel, so maybe I'm just being cranky, but still. I'm forking out money for every little thing, getting yelled at for sitting on the curb, hustled into hostels, ignored at the restaurant, and my laptop is busted.
Dessert time: only interesting thing on the menu is "palačinke" which, damn, brings back memories. I haven't had that, or even heard the word, since I was living in Austria.
Grr… just took the little napkin off the neck of the wine bottle (they tried to tart up my little single-serving bottle) only to discover: it's Croatian. I was trying to have local wine, and they give me this (after ordering twice).
If the waiter evern deigns to glance my way again I will try to salvage things with palačinke, kafa, and loza, which is apparently the local version of grappa, and supposedly homemade. [Later] I recognize loza as kin to grappa, but I prefer the Italian version. Still tasty though.