I used my recent trip to Great Sand Dunes National Park as an excuse to further explore the Four Corners region of northwestern New Mexico, northeastern Arizona, and southeast Utah, and make some tintypes along the way. The trip totaled around 2200 miles, and as per my new obsession with camping for free, I found some sweet spots in our National Forests and BLM public lands. It was a very good and productive excursion, hopefully a model for what I hope to be many more such expeditions.
I headed out of town on US 60, driving northeast through Globe and Show Low then on into New Mexico. I'd been along this road before…in the pitch black of night. I could tell from the switchbacks and cliffs looming in my headlights that it must be an interesting route, so I was glad to see it this time in daylight.
The first couple of days were uneventful – I tried to drive up Mt. Taylor, one of the four mountains that defined the traditional borders of the Navajo people, but my low-slung Ford Focus didn't like the "road", so I retreated to a spot about 9500ft up the mountain and made camp.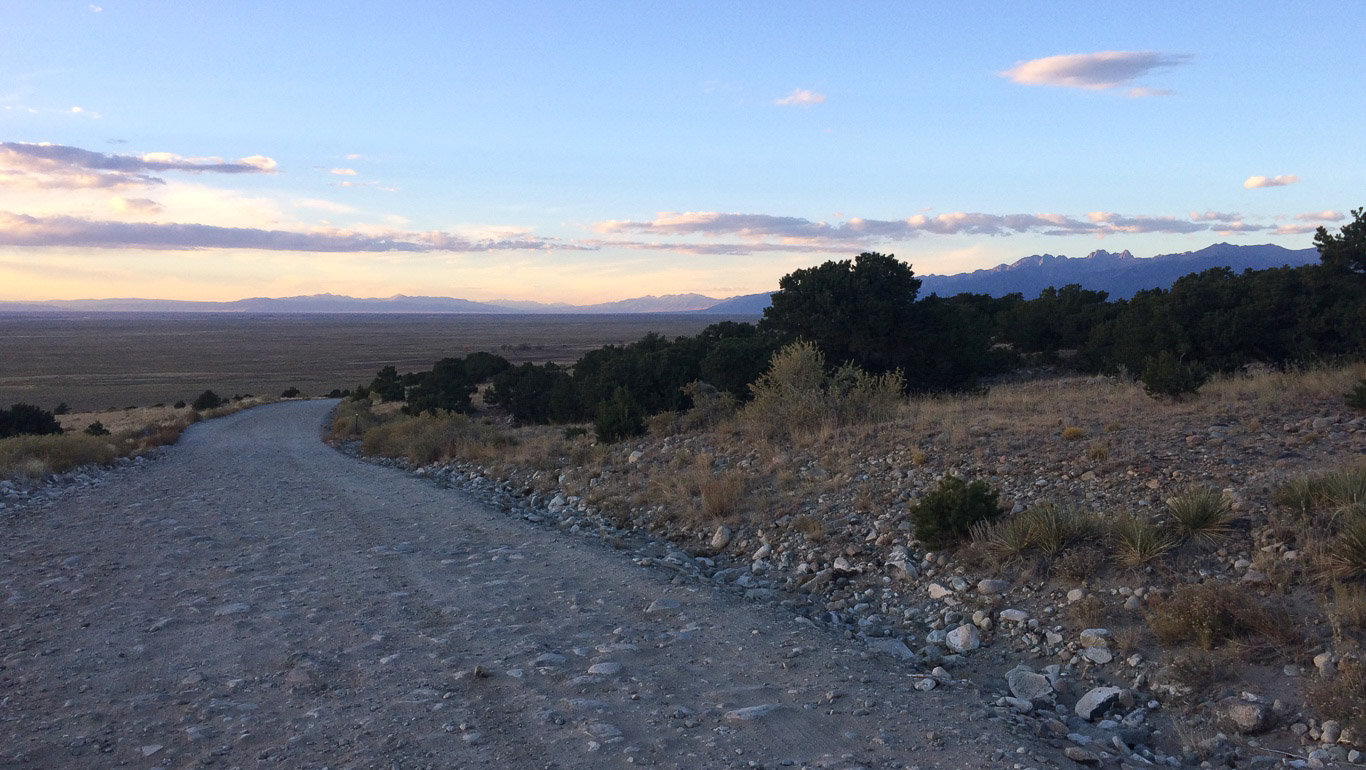 The next day I made it to the Sand Dunes area and camped in my old spot at Zapata Falls, a BLM campsite just outside the Park. (It had been nearly a year since I drove up there, and the road was pretty rough. I asked a ranger later how often they grade the road, thinking it must be due after a couple of years. She said it's so bad they grade it every couple of months.)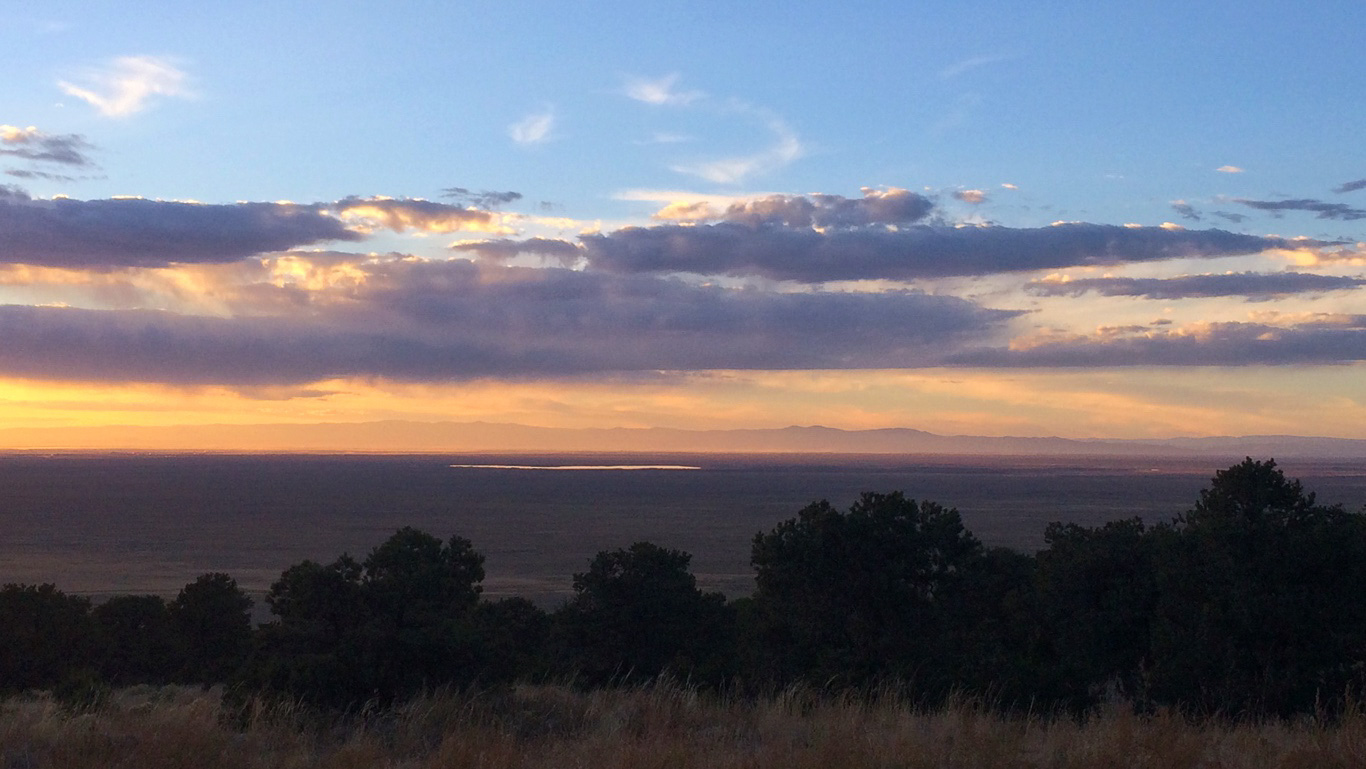 I wanted to get to the park a day early to meet with the staff and scout out locations for both the demonstration day and the tintype workshop. It was also my birthday, so I documented the morning with a selfie.
I wrote a whole separate post about that amazing weekend, so I'll kinda skip over that portion of the road trip in this post.
After the workshop was done and I had everything cleaned up and stowed away I walked over to the dunes to say goodbye for this trip.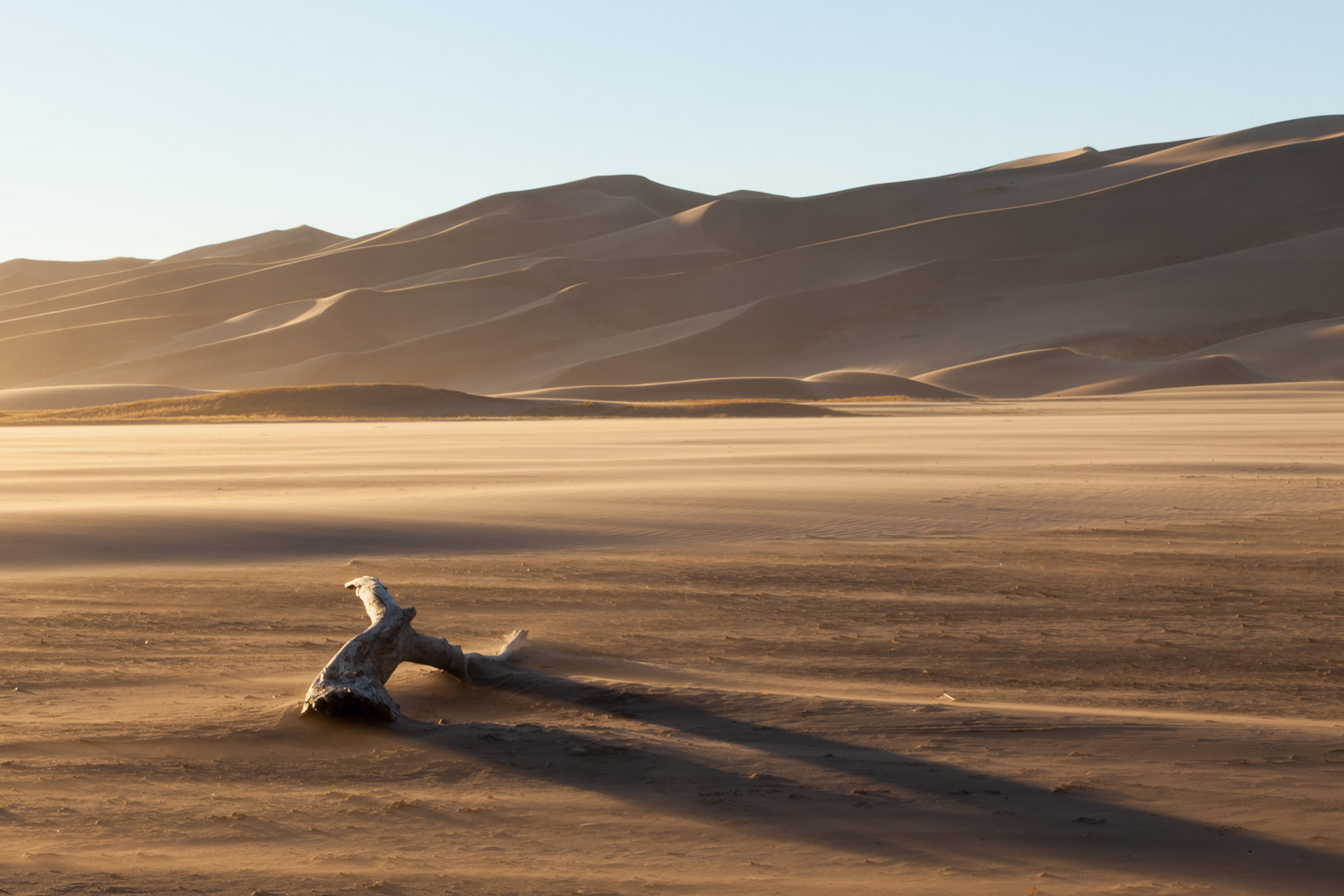 It was very windy, and I had fun making slow-motion videos of the sand whipping across the driftwood and dunes and into the joints of my tripod and the lenses of my cameras.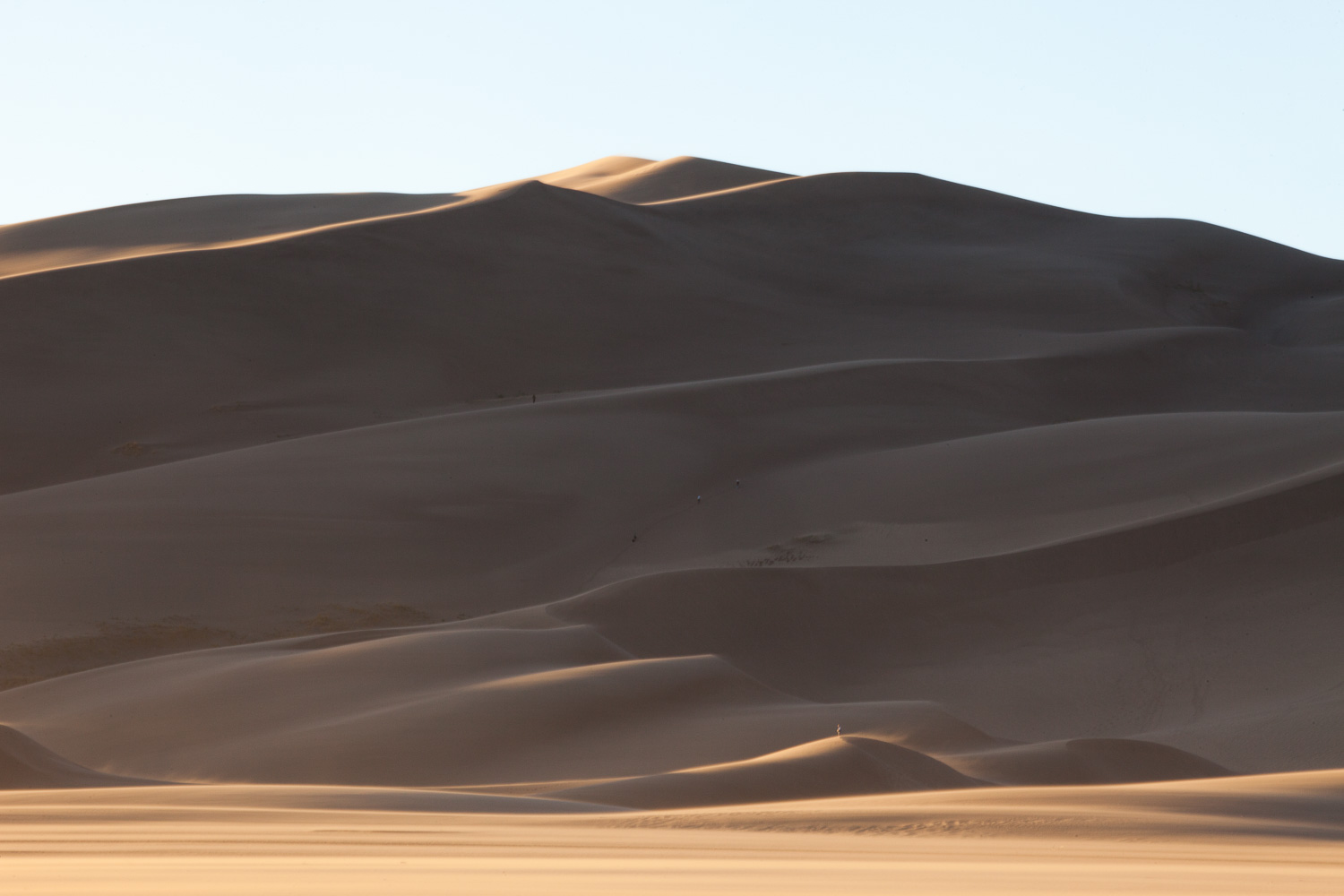 From the Sand Dunes I made my way towards Shiprock, New Mexico, and found a campsite on BLM land near the town of Waterflow, NM.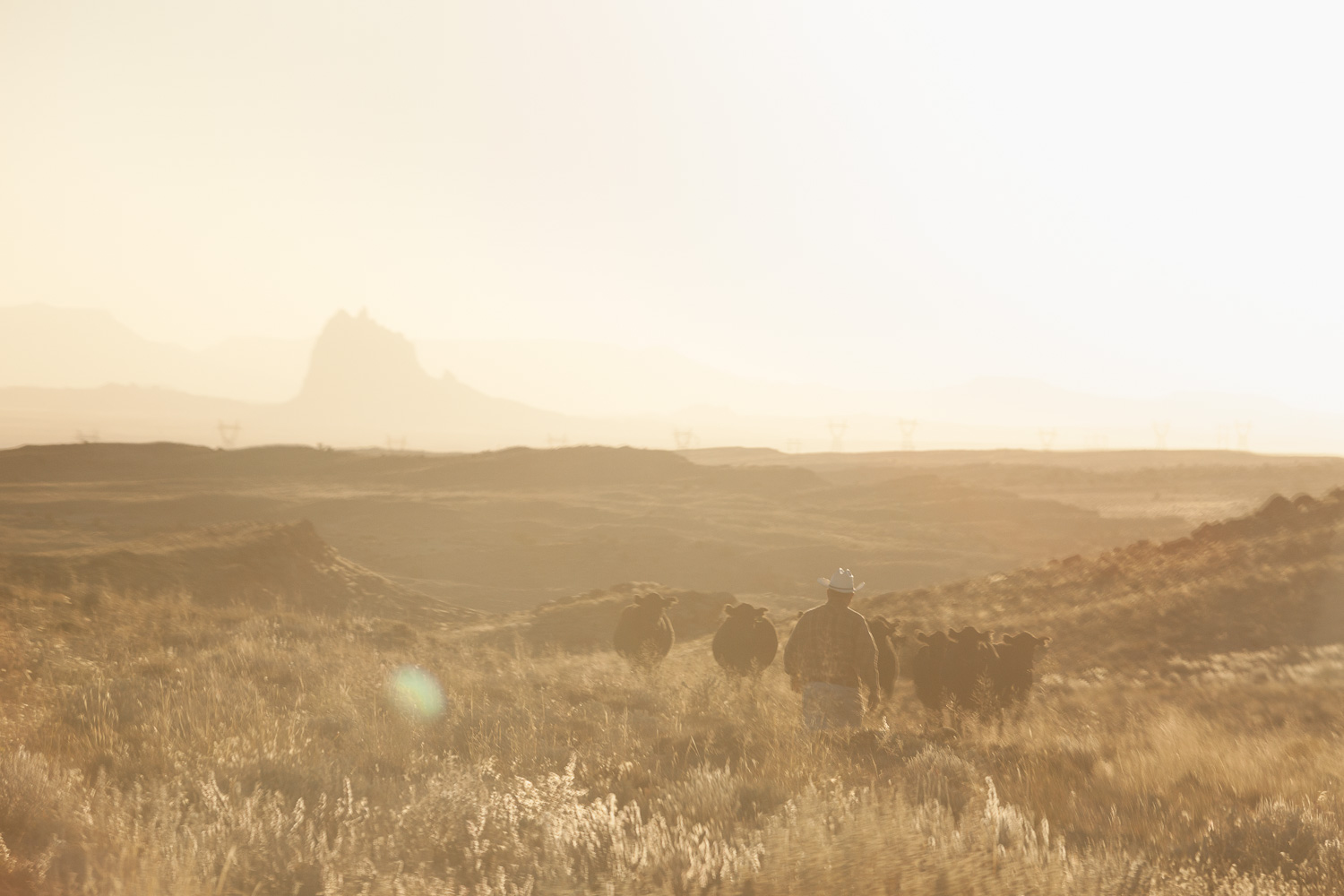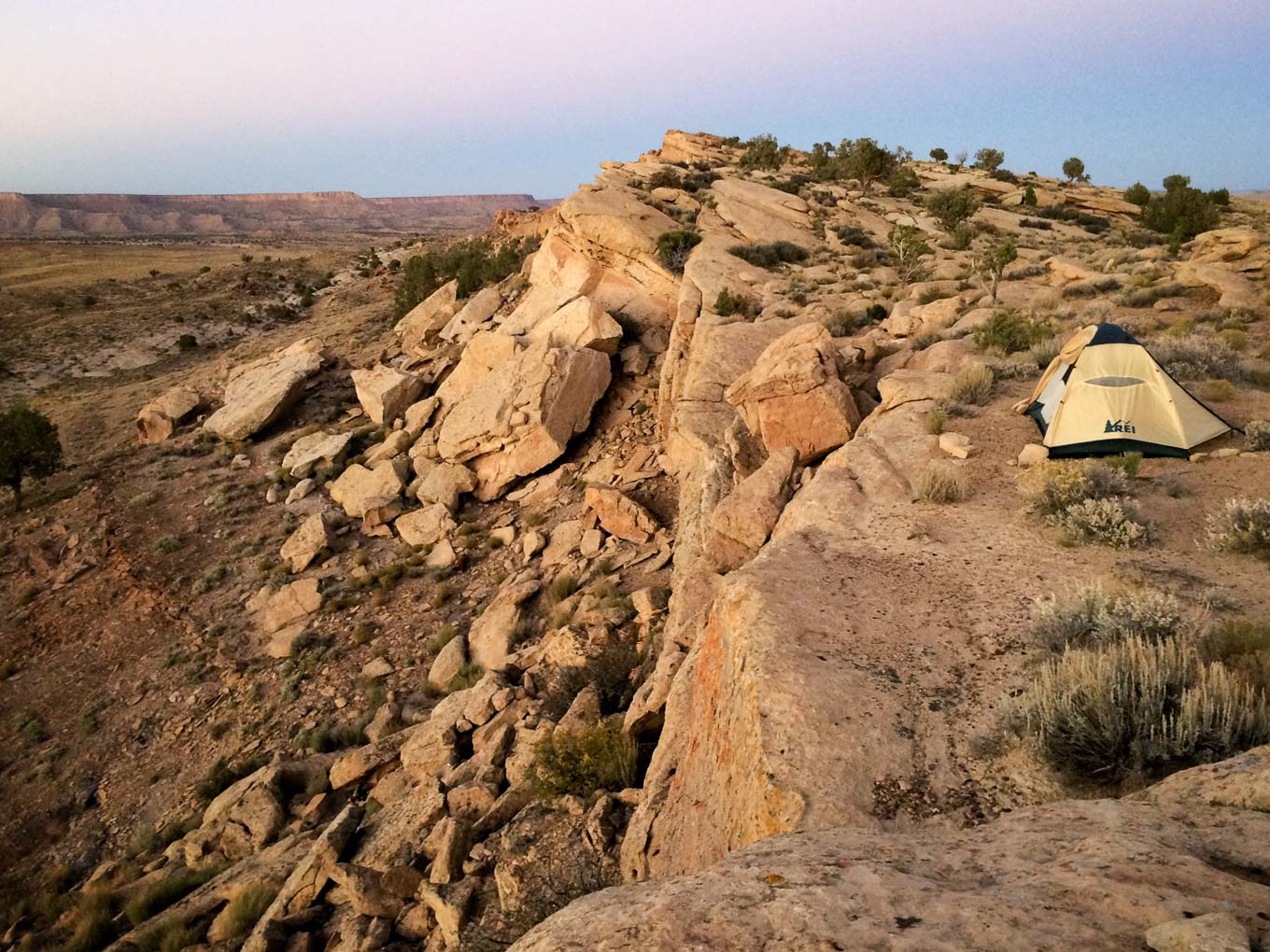 The next morning I got down to business and drove around Ship Rock scouting a location. I drove most of the public roads on the south, east, and north sides, and settled on a spot near the volcanic ridge that leads to the rock from the south.
I made a few tintypes in what was left of the softer morning light, then decided to use the nice calm pleasant day to relax, do some chemical maintenance, and chat with the curious people who stopped by.
I also made a selfie, naturally.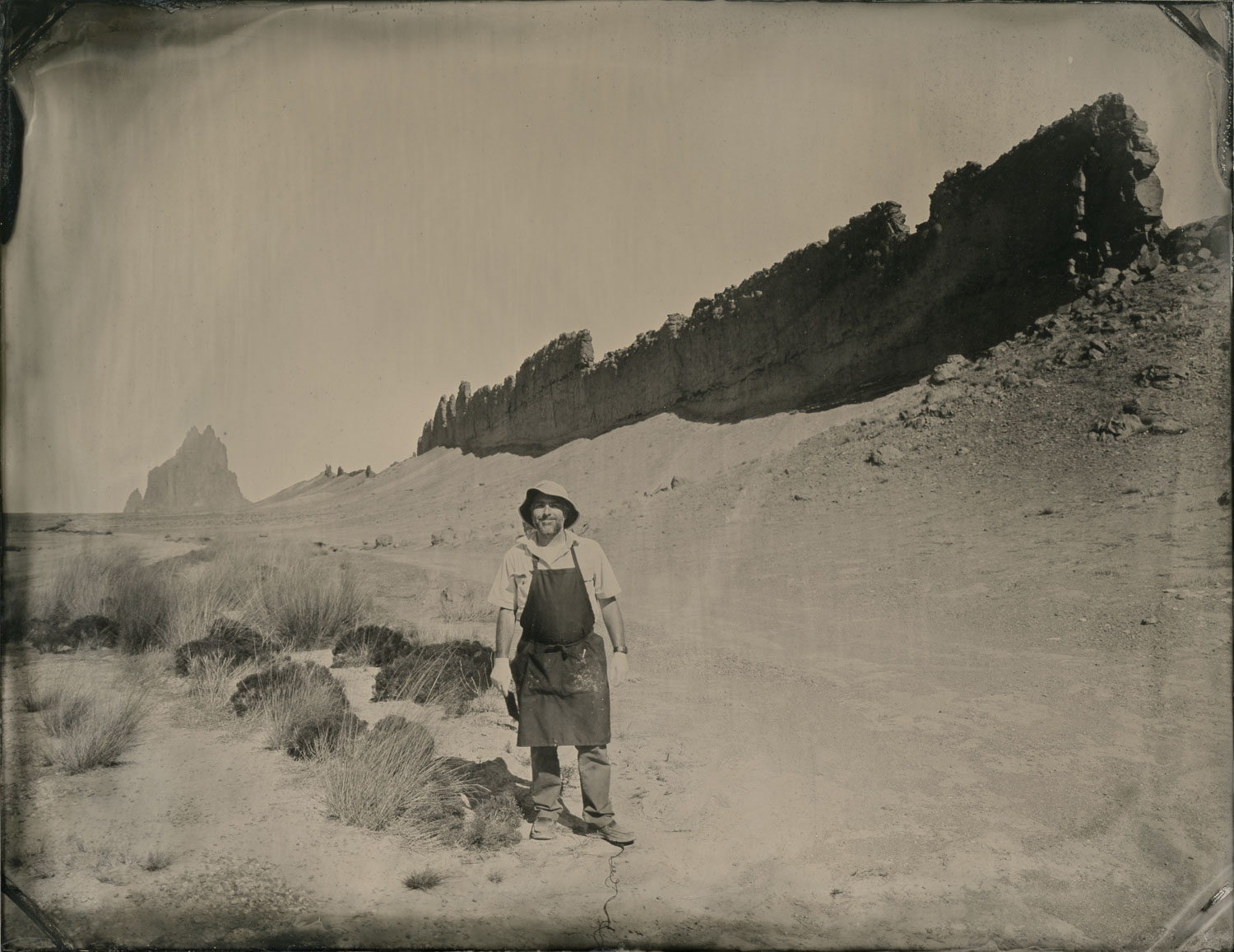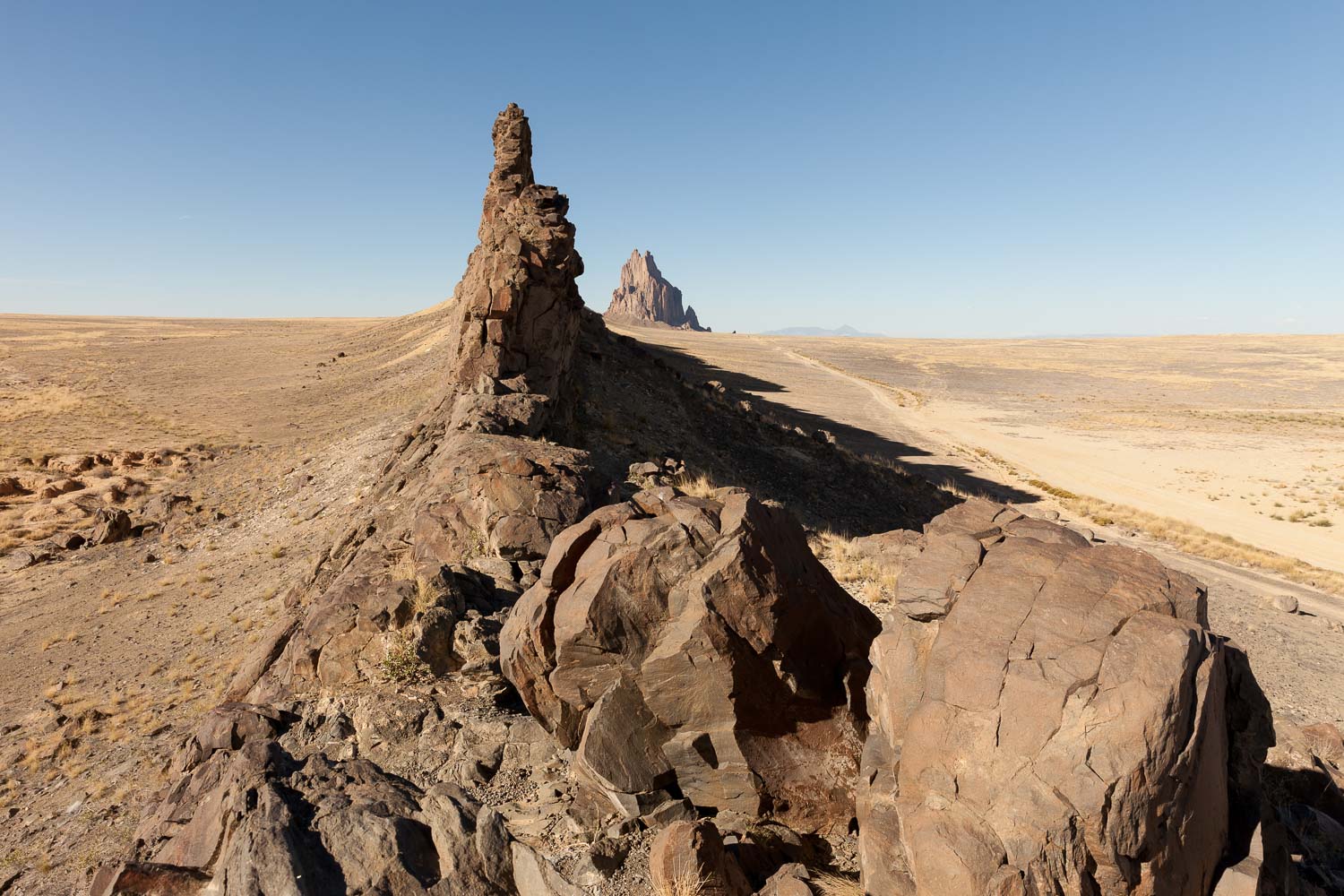 The temperatures were generally pretty cool, especially at night when it would get into the low 40s or upper 30s, so I would sometimes put my jug of rinse water and other chemistry out in the sun to warm up. Most of the time I would remember that. Most of the time. Went to develop one tintype, though, and realized that all of my water was out soaking up the sun. In a mild panic I dunked the tin in the nasty runoff tray to stop the development – it worked!
At some point I also dropped a freshly-collodioned tin in the sand and dust, but unlike buttered toast, it landed collodion side up. I cleaned off the back as best I could and ran it – got an image there, too!
So…this had been a wonderful day. Calm, clear skies, fun and friendly people stopping by, very restful. I spent the early afternoon cleaning my supplies, exploring the rocks, and just sitting in a chair relaxing, waiting on the sun to dip a little lower. Around 4pm I started to make some more tintypes, but I didn't get very far before a sudden gust of wind came out of nowhere and caused a few minutes of panic as I tried to hold the darkroom tent down with one hand and close up chemical bottles with the other.
Fortunately I didn't loose any chemistry, nor did I damage the tent. Everything (and I mean everything) was covered in a layer of sand – it even got inside closed plastic tubs – blew in the little holes around the handle hinges. I was able to rinse the tins off, and they all survived except for one that blew over and landed face down. A couple of hours in the hotel bathroom (sorry about the washcloth…) and my gear was actually cleaner than before the wind.
I learned an important lesson: tying the tent by three points – to the same object – doesn't do much good. The wind pushed the tent closer to the fence, thereby making all three lines go slack, at which point they were useless. The scary part is, it really wasn't that much wind – just a breeze, really – but it was enough to turn the tent into a kite, and kick up a lot of dust…in the wind.
From Ship Rock I drove into Arizona, over the Chuskas, and into the northeast corner of Navajo land. I scouted out a few locations for a future excursion before camping for the night on BLM land in the Valley of the Gods, near Mexican Hat, Utah. (My tent is in that picture, somewhere between the camera and the tall pinnacle. Nice spot!)
Got up before dawn to set up my gear – with the tent secured this time on two opposite sides, along with stakes at all four corners. Still not ideal, but the wind was very calm and I was paying more attention this time. Everything went well! The only issue was people driving by too fast, creating a ton of dust, but it wasn't a big deal.
At one point some guy went flying through in his jeep, kicked up a cloud. When he came back through I stood in the road and motioned him to slow the heck down. He did, rolled down his window, and apologetically said "guess you don't want a lot of dust, eh?", and I said "yeah, thanks", and then noticed the BLM ranger patch on his sleeve and the government license plates on the jeep. Heh heh.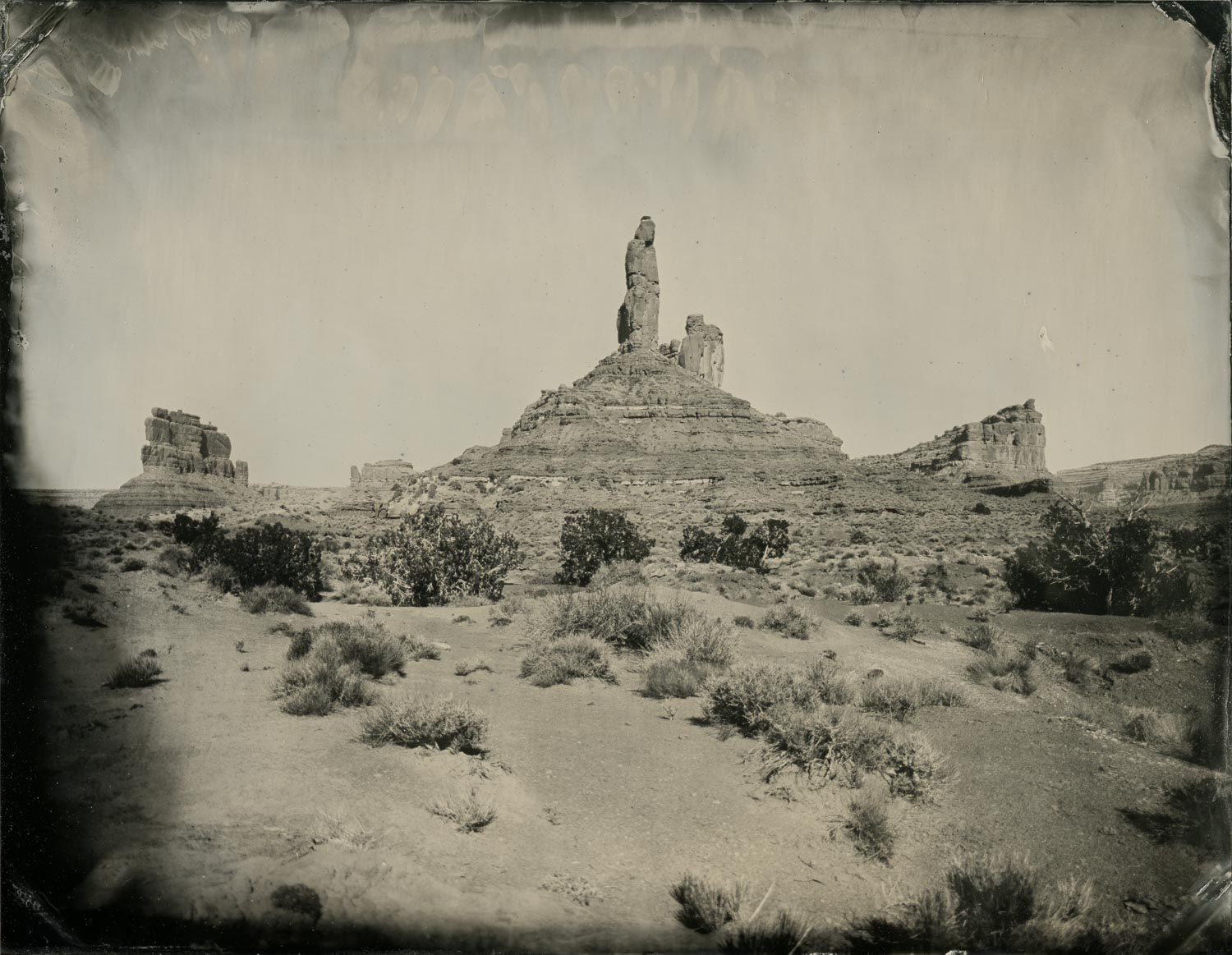 I planned to photograph two locations on this day, my last day of this road trip, so at 11am I packed up and made my way to Goosenecks State Park, stopping on the way at the lone gas station in Mexican Hat to refill water jugs and my stomach.
By the time I got to the park I had about 2.5 hours to set up camp and my tintype gear, make all the tins I was going to get, and clean up before dark. Fortunately my camp and darkroom was right on the edge of the canyon, and I cranked out 11 plates before I ran out of space to store them, the sun went down, and I decided it was beer o'clock.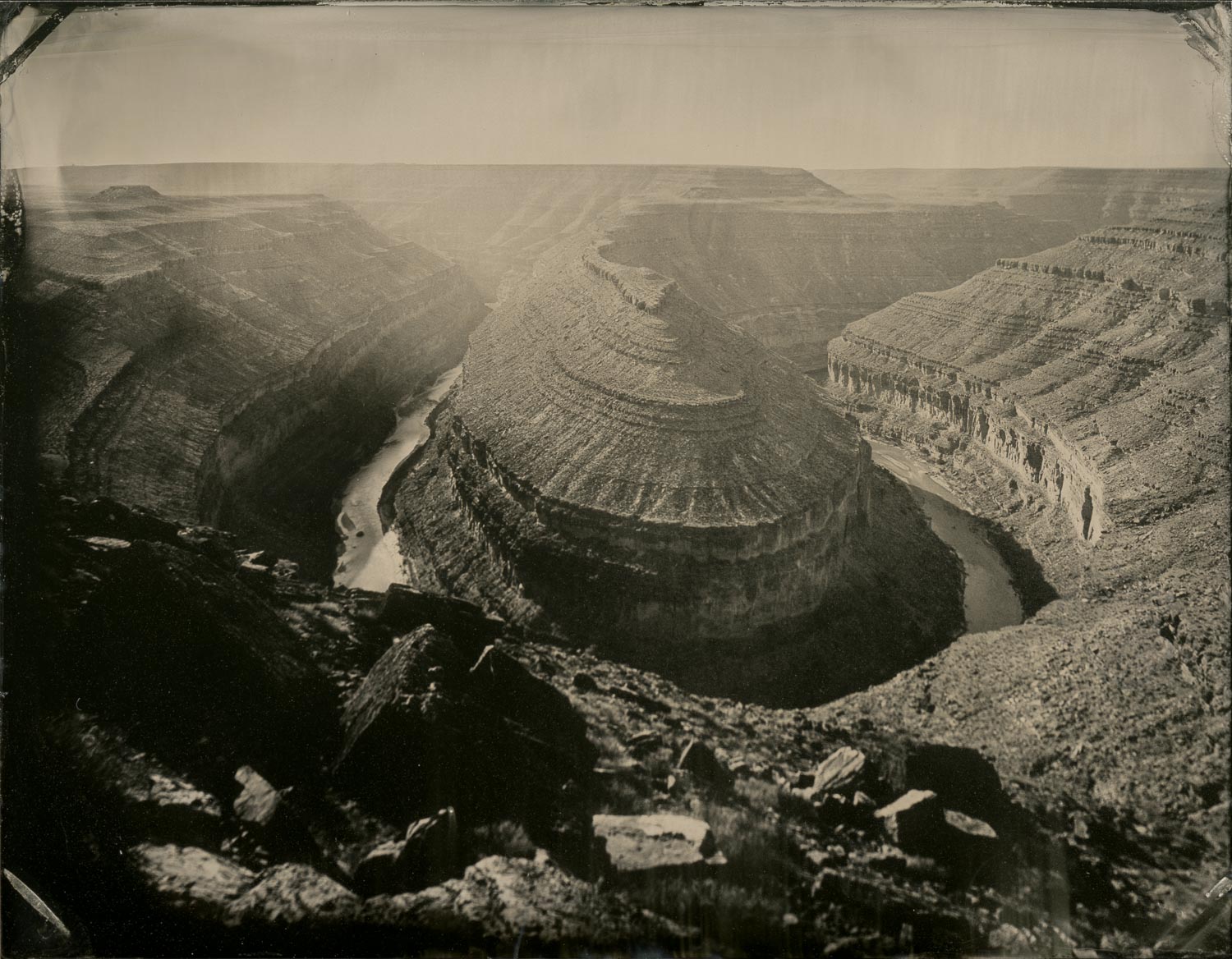 Note: I was in my darkroom once preparing a plate when I heard a car drive up outside. A man and, presumably, his family got out to have a look. Just about all the man said was "I can't believe we paid $5 for this. We just drove up to the edge and there it is and that's all there is?!"
Yeah, that view in my tintype wasn't worth $5 to him – and that view is only part of the spectacular scene at Goosenecks State Park.
While I was shuffling back and forth from darkroom to camera I attracted the interest of an older gentleman who came over to ask what the heck I was doing. I thought I detected a German accent, and so Wolfgang and I bonded over our fondness for Germany, photography, and beer until late at night, together with his wife Marie Louise. (It's funny: he loves hoppy American beer, while I am on a constant quest for a good normal German beer. We need to switch countries – or breweries.)
Turns out I was camping next to another German couple, Michi and Dani, and we also had a nice late-night chat before I finally collapsed after a long day (and a few of Wolfgang's beers).

In the morning, over breakfast, Michi and Dani mentioned that they had bought a bunch of freeze-dried food that, due to bad weather and an injured foot, they weren't going to use on a now-canceled backpacking trip. They offered to sell them to me, so I now am fully stocked for my next hike – and at a very nice discount!
After nine days on the road and all the excitement of the Sand Dunes, seeing new sights, meeting a ton of great people, and making some nice tintypes, I finally made my way south through Monument Valley and Navajo land back to home in Tempe.