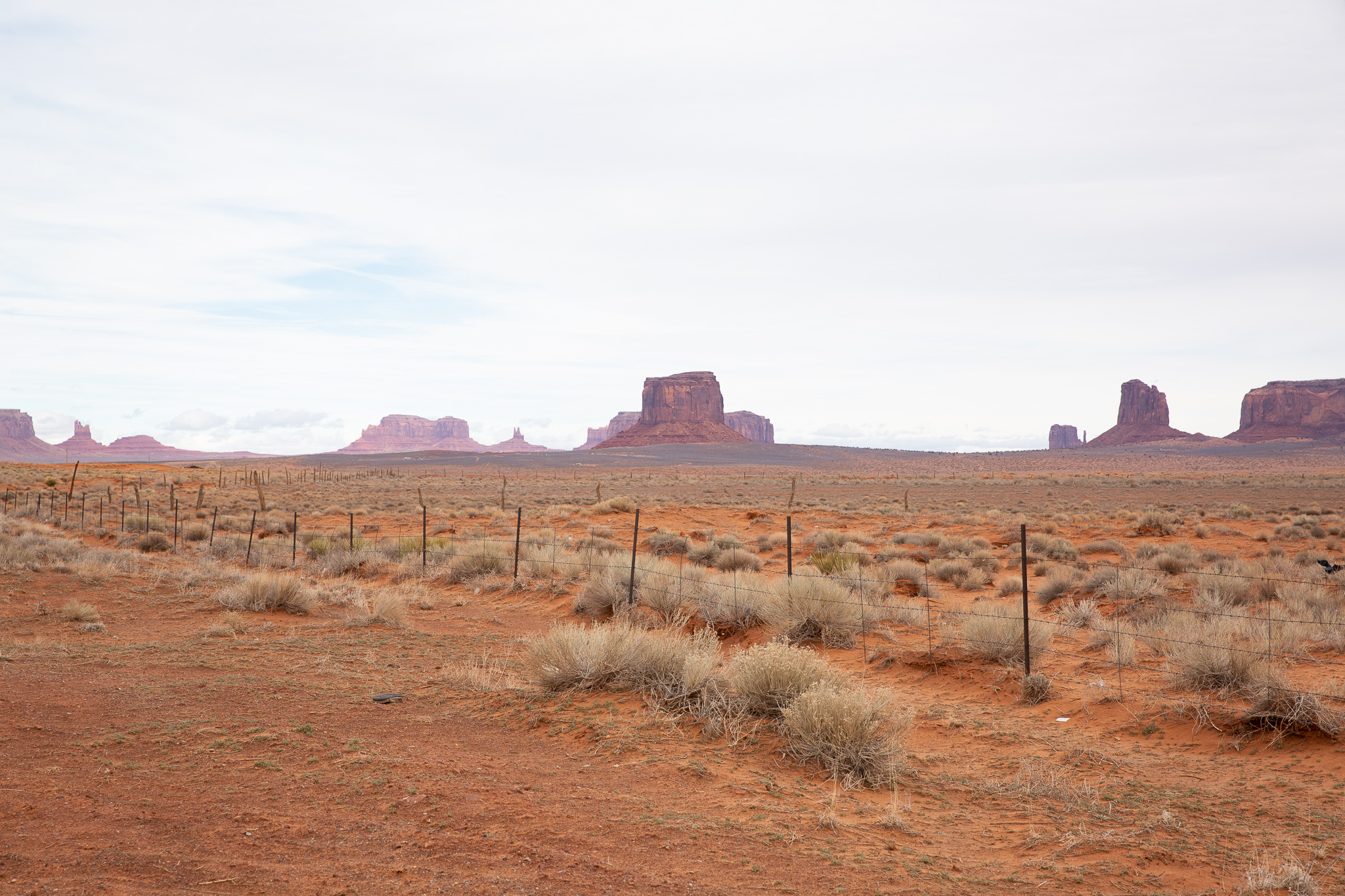 I spent much of January trying to plan a trip to…somewhere. (Ok, in reality I spent most of January working, but anyhow…) The original idea was to go to the Vermilion Cliffs, which, at over 7000 ft elevation in February would have been chilly no matter what, but as the trip got closer various winter storms promised more snow and cold than usual. So maybe we'd go there, maybe someplace on the north rim of the Grand Canyon, maybe…southern Arizona. I was at the mercy of several different groups of people with varying desires and requirements.
In the end we settled on southern Utah. It would still be cold, but we could at least choose to be on blacktop or not, and, crucially, stay in hotels. It was all fine with me, as long as I got to see slickrock and junipers.
I got an early start on Friday, with the traditional stop in Flagstaff for last-minute planning with Shane and supplies from the various stores and gas stations there. From Flagstaff I headed up the familiar route through Tuba City, Kayenta, and through Monument Valley to Mexican Hat. The idea was to find a campsite at the Goosenecks of the San Juan, and wait for Shane and Austin to catch up in the evening, which worked out perfectly.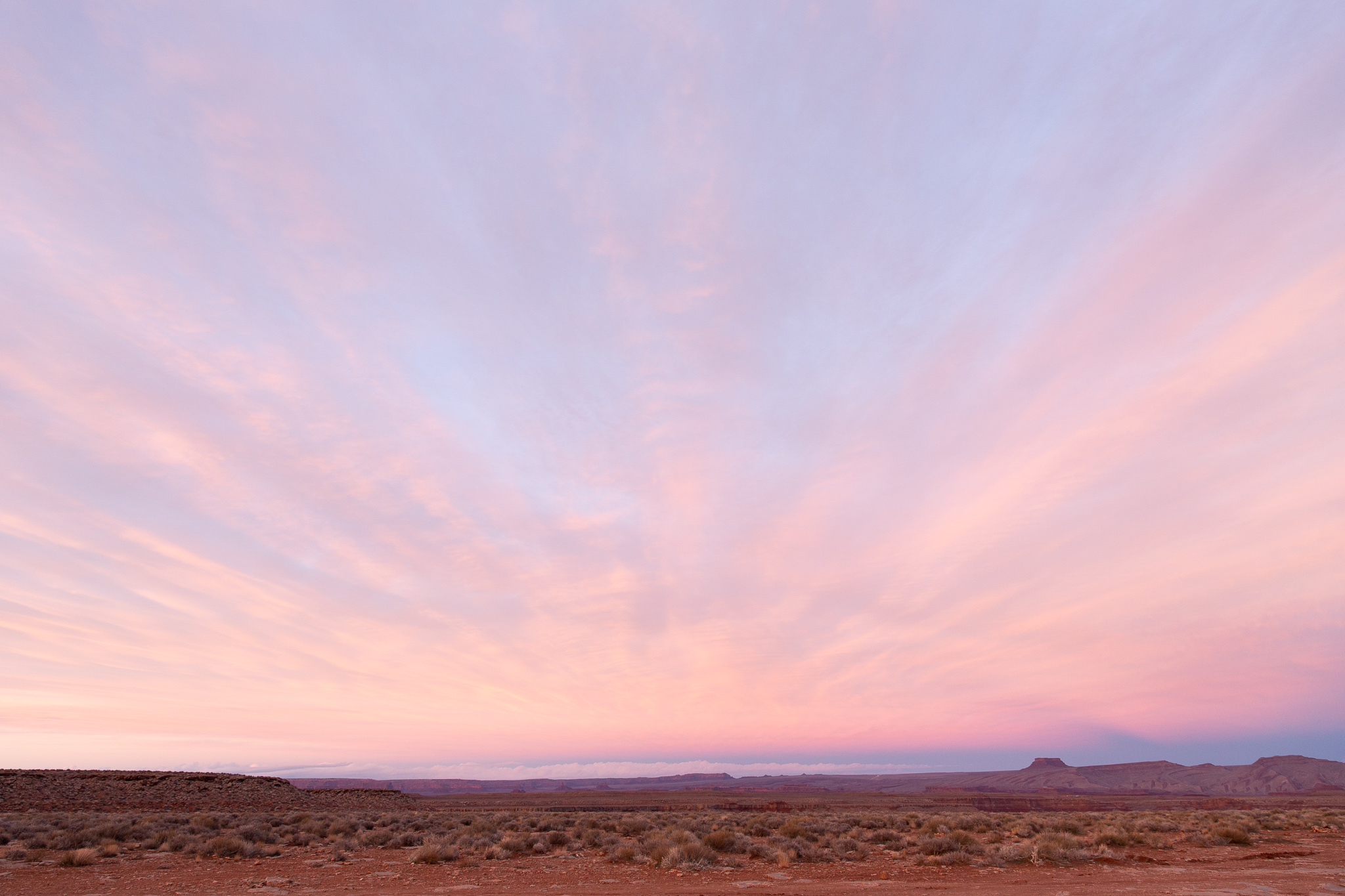 Beautiful drive, amazing sunset, and I met some of our campsite neighbors and had some good conversation with strangers. Shane and Austin rolled in, and we had a campfire and some beers before crawling into our trucks for the night. Perfect.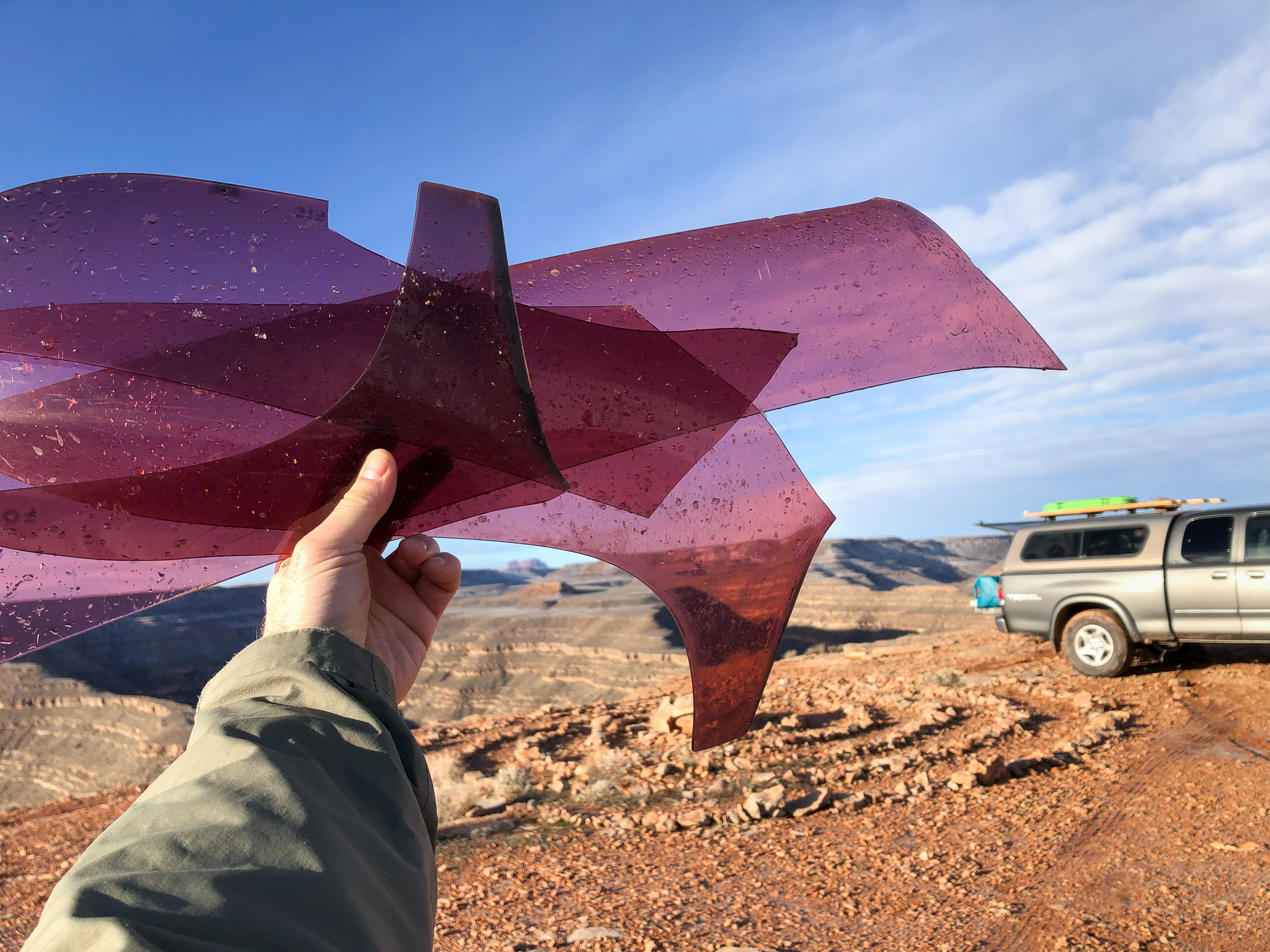 Then the wind picked up. Not sure I've camped in such strong wind. At various points I tried to shine my headlamp out the window to get a fix on a shrub, to see if my truck was being blown into the 800+ foot deep canyon. (Yeah, kinda silly – it would take a lot to move a heavy pickup like that, but I was half asleep – and only about 15 feet from the edge.)
The sunrise – and calmer winds – were fantastic, as usual up there. As I was walking around absorbing the views I realized there was something different about my truck. Turns out the wind tore the bug/stone deflector off the front of my hood and scattered it around the desert.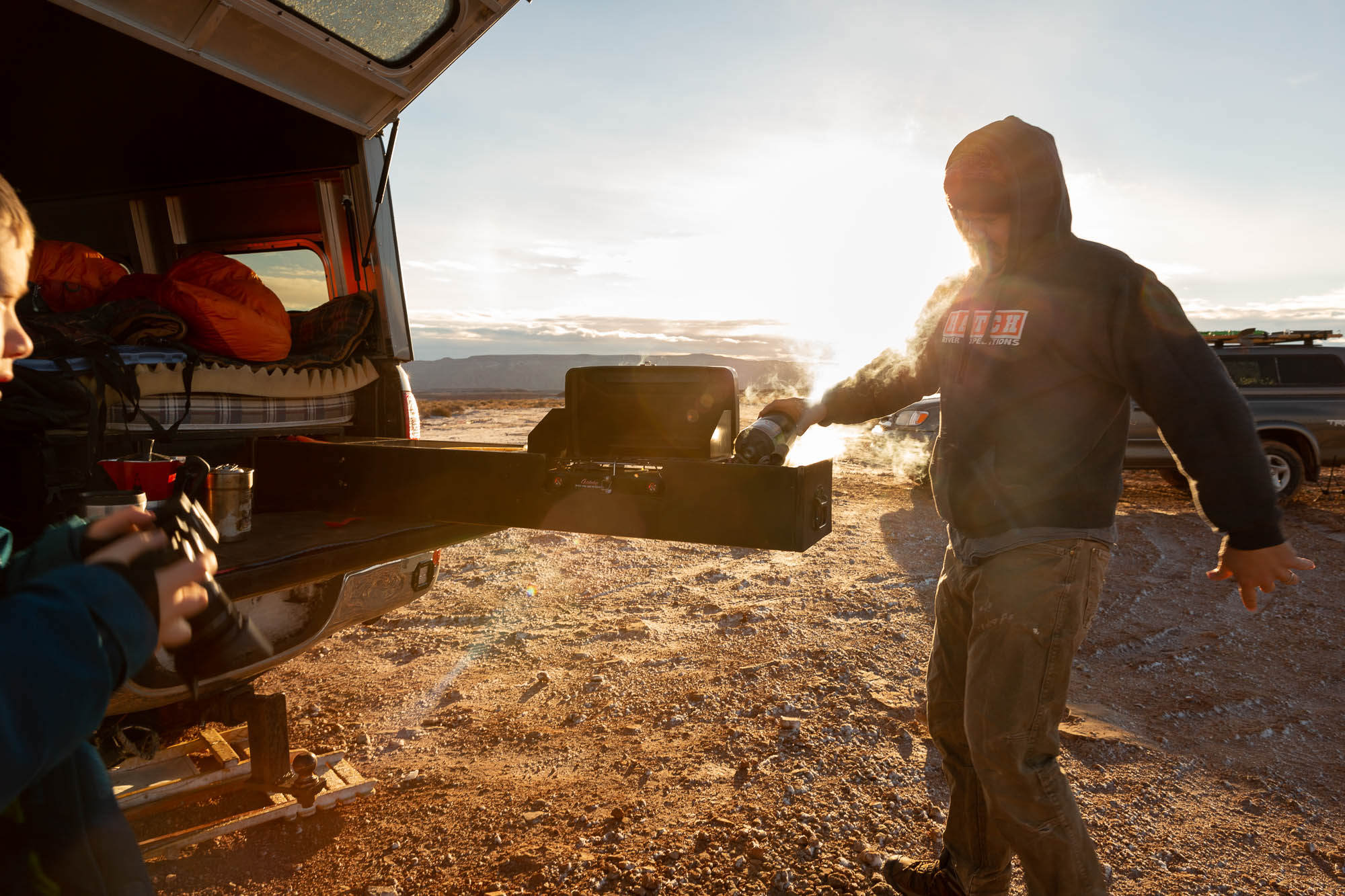 From the Goosenecks we headed up the Moki Dugway and across Cedar Mesa. We ran into a group of Toyota 4Runners who had tried to camp out on Muley Point with their with fancy roof-top tents – the wind was so fierce for them they had to pack up and head out early. They did not look happy.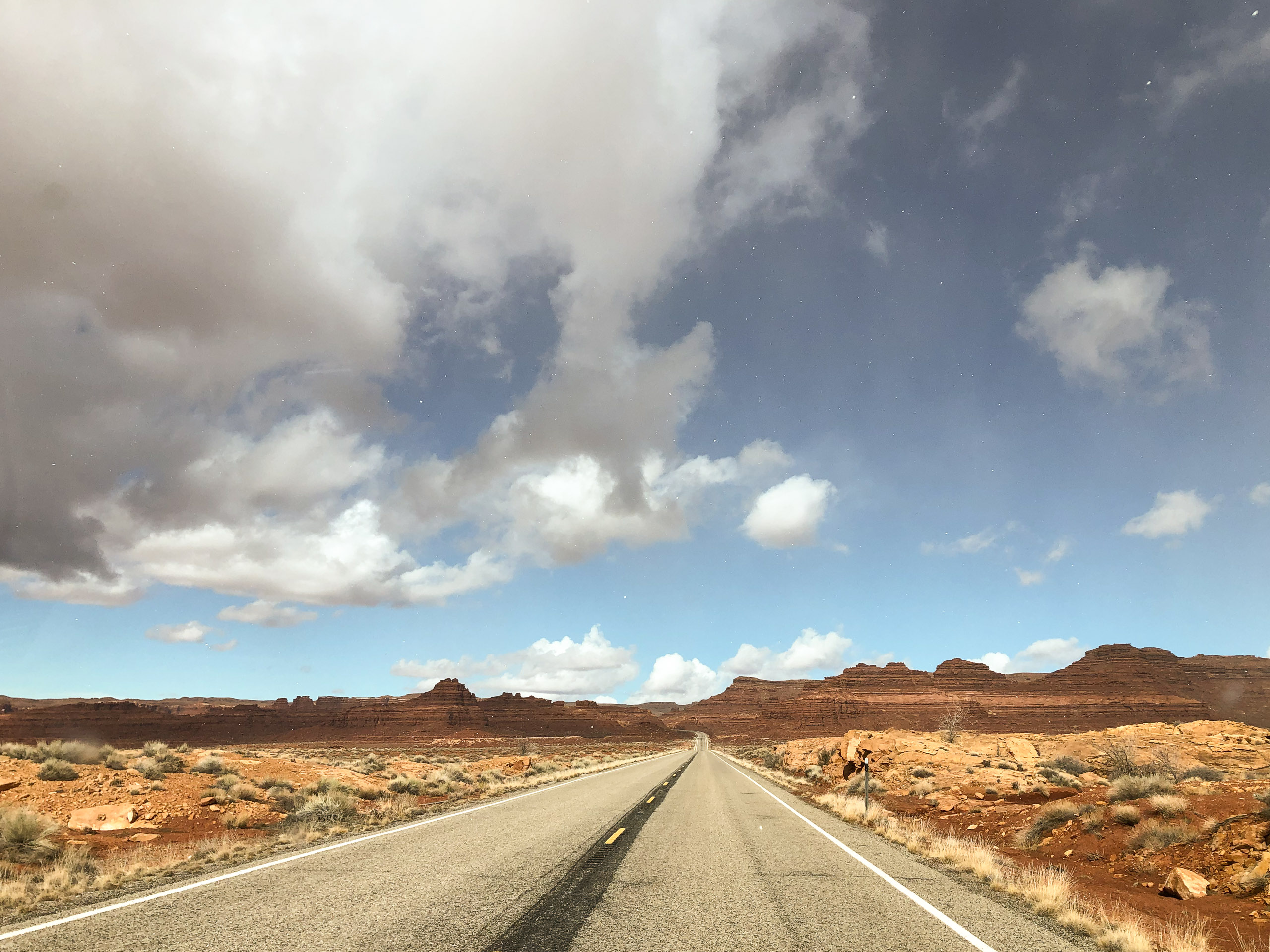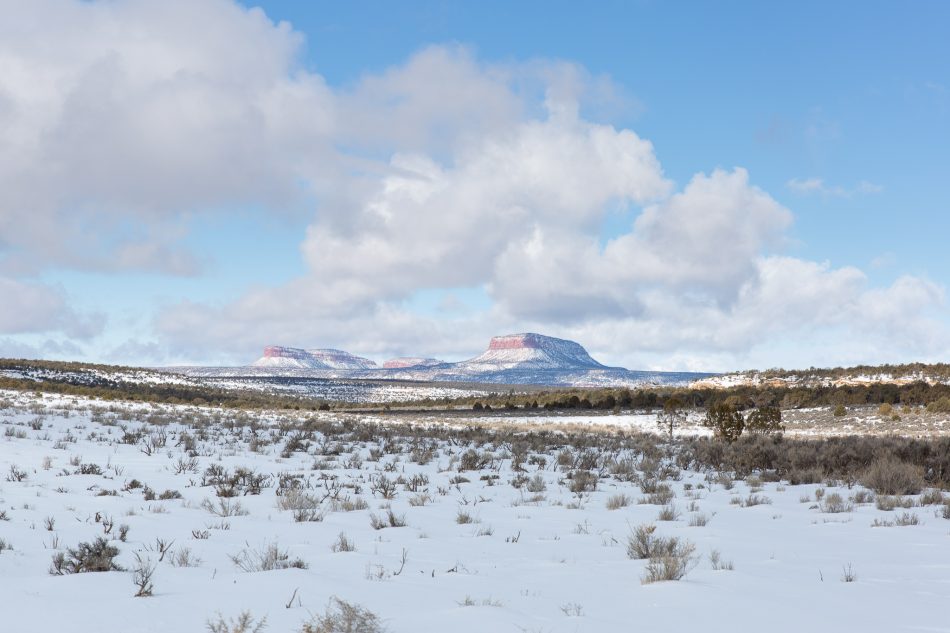 At some point I decided to get some fresh air, so I rolled my windows down and cranked up the heater. Thought I'd put it on the windshield in order to be warm without being blasted directly by hot air. CRACK – what had been a 4-5 inch crack in the windshield quickly grew all the way across.
Somewhere along 95 west of Natural Bridges there is a very wide spot in the pavement that was covered in snow. Shane and I took the opportunity to do some training in slippery driving conditions.
We were waiting for some other folks from Park City to come down, so we just explored a few dirt roads off of 95, found a great spot for a picnic!

Once the other Utah folks showed up we got right to it with a hike back to Leprechaun slot canyon.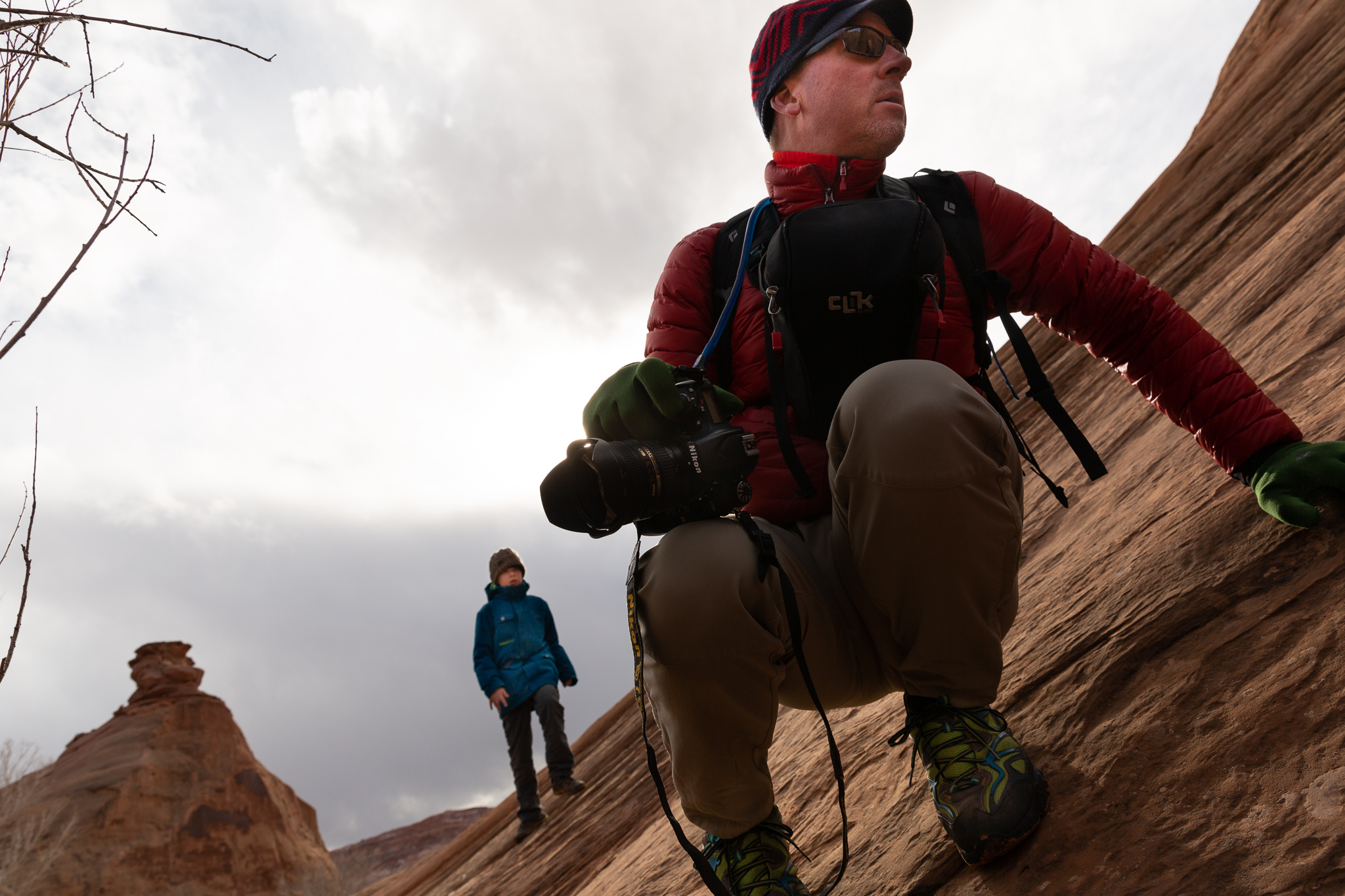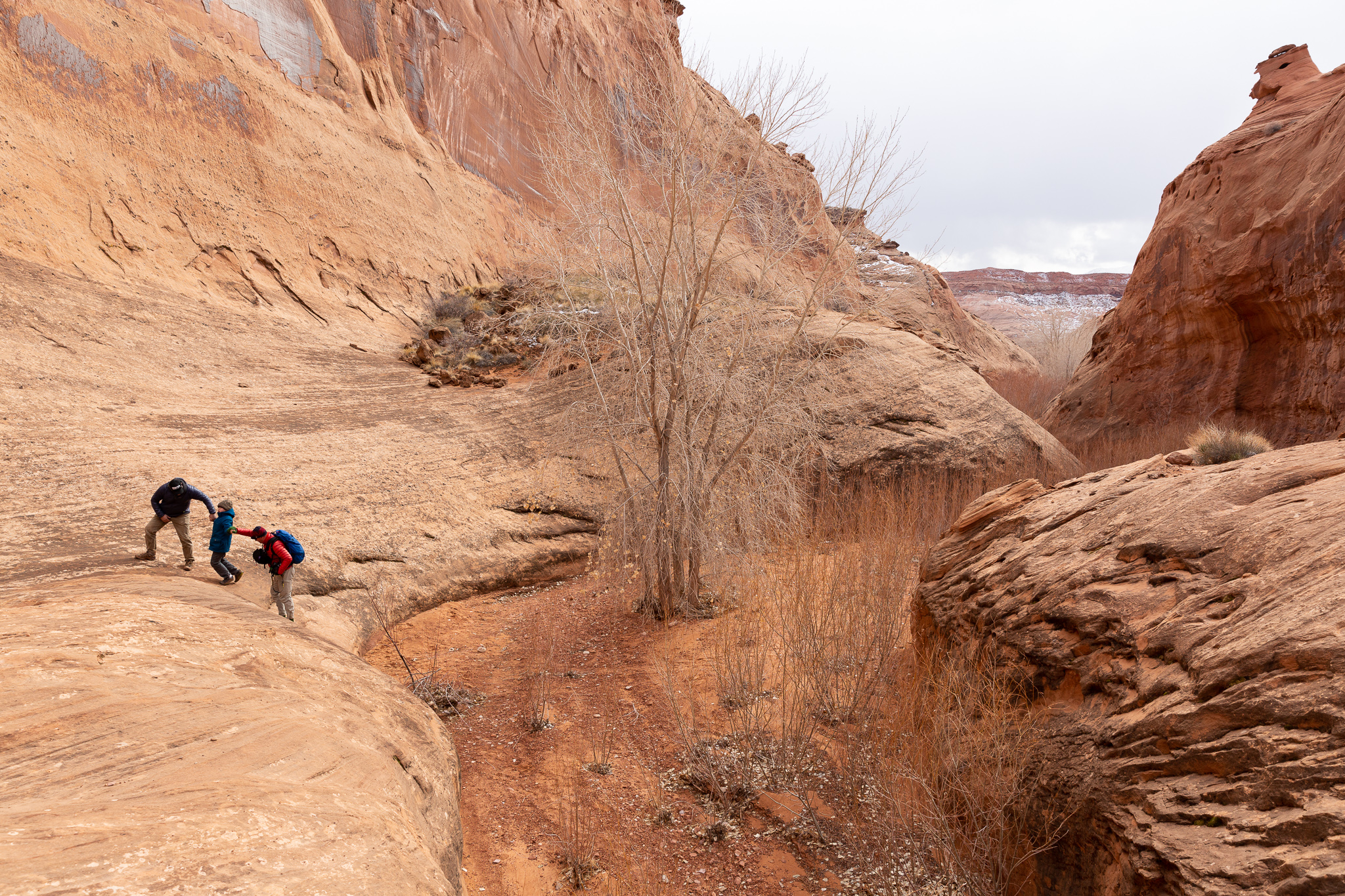 I think I've been on two hikes with Mike, and the spaces he gets me into keep getting tighter and tighter.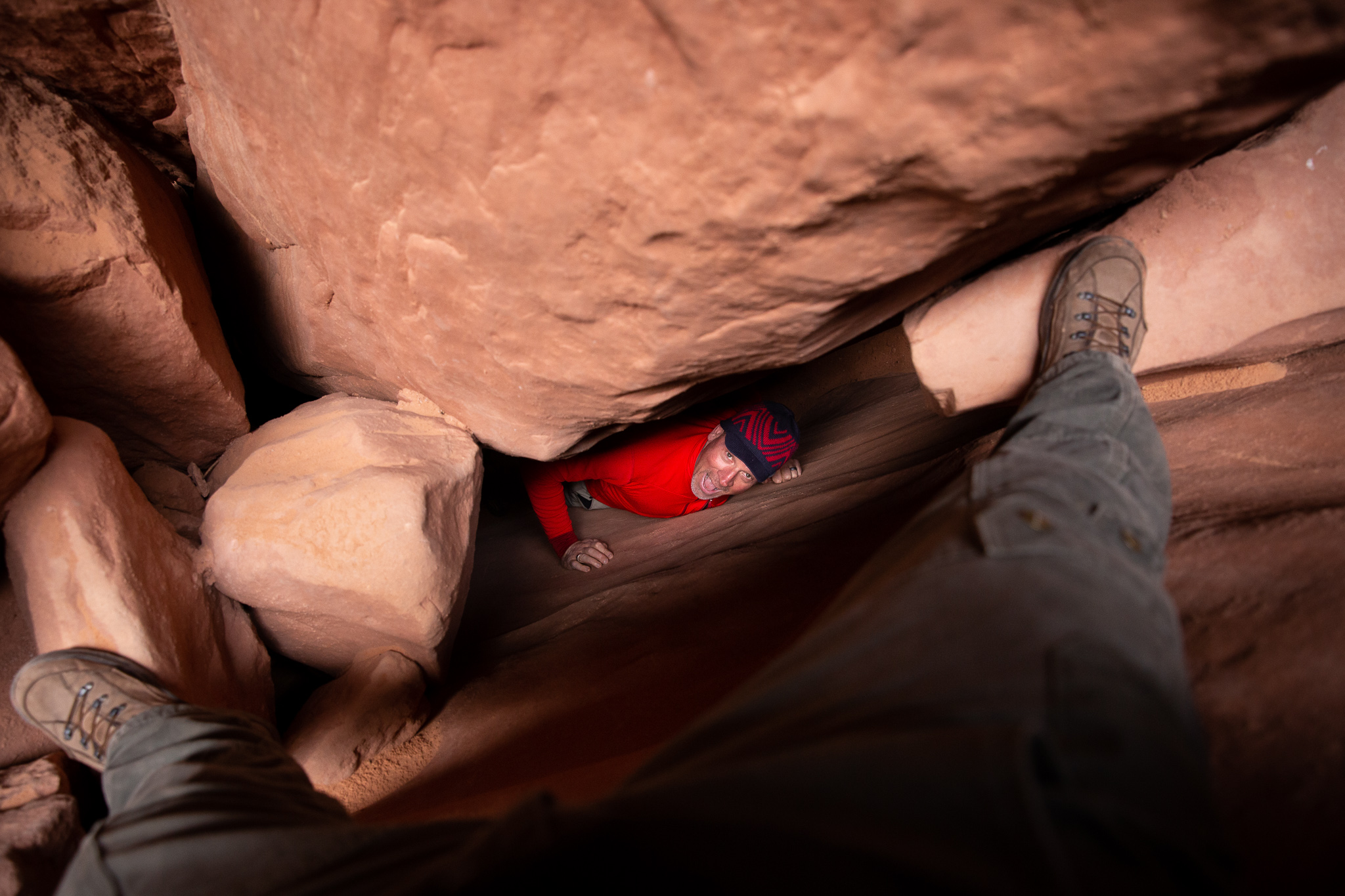 I seriously don't understand how I made it back in there, much less somebody with a bigger gut than me. My biggest worry, though, was not me getting stuck, but rather scratching up Kari's camera that was dangling from my neck.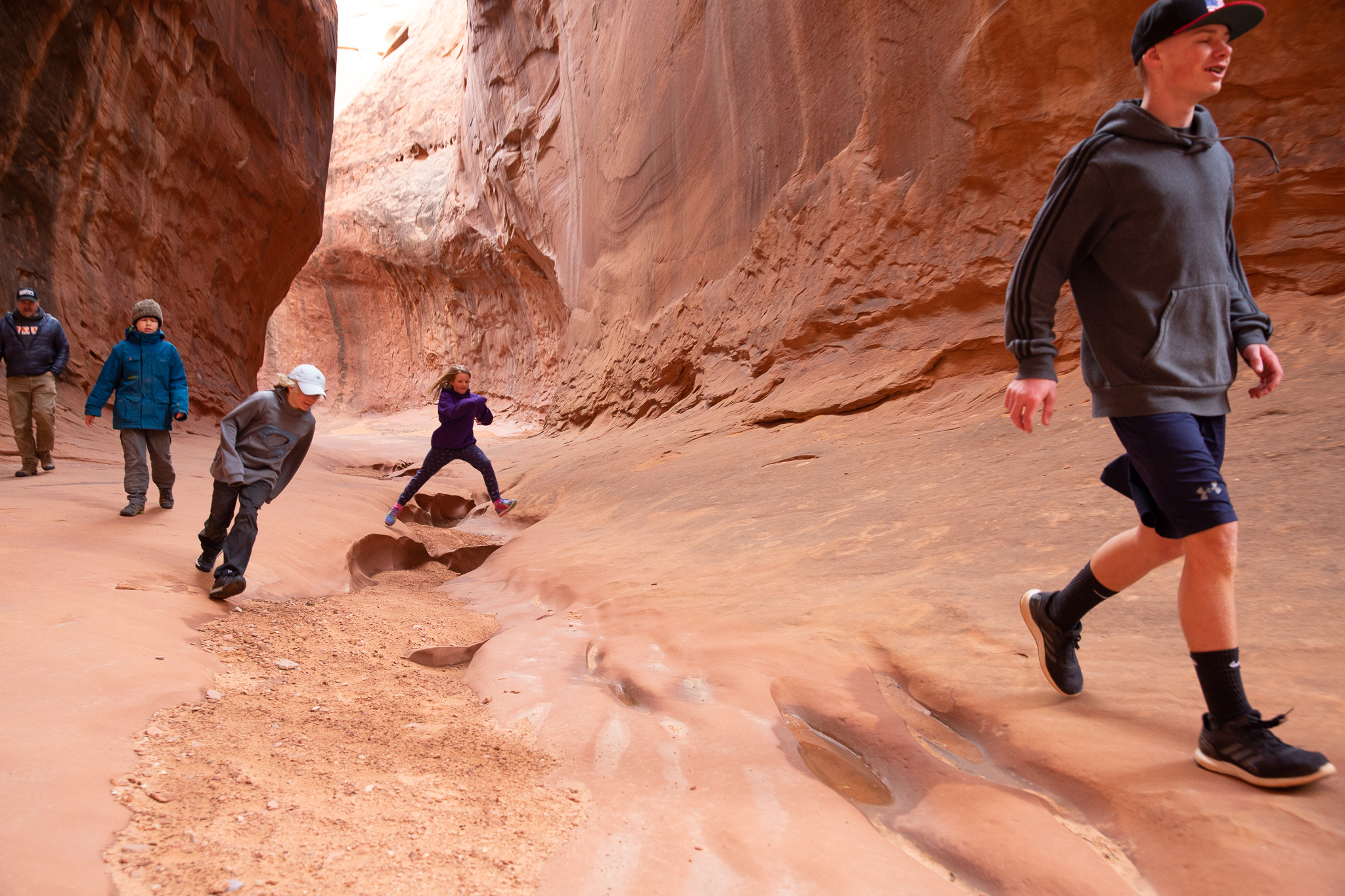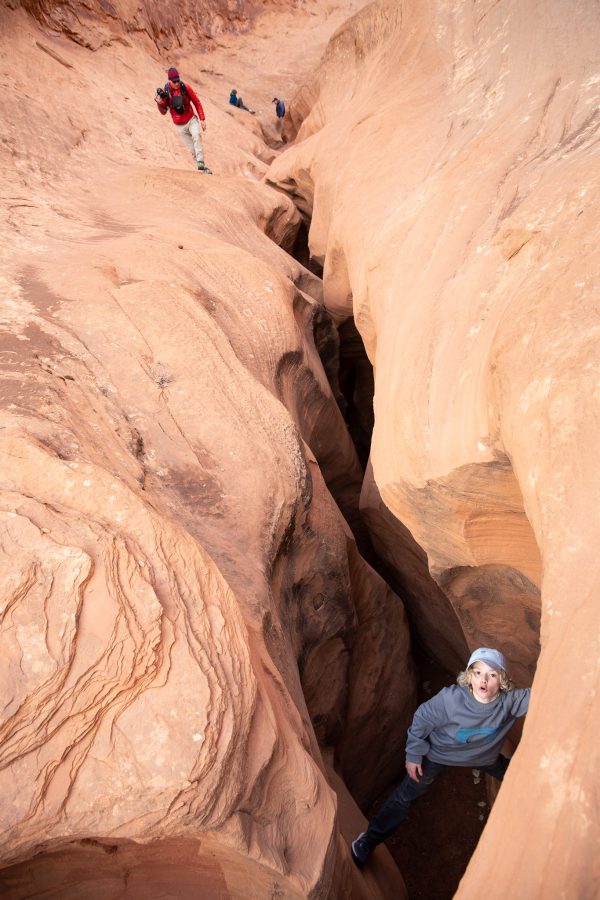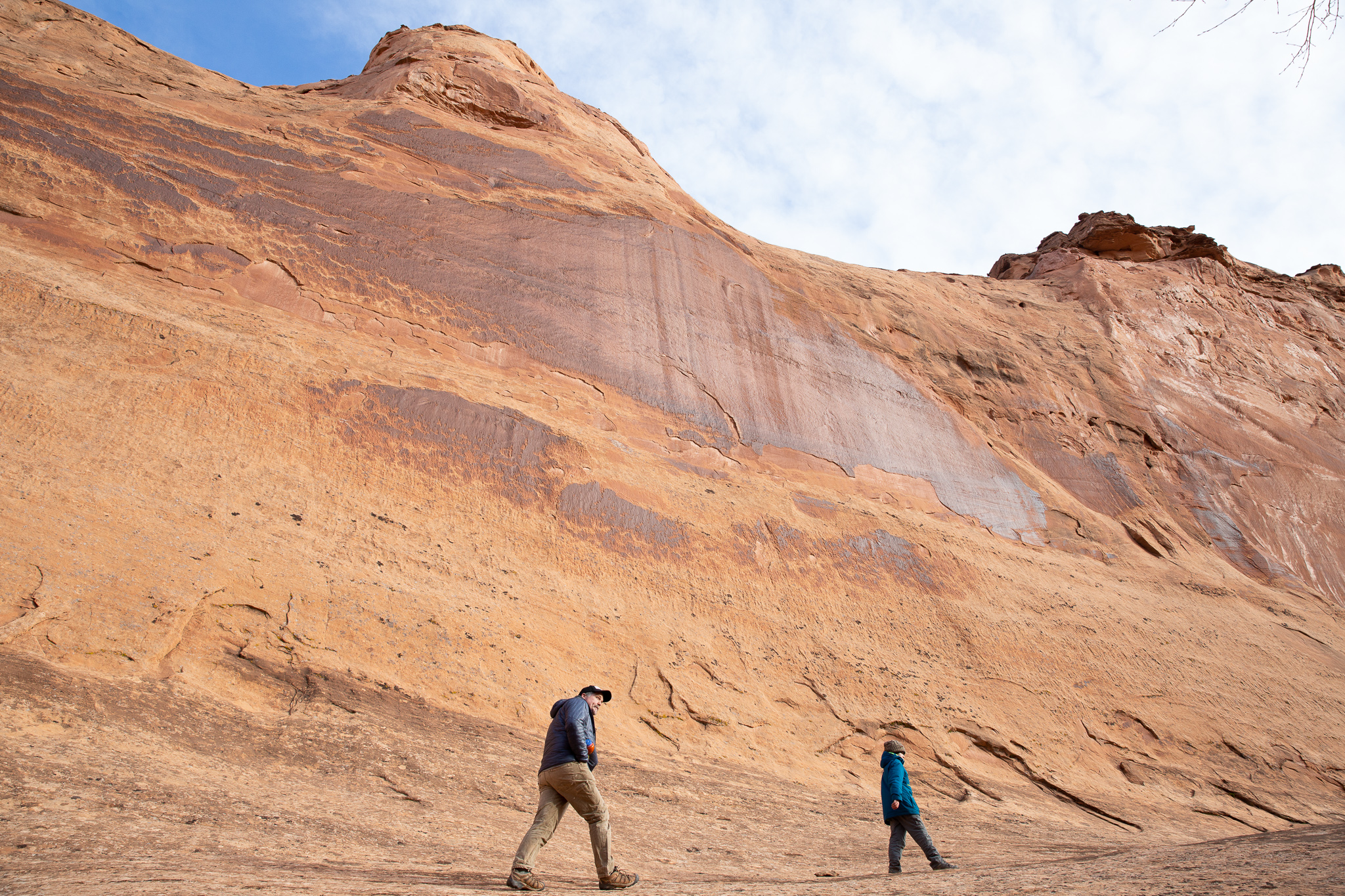 From there we headed back to our dinner and hotel in Blanding. The snowstorm we drove through gave us a pretty sweet sunset over the Henry Mountains.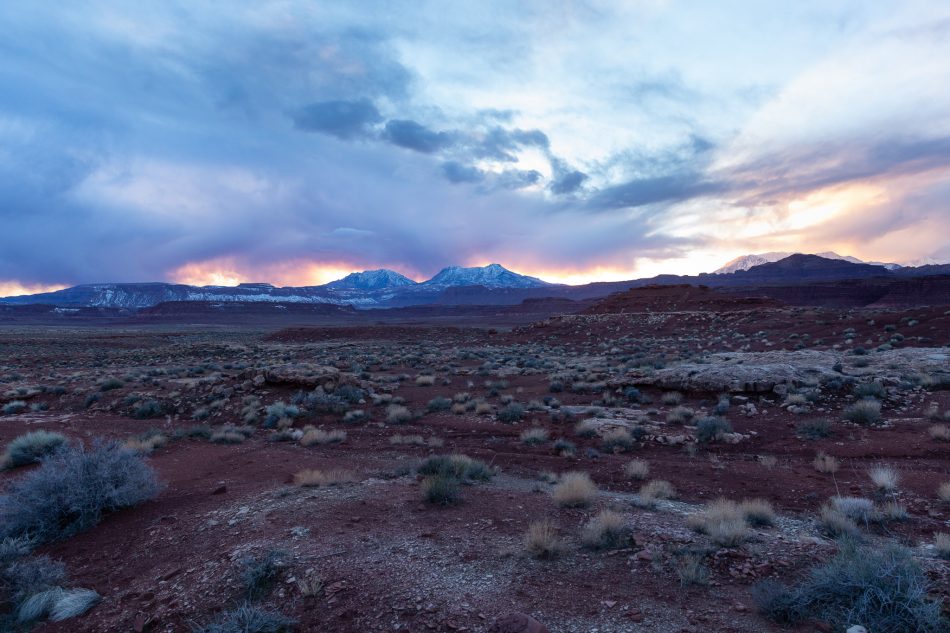 We ended up having dinner at one of Blanding's gas stations / convenience store / AW grill / bowling alley. We happened to be there the same night a group of friends that get together once a year to party, so that added an extra level of craziness to the very full day.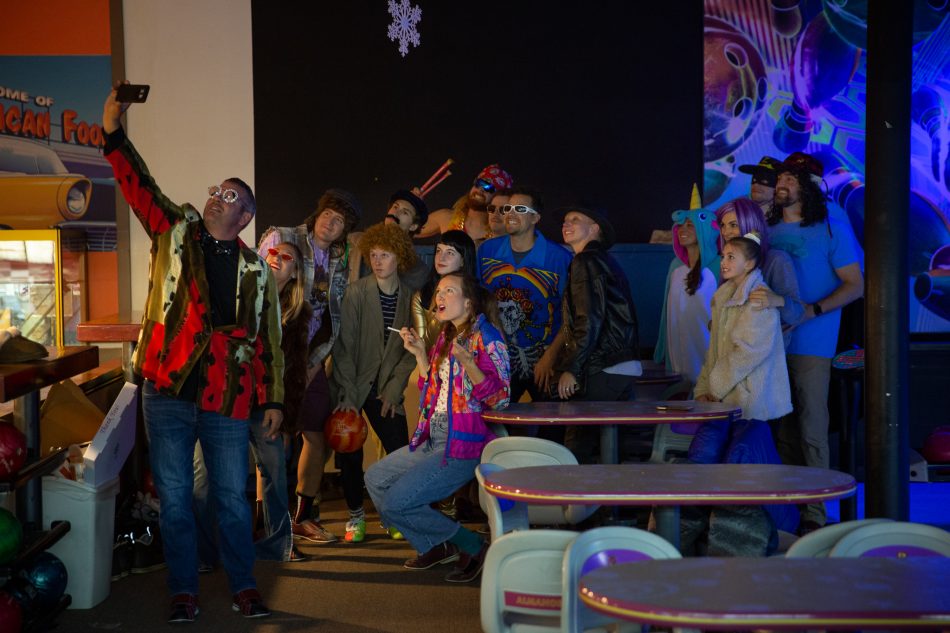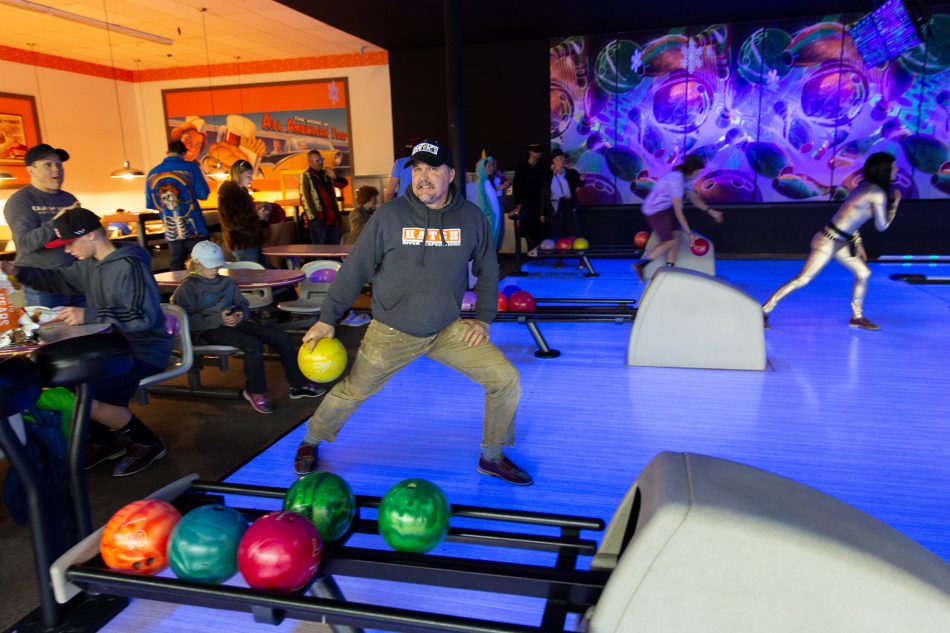 Sunday meant more exploring and hiking, this time to some ruins north of 95 near Comb Ridge.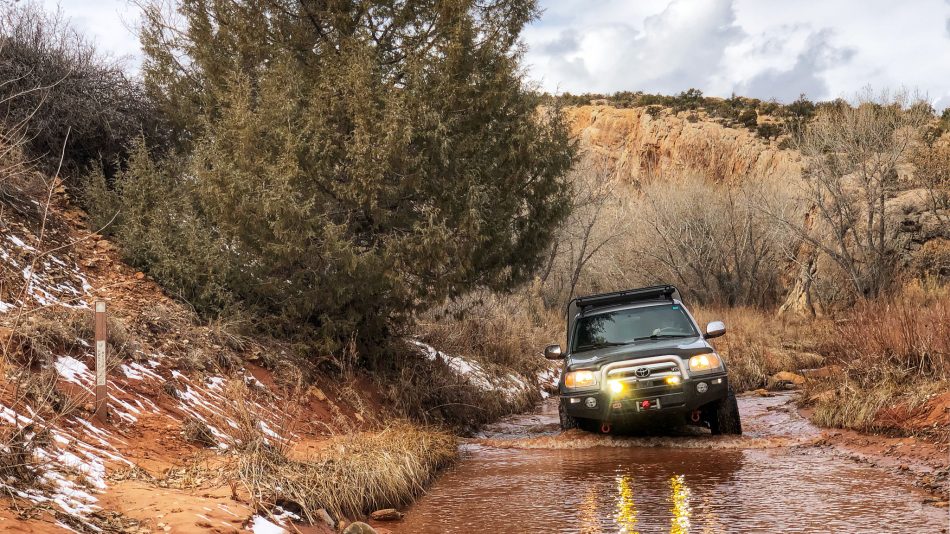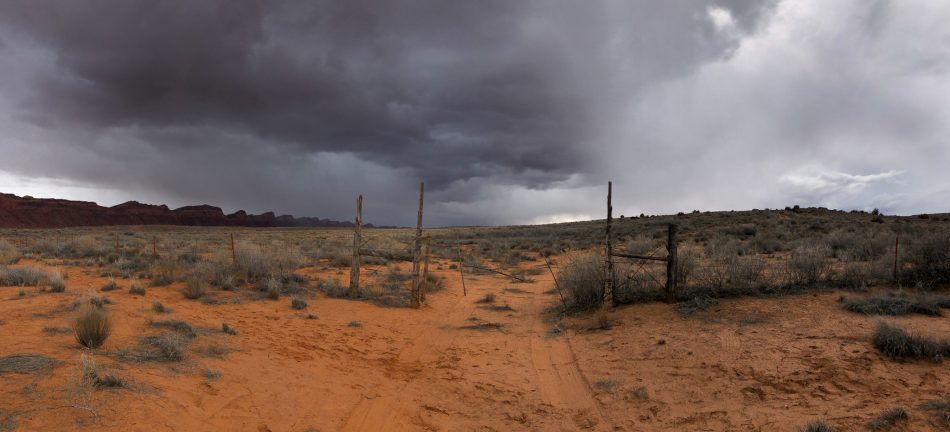 From there we drove down the west side of Comb Ridge to head out for another hike out to yet more ruins.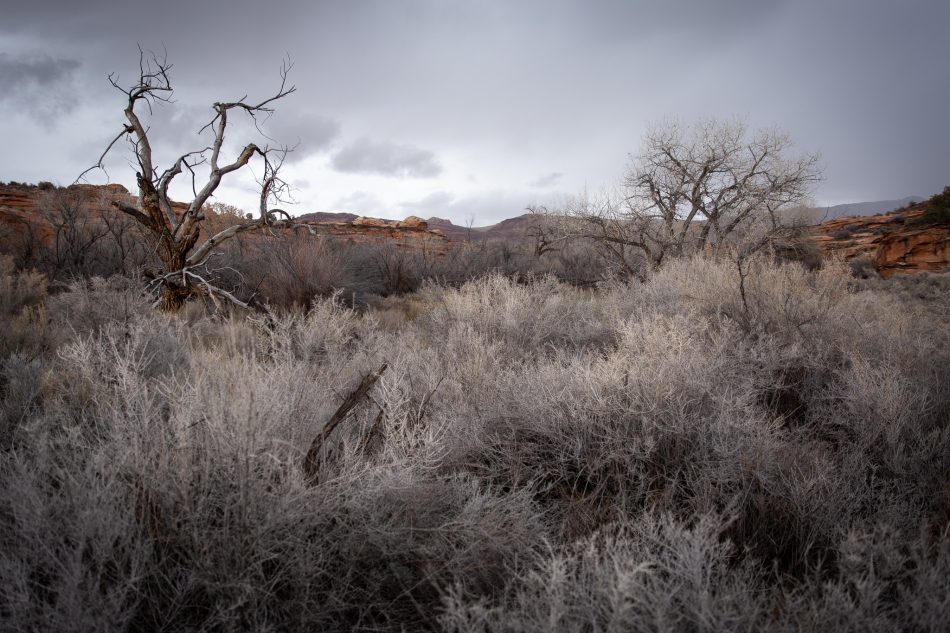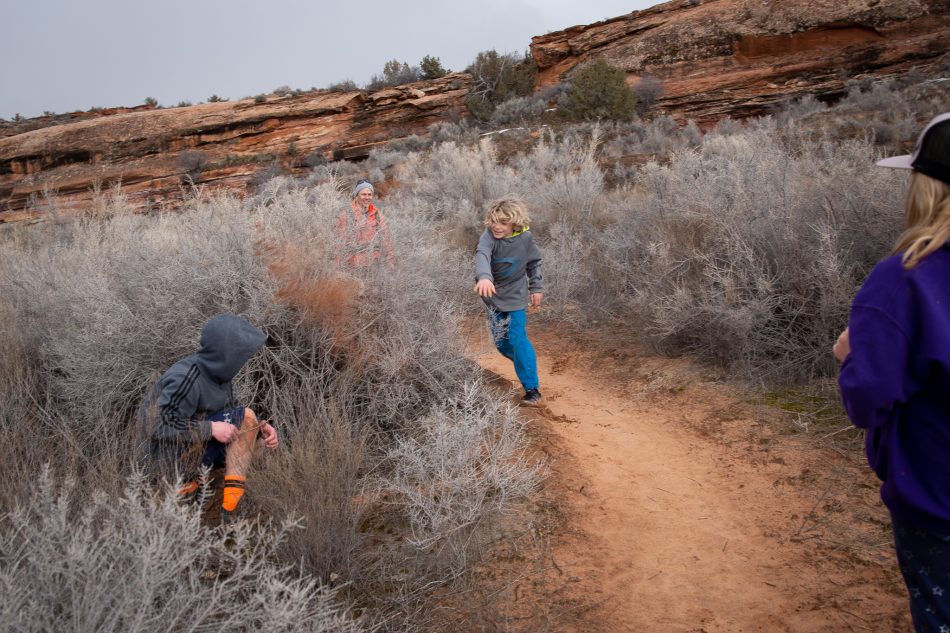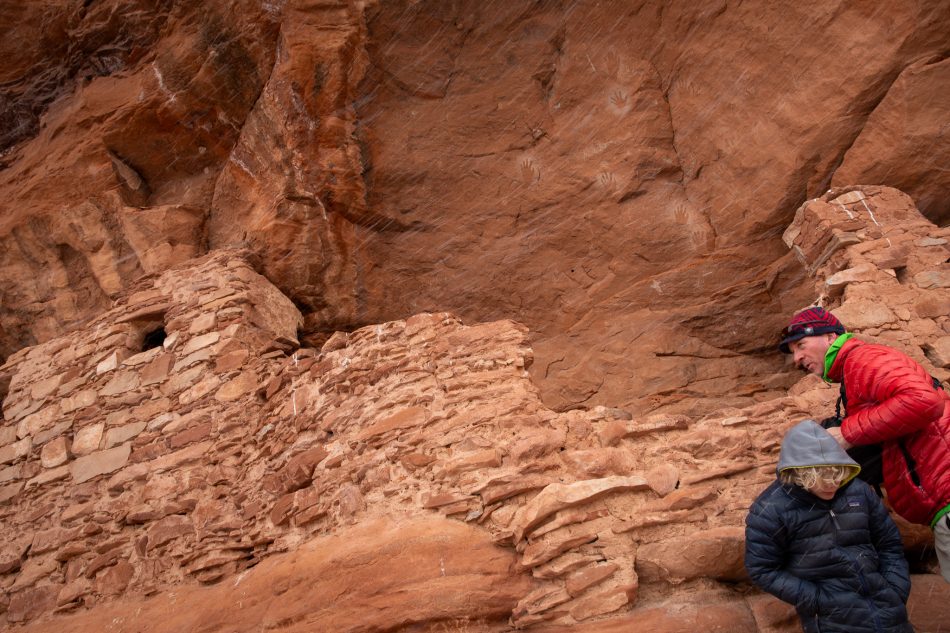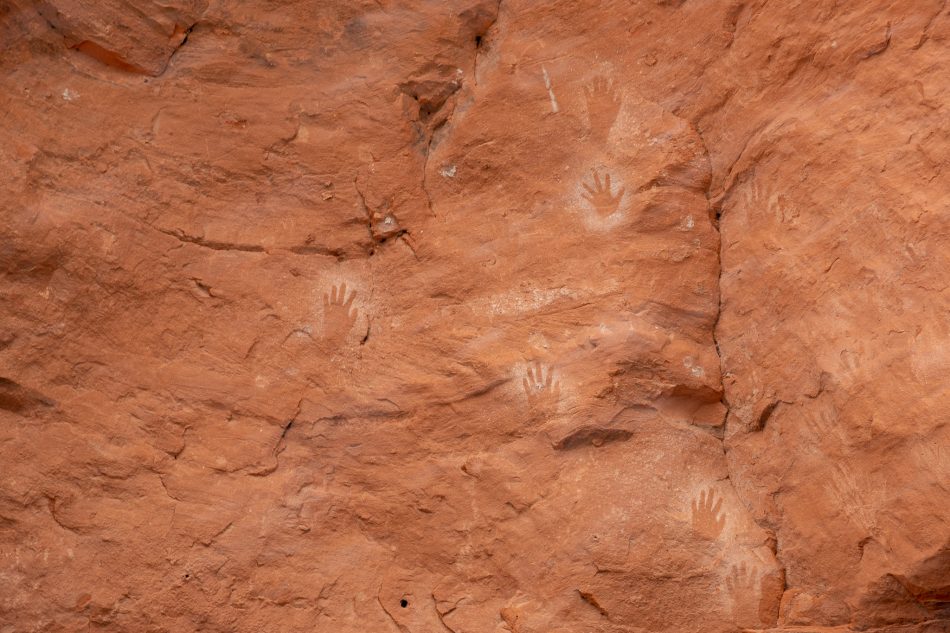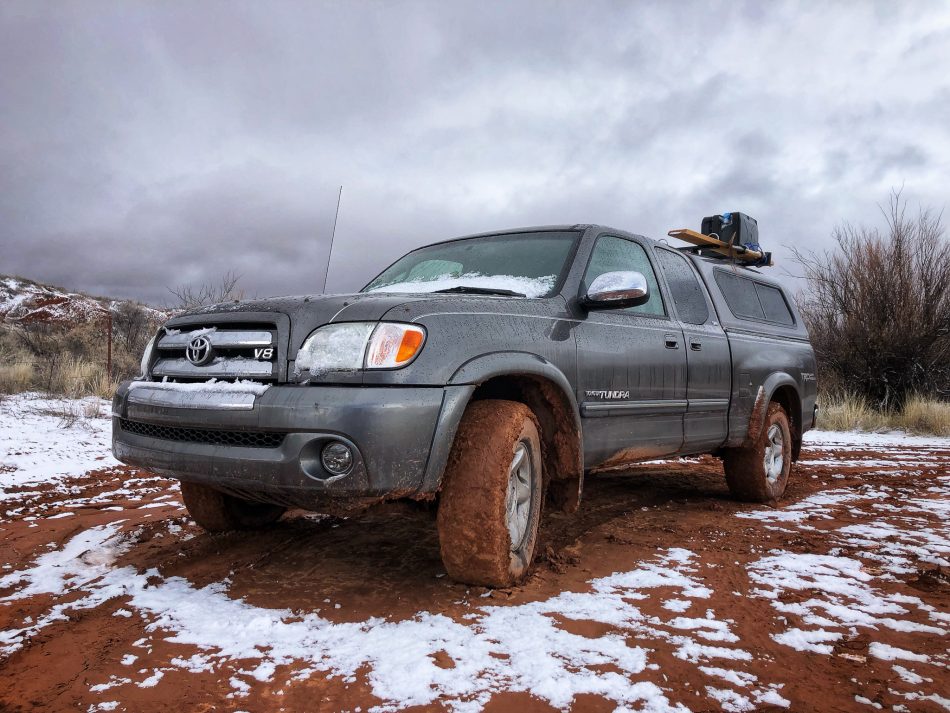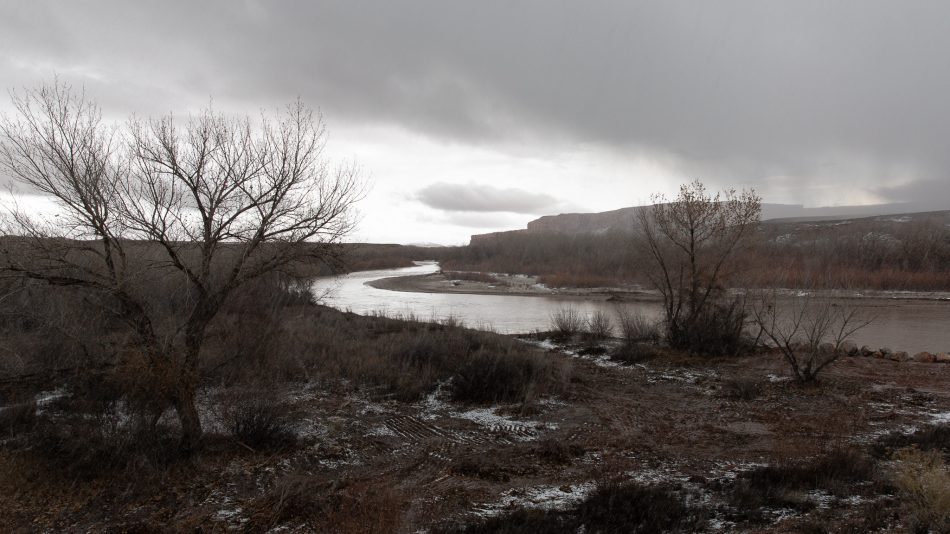 Monday we thought we'd try to get through Valley of the Gods in a snowstorm. I'd been over the road several times, including at least once in a little Ford hatchback, so I was fairly confident the road was fine, but this weekend was my first driving a rear-wheel / 4WD truck in the snow, so I wasn't sure how it would go. Turns out: pretty awesome!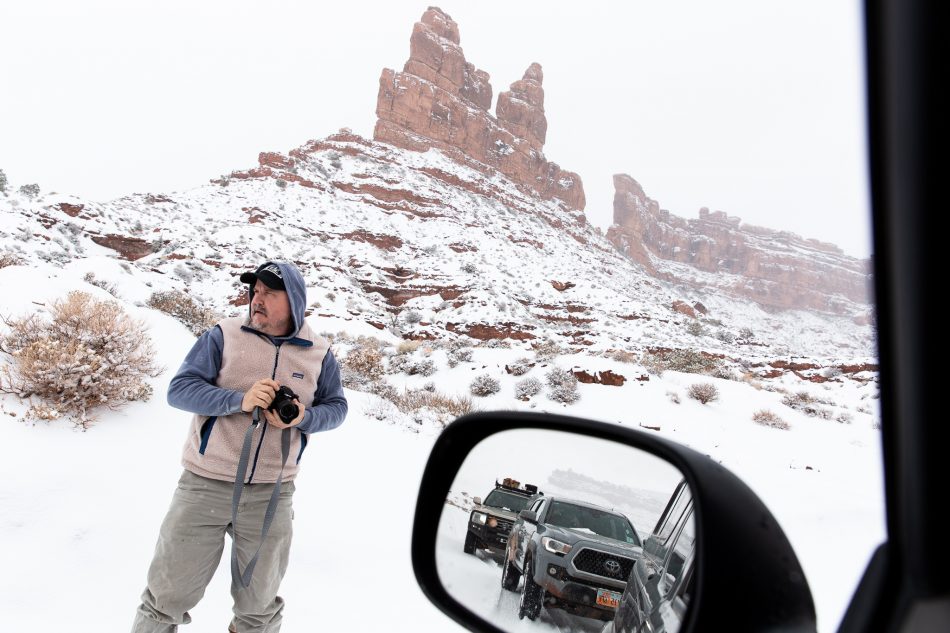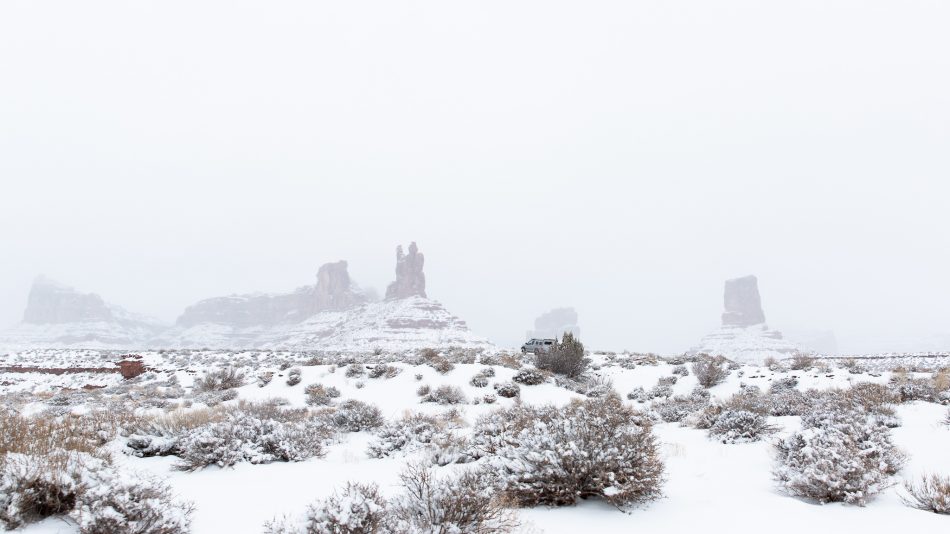 The road through Valley of the Gods is in great shape, and neither falling snow nor rapidly melting snow (and hence mud) was at all a problem, even for my worn-out non-off-road tires.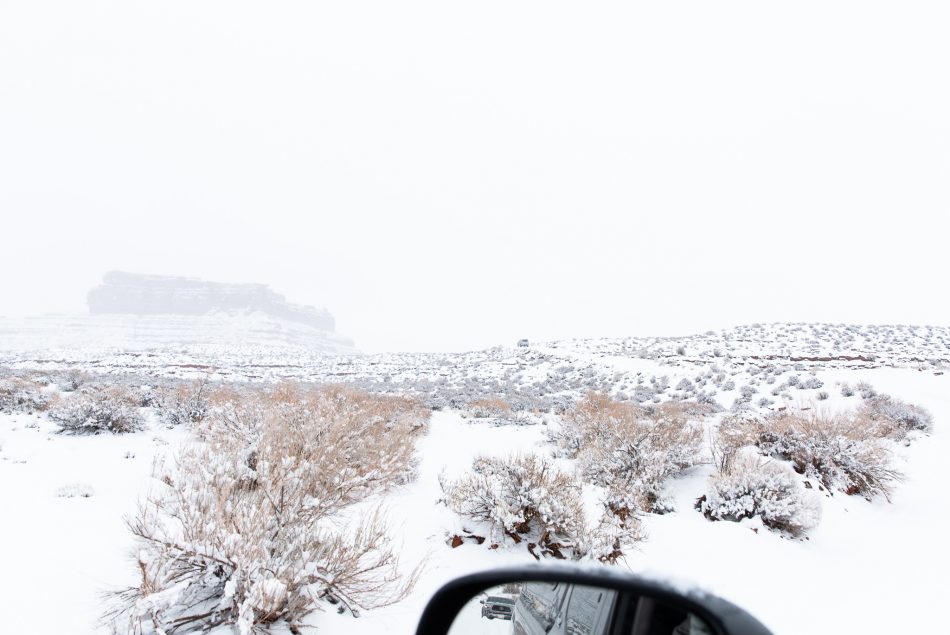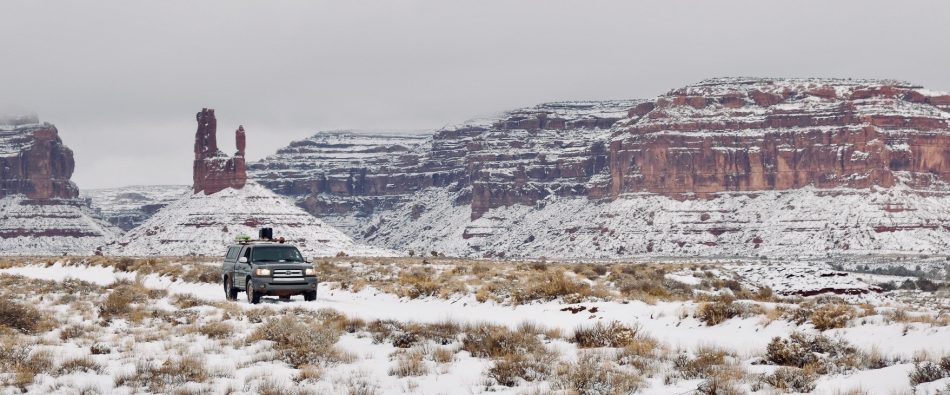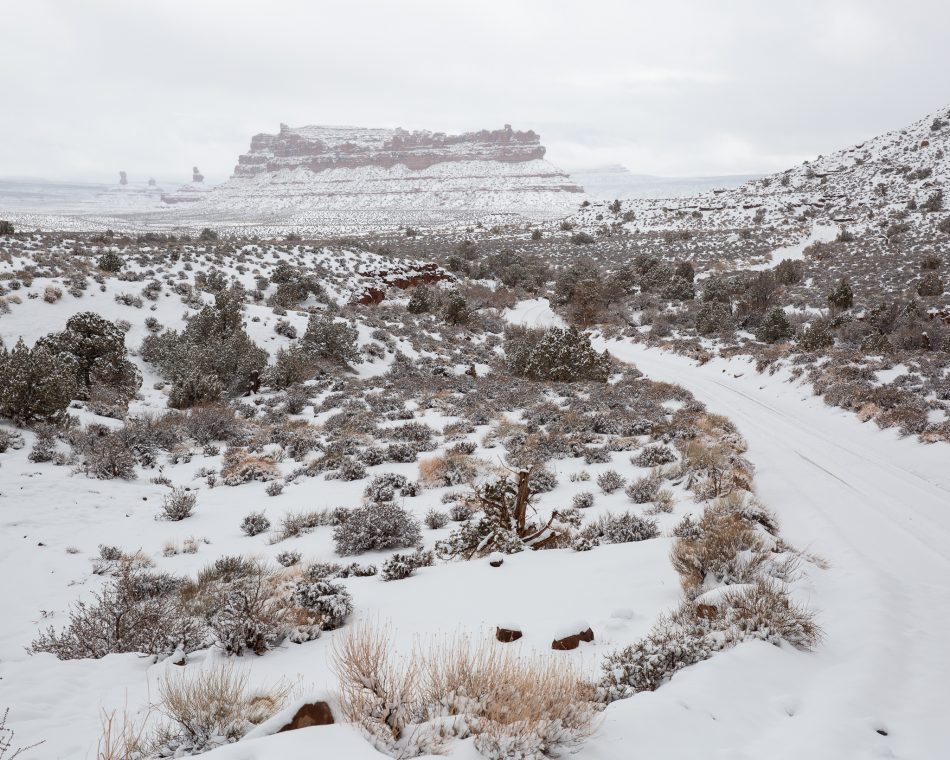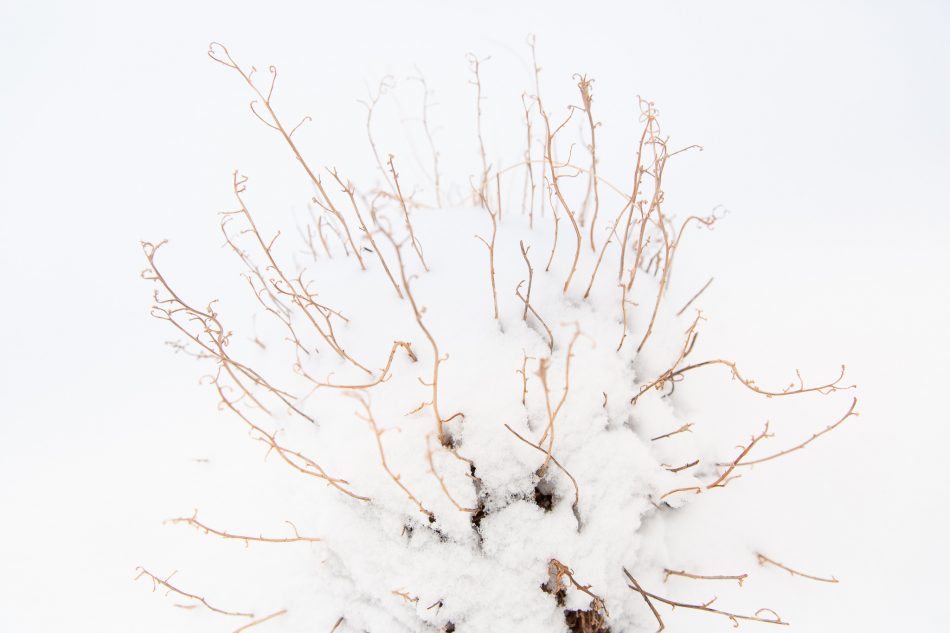 Two plants, same general area, different approaches to sticking out in this world.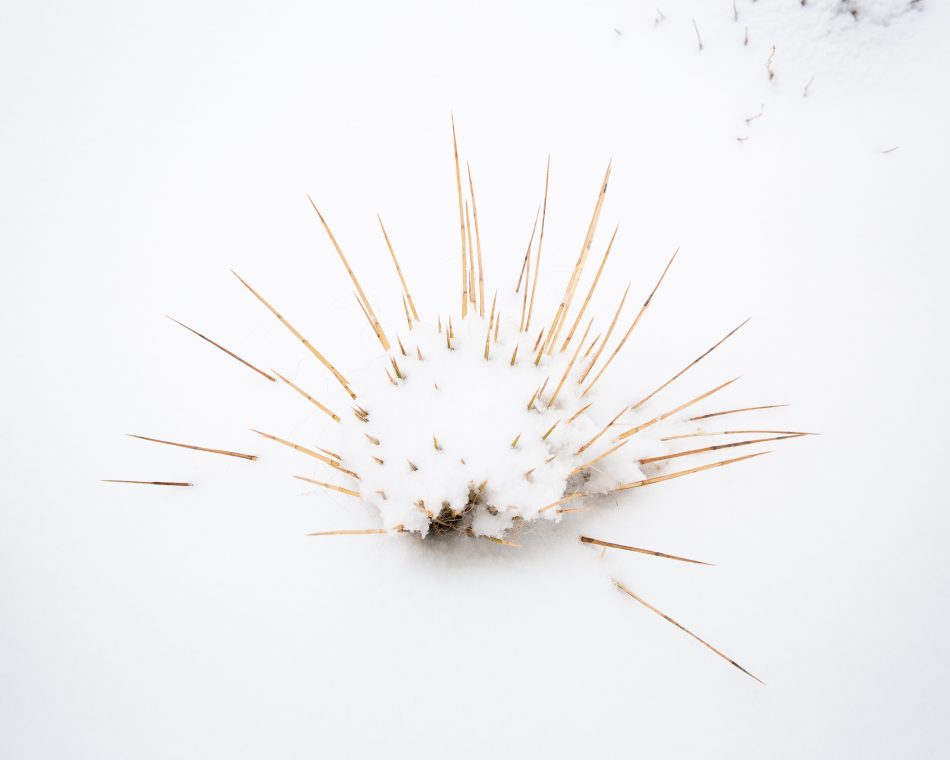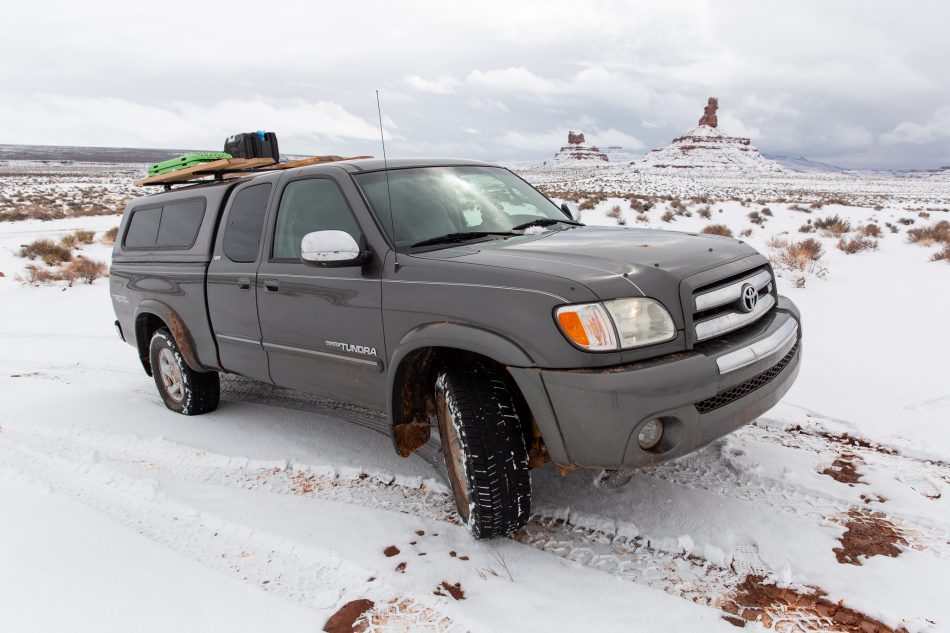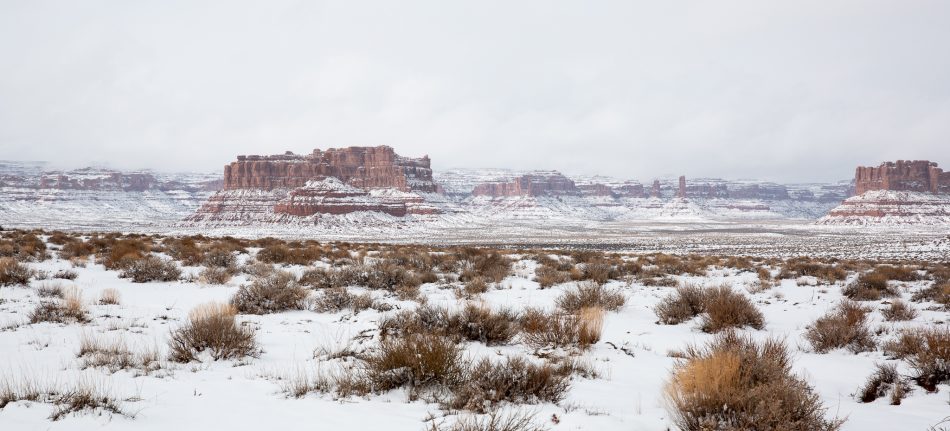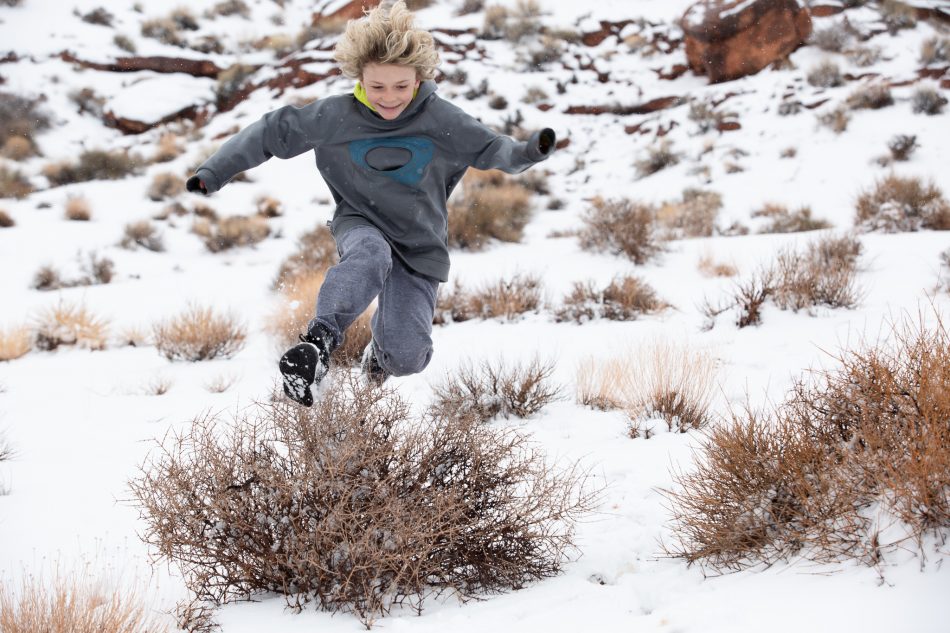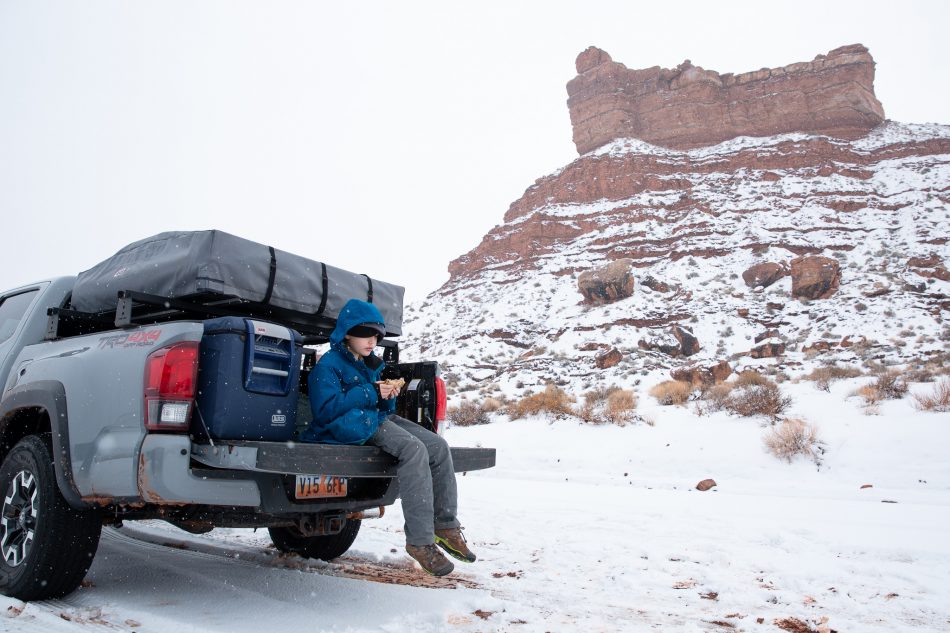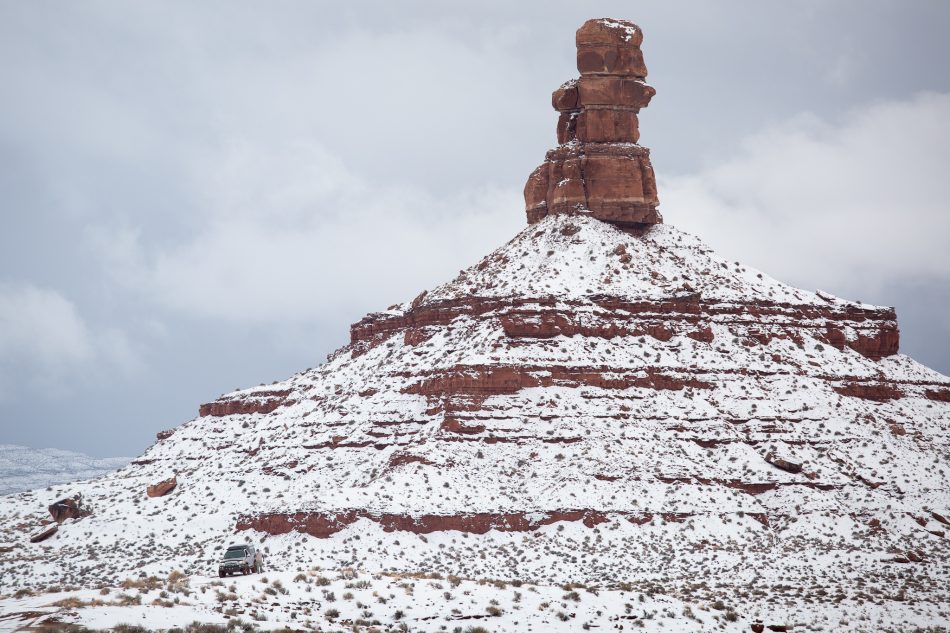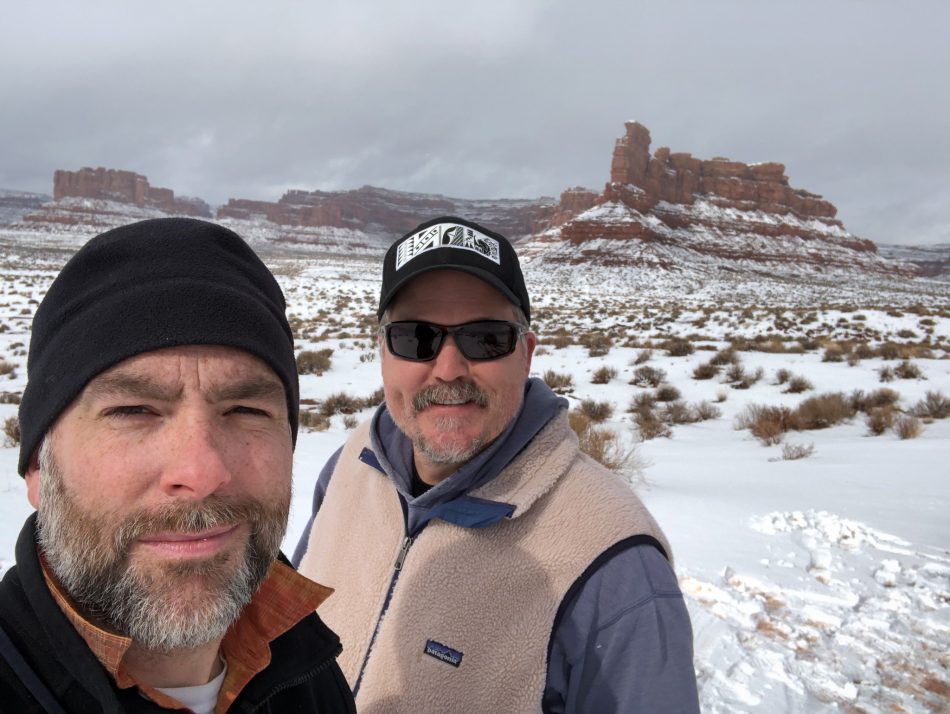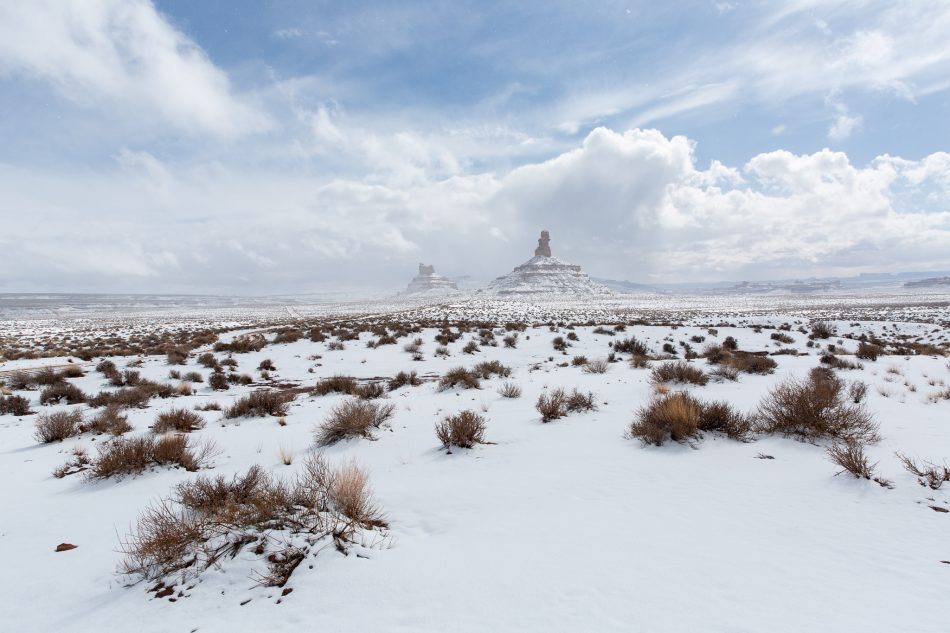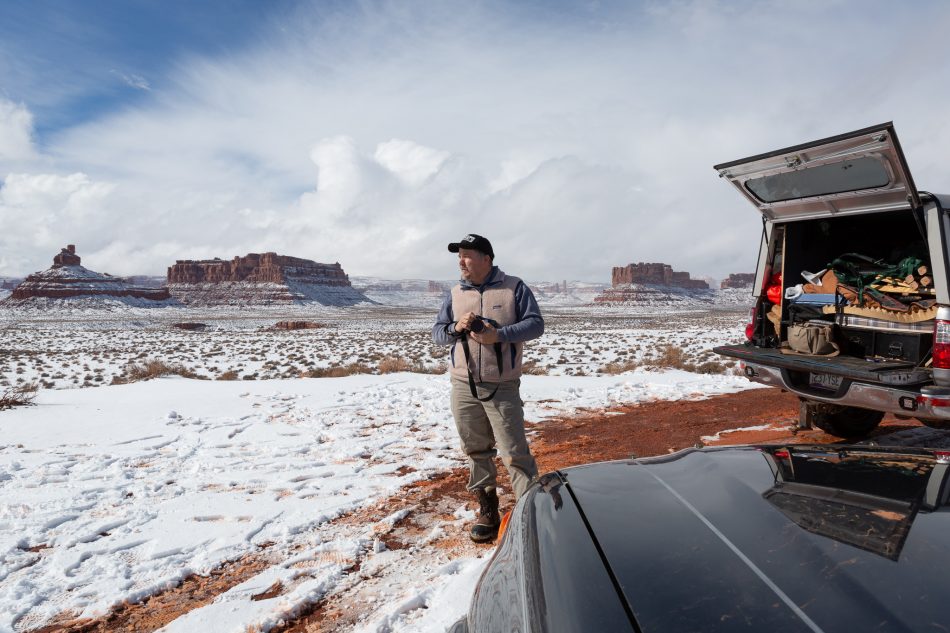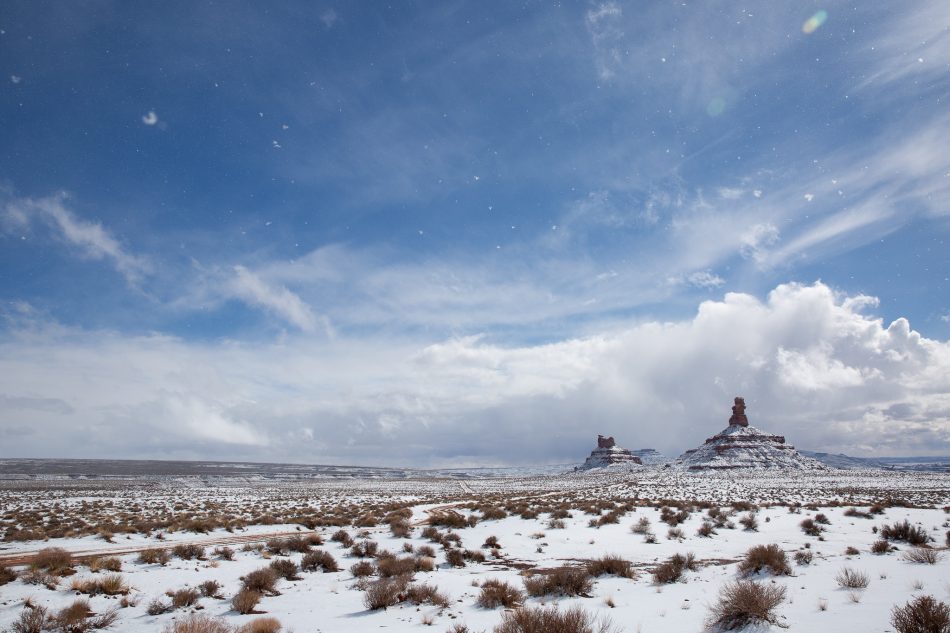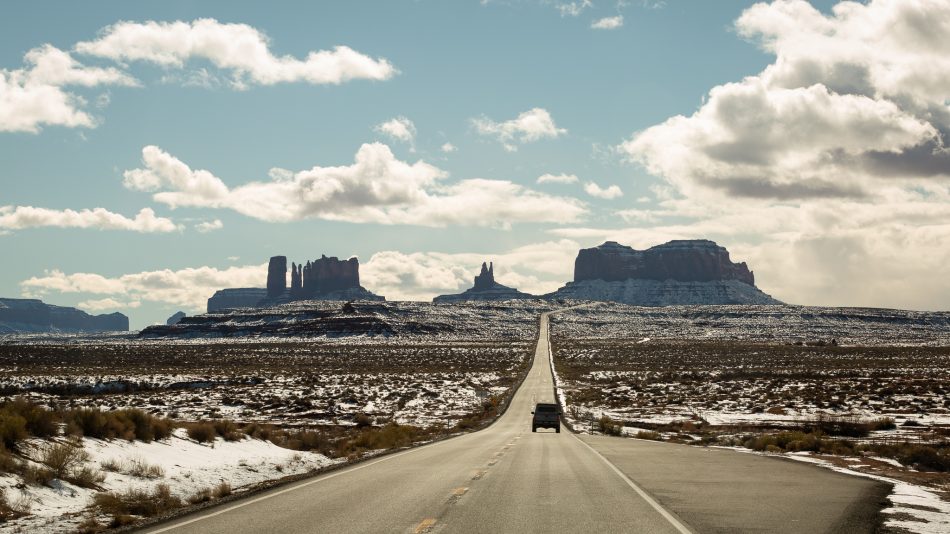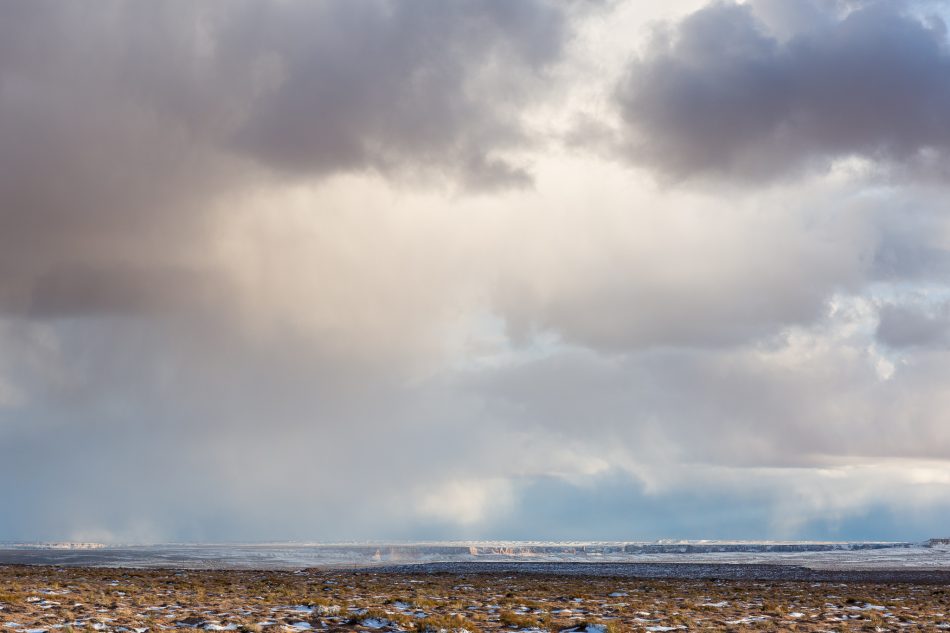 There were severe winter storm warnings out for everywhere from central Utah to south of Flagstaff, but they just skirted by me, and all I saw were a few flakes and some graupel, and the aftermath in the form of cars and trucks in the ditches.