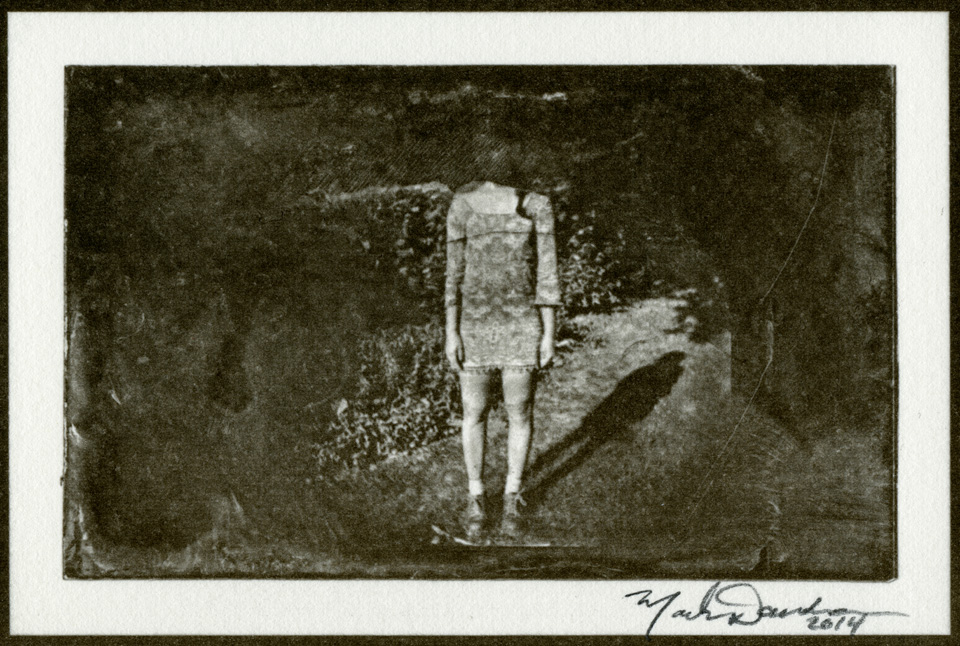 On March 5th the Plastic Camera exhibition opens at the RayKo Photo Center in San Francisco. Ann Jastrab, the director of the gallery there, was the juror. One of my images – one I'm calling, for various reasons, "Headless Anny" – was selected for inclusion.
Headless Anny was the third wet plate image I made with a Holga plastic camera, and the first (so far only) glass negative. So it was either a very good start, or beginner's luck. Normally the Holga (the standard Holga I was using) makes square images, but for some reason I chose to leave the glass plate a larger rectangle – more to hold on to while loading in the back of the camera, I guess.
I love using Holgas for wetplate for many of the same reasons I like Holgas in general: less technical stuff to obsess about, more image making fun to have. I just cut the plate to size and prepare it like any other wet plate substrate, then load it directly into the back of the Holga. No focusing to speak of, no aperture selection, and shutter speed is just like any other wet plate image.
As it turns out the slightly-springy plastic back of the camera holds aluminum plates in place nicely. The glass, however, was too thick to allow the back to close, so I had to load it and hold it closed with my hands while I went outside, mounted the camera on the tripod, held the shutter open for about 3 seconds, remove the camera from the tripod, and come back inside.
Apparently the case didn't leak too much, and I managed to hold it tight! I also didn't clean the glass "properly" with rottenstone and whiting and such – I just hit it with some Windex and a coffee filter. The collodion did peel a little, and you can see some of the bad cleaning, but it was fun, easy, and Holga-level "correct".
I didn't want to send off – and potentially sell – the glass negative, so I had to figure out a way to make a print. Inkjet prints were acceptable – the competition was about the method of taking (plastic camera) not the print – but why "hit print" when I could spend some time in the dimroom? So I scanned the glass neg, created a digital negative, and made the final print as a ziatype (a palladium-based printing process). As a result, "Headless Anny" is a ziatype print of a glass negative (via digital intermediate negative) from a $30 Holga plastic camera.
Lenscratch did a writeup on the show. And if you're in the San Fran area in the next month – or Wednesday for the opening – stop in and see the show!
Update: Mom says I should mention my first ever plastic camera, so here you go, courtesy of my Dad, 1975: