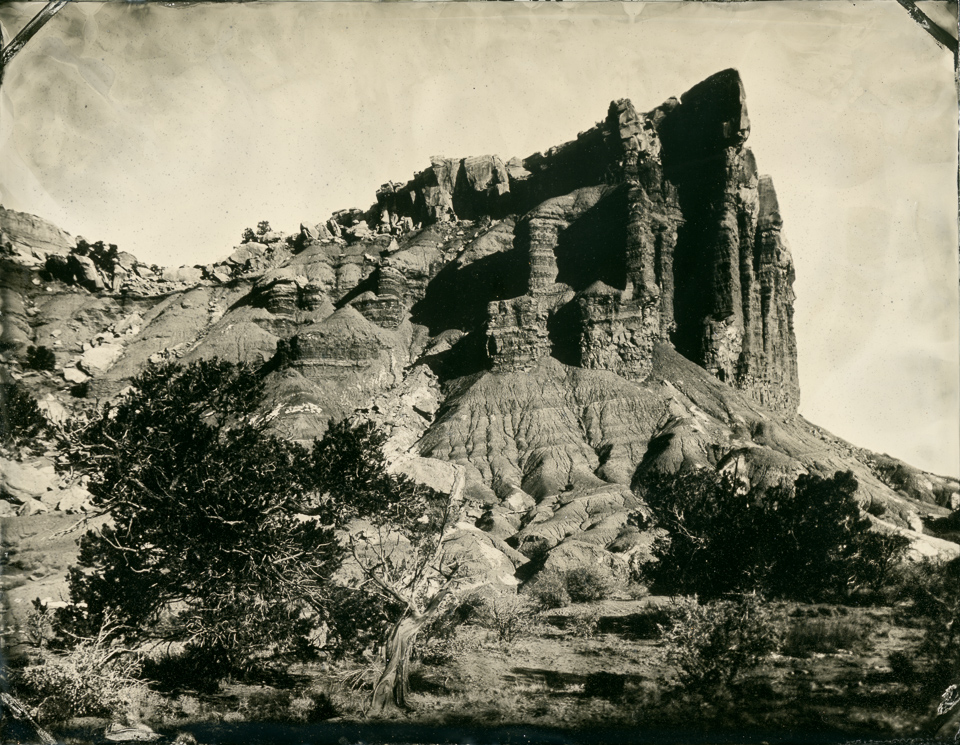 The latest trip in my quest to photograph The West in tintype, as it might have been done as the region was first photographed in the mid-1800s, took me on a loop through southern Utah at the end of November. Wrong time of year to make tintypes in southern Utah, pretty much. (It could be that I am turning into a wimp as I get older, but in my defense, I had plates that, after rinsing, would freeze instead of drying, so it's not just me.)
Setting off: Tempe to Mexican Hat
I started off from Tempe on November 21st, and it was about noon before I bought and stowed the last of my provisions, gassed up, and headed north on I-17. The sky already looked ominous even in the usually-sunny Phoenix valley, and I raced ahead of a winter storm out of Flagstaff. I emerged from under the black clouds just past the San Francisco Peaks, and enjoyed a few hours of brilliant sun and crystalline air as I headed up through Navajo Nation towards Mexican Hat, Utah.
At some point the cold rain set in again, and I finally gave up and swapped bare feet in sandals for wool socks and normal shoes. I also decided, rather than setting up a tent in the dark and driving rain / sleet in an unmarked campsite somewhere on BLM land, to try out the San Juan Inn, situated on a sliver of land between a cliff and the San Juan River.
The Moki Dugway and Muley Point, Utah
The next morning I made my way up the Moki Dugway and out to Muley Point. The roads had dried enough already that I didn't have any trouble even with my low-slung Ford Focus, and the views from the Point were stunning. I decided to camp there, and try to squeeze in some tintypes before dark. The photographs didn't really work out, for a variety of reasons, but camping on the edge of a mesa overlooking Monument Valley more than made up for it.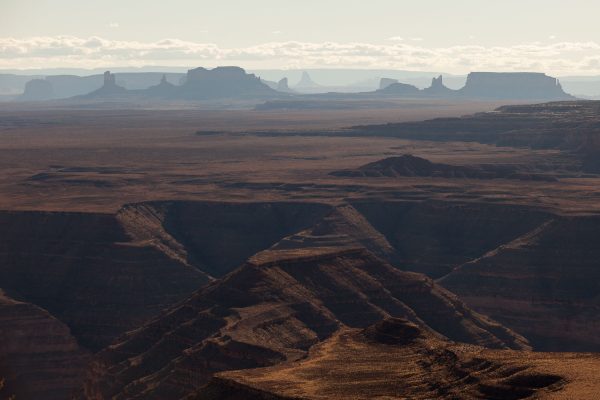 I got up in the morning to a layer of ice on both sides of the rain fly. The lowest temperature I observed was in the low 20s, but I think it got down into the teens–and windy–overnight.
Made coffee while I was waiting on my tent and me to defrost. While I was pacing around hunched over my mug, apparently looking pathetic, a pickup truck with a camper pulled up to the overlook and a couple of guys got out to see the view. They started to pull away, then stopped again, got out, and said "we decided to fix some breakfast. When we get it done you can come in and eat and warm up – you look miserable."
Those were some darn good scrambled eggs – the dad stirred in some green chilies and some grated cheese – and we had a wonderful time talking about Utah, camping, photography, pickup truck campers (I want a truck) and just generally making new friends. Random surprise food from strangers makes for some of the tastiest food sometimes.
As for the night's sleep in my sleeping bag rated for 20F, I'll let my breakfast host explain it: "Those ratings are bullshit. It just means at 20F you won't die of hypothermia, you'll just wish you had."
Glen Canyon
From Muley Point I made my way down into the Glen Canyon area and made some tintypes around Hite, Utah. I had scouted the area a bit on an earlier trip, and wanted to make some images that showed the different layers of amazing landscape that you see as you drive into the canyon, from river to canyon to buttes and mesas to towering snow-capped mountains in the background.
I had some technical issues that wasted part of the day, so I didn't get to do as much in the Glen Canyon area as I had hoped. Decided to spend the night in Hanksville, Utah, and come back the next day.
I wanted a sweeping view of the buttes and mesas near where the Dirty Devil River joins the Colorado, but I needed to first find a good vantage point to plant the tripod, and second wait for the sun to go further to the west. While I was scouting around I found a few rocks with wonderful erosion features.
I had several things to do in Tempe before I could leave, like celebrate Kari's birthday, so the trade-off was that I would miss Thanksgiving. What I didn't plan very well was that nothing would be open in Hanksville, Utah (population: cow) on Thanksgiving day, and I was down to freeze-dried backpacking food in my car.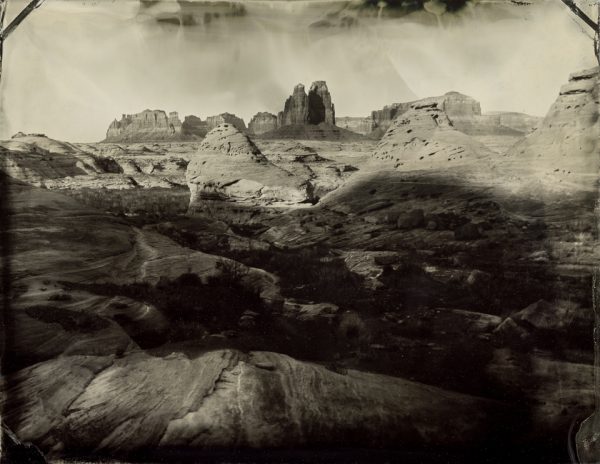 When I got back from the day's work in the field, I saw a sign in the hotel reception that a "Jessica" was delivering full turkey dinners to hotel guests for $10. Heck yeah! A little while later Jessica (and a friend for backup, I assume) showed up with takeout boxes full of awesomeness. (I think I recognized the stuff from a gas-station restaurant next door – I'm guessing that's where they prepared the food.) I grabbed my box of wine and had a very nice Thanksgiving Dinner at the Whispering Sands Motel in Hanksville, Utah. Surprise food from strangers, I'm tellin' ya, good stuff!
Capitol Reef National Park: The Egyptian Temple
From Glen Canyon I headed on over to Capitol Reef National Park. After a quick drive through most of the park I settled on the Egyptian Temple to start the day. For my first shot I wanted to give a sense of the cliff towering over me, with the striations of the Moenkopi formation cake topped by the giant blocks of Shinarump sandstone icing.
After making a few tins at this spot I moved my tripod and tried a different angle…
…and liked it quite a bit better! So I made a few more here, with the luxury of having the tripod mere feet from my car / darkbox.
The Burr Trail, Grand Staircase-Escalante National Monument
After Capitol Reef National Park I looped on around to the southeast to Boulder, then, on the strong advice of my friend Shane, headed out the Burr Trail Road into Grand Staircase-Escalante National Monument. Shane wasn't wrong – this is an amazing drive. I felt like the road kinda has three sections: the Long Canyon, an open vista section, and The Switchbacks, and each part was beautiful in different ways.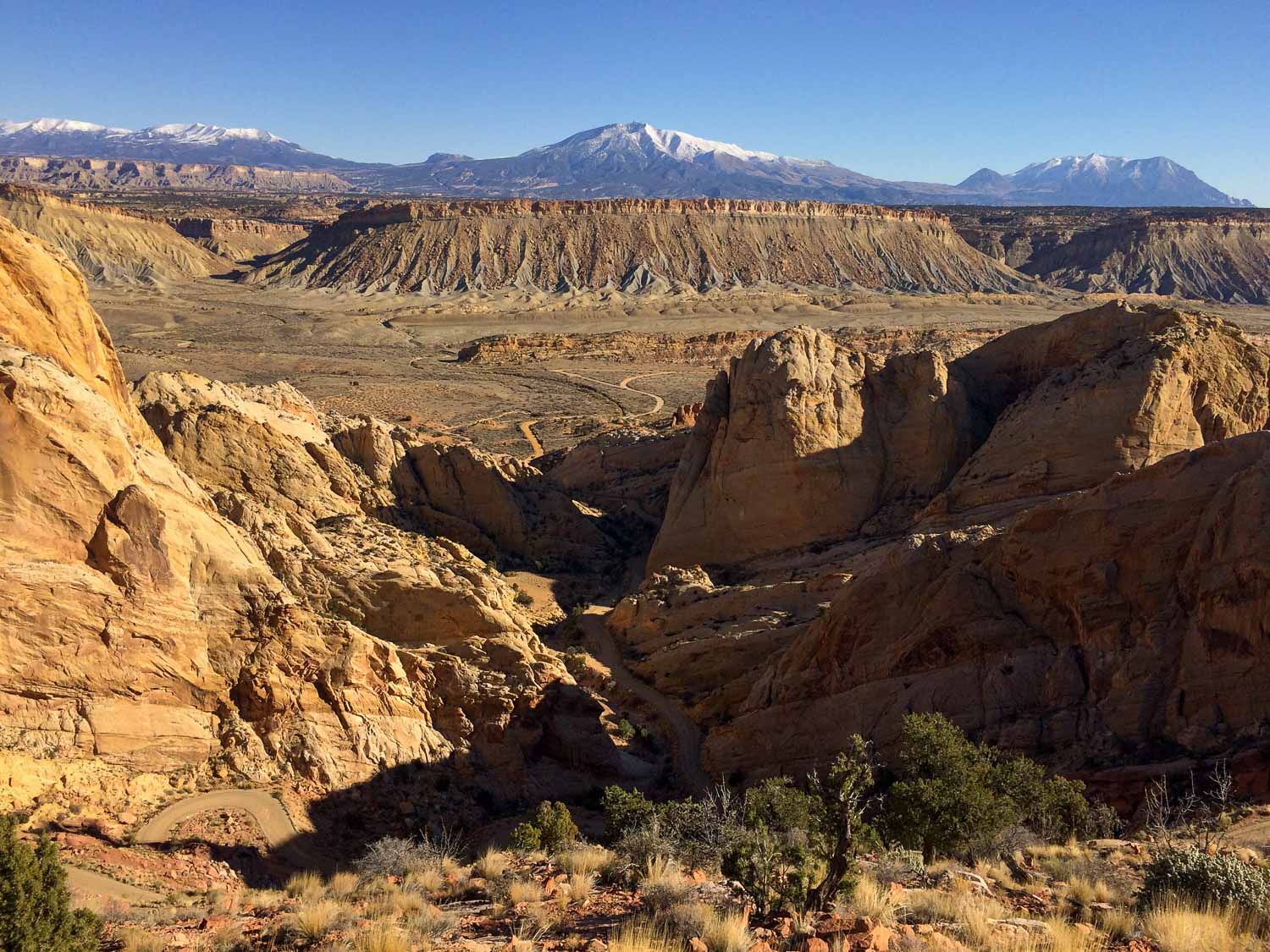 I drove the length of the road down through the Switchbacks, trying to decide on a spot to set up. As with the whole trip, there were too many to do in one lifetime, much less one day. I settled on a spot with gnarled trees, buttes, a rock with a hole in it, and mountains in the distance.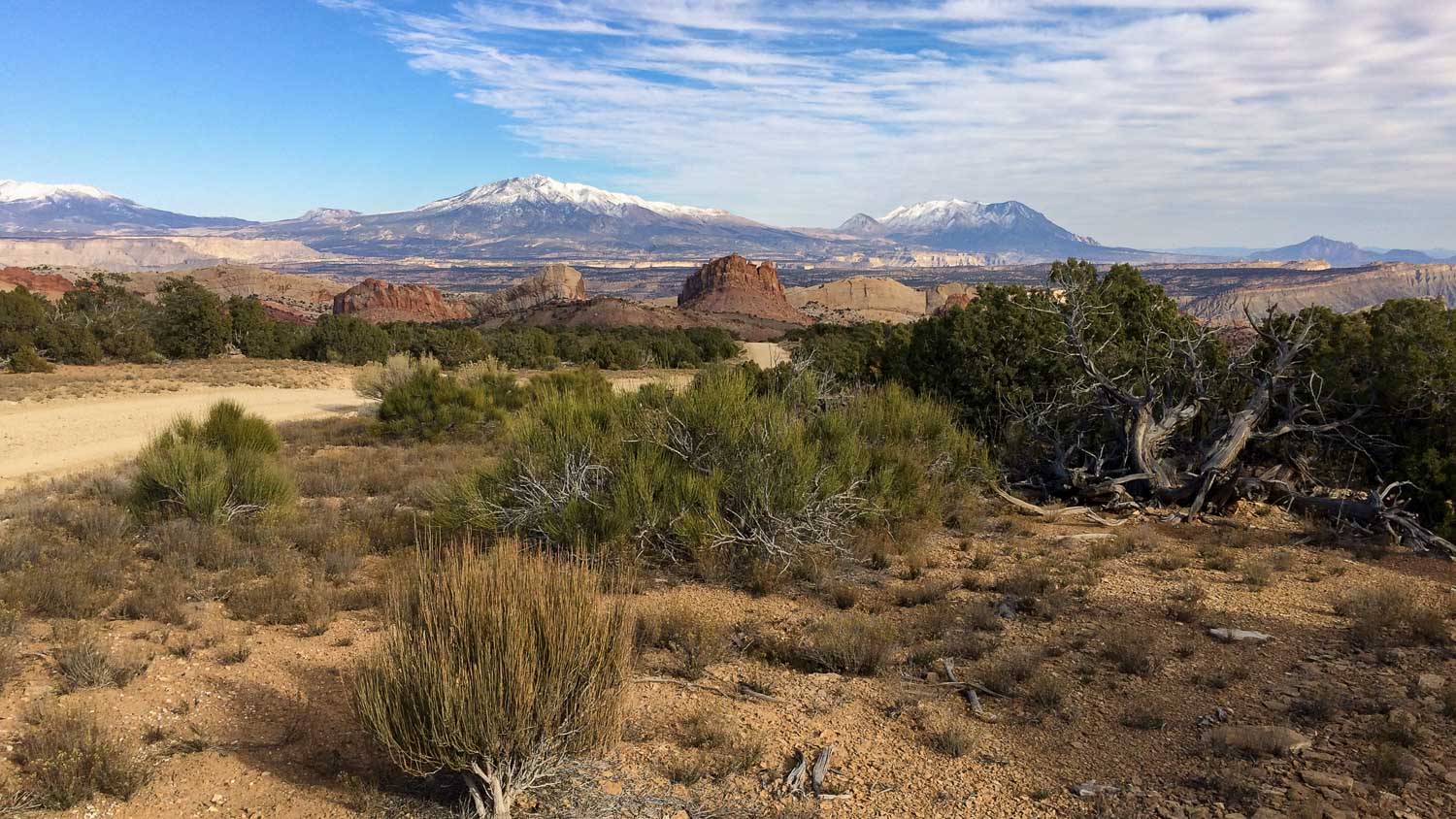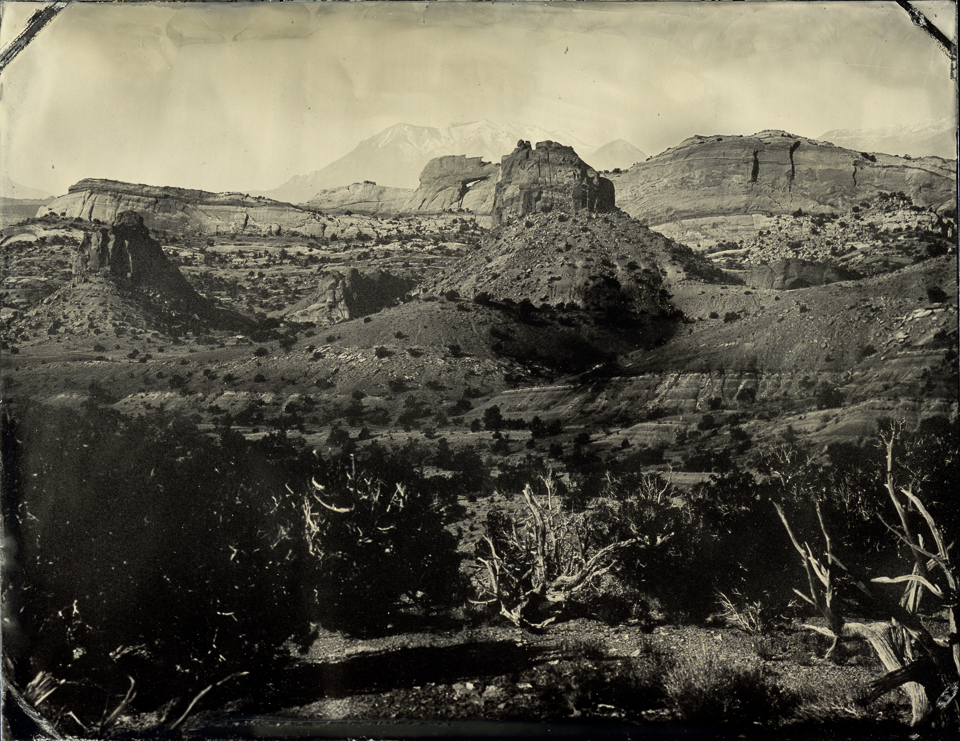 After spending a couple of hours working different compositions at this spot, I went back to a bulging rock / hill I noticed at the beginning of the Burr Trail Road and set up there for a few tintypes before dark.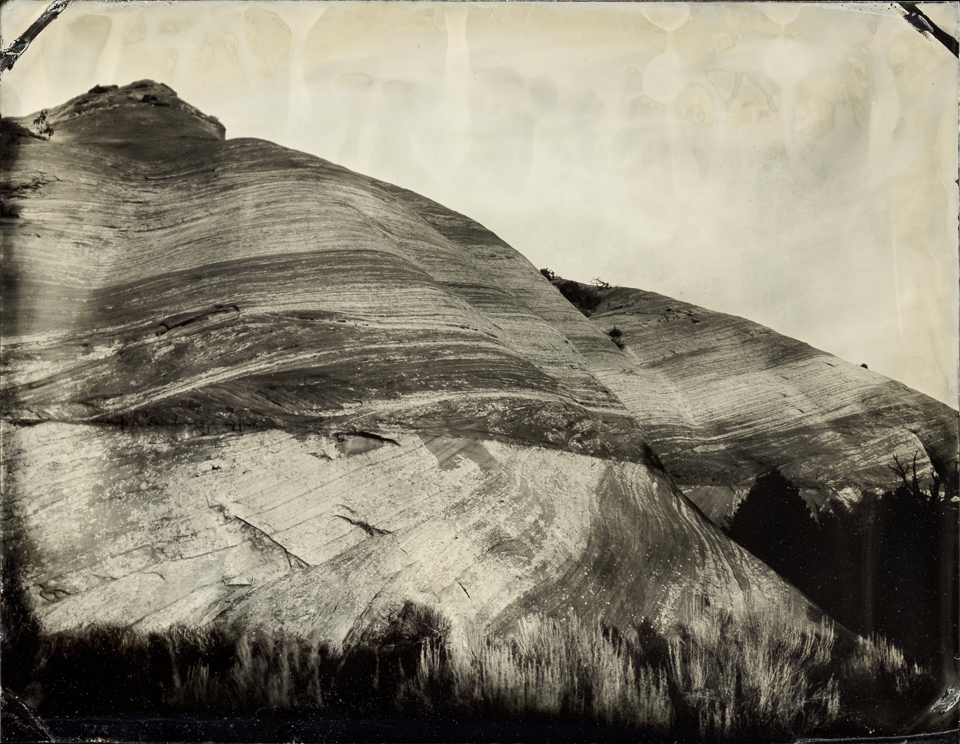 This was another luxury spot, in that my camera was set up only a few yards from my car, so I was able to make a few versions of this photo before I lost the sun to the horizon.
Bryce Canyon National Park
After the Burr Trail Road I drove towards Bryce Canyon National Park. I checked into my hotel late at night and planned an early start. I got to the park just at dawn, having researched which of the overlooks I was going to start at. Turns out the research wasn't necessary: only one overlook's road had been plowed by that time, so that's where I headed.
It was 25F and snowing lightly (or the strong wind was blowing snow out of the trees, not entirely sure which) and there were several inches of snow on the ground. I was bundled up just fine, including my new winter boots that are supposed to be good down to -40F, and I was toasty. Unfortunately the spires of Bryce Canyon, while beautiful in the snow and fog and clouds, got lost on the tintype plate, and I didn't get any images that I like. (In hindsight I should have switched to a longer lens, maybe, such as in the digital photo below.)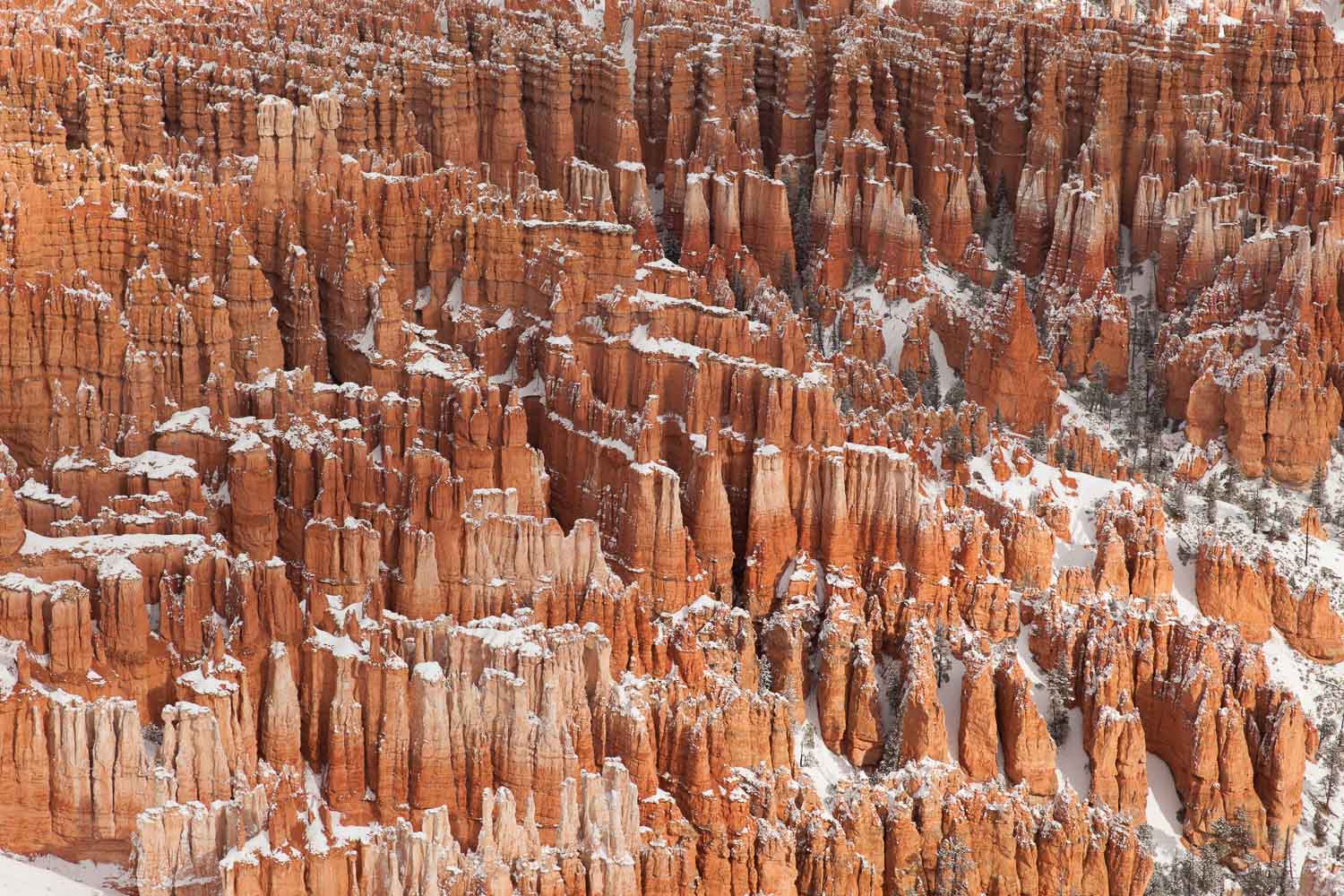 And I only made two tins. Despite being early morning, the sky was getting darker rather than brighter, and my phone's weather app kept buzzing at me that a Winter Storm was coming, with the threat of 18-30 inches of snow at higher (i.e., my) elevation.
Zion National Park
I am still not sure if decisions like the one I made are some sort of weird wisdom that comes with my advancing age, or if I wimped out, but either way I decided to "retreat" to the lower and "warmer" climes of Zion National Park. The main canyon and western end of the park would be well below the worst of the weather, and I made it through without any problem.
The mountains of Zion were, however, clouded and fogged in, and I spent most of my time to start with scouting locations for when / if the weather cleared. The weird thing about this trip was that what I was seeing was visually stunning. Beautiful clouds, atmospheric fog, mountains lost in the mist…but so far none of that rendered in my tintypes. I've got lots of location notes for next time!
It was, technically, warmer here at Zion than it had been up on the edge of Bryce Canyon: around 33-34F versus the earlier 25F. But the damp fog / rain / sleet made for a bone-chilling day.
Instead of trying to force some tintypes from the fog I decided to do some more traditional park activities, and went for a short hike on the Canyon Overlook Trail.
One of the most popular views in the park is from a bridge over the Virgin River, looking downstream towards the Watchman. The bridge doesn't have a sidewalk, though (what were they thinking?!) and so making any photo there is dicey; leaving a tripod and camera set up while I prepare the plate would be out of the question. By asking at the Visitor Center and quizzing a few local photographers I found another bridge that was near enough to a small pullout that I could make it work. Still had to run like a madman down a short muddy trail, but it worked.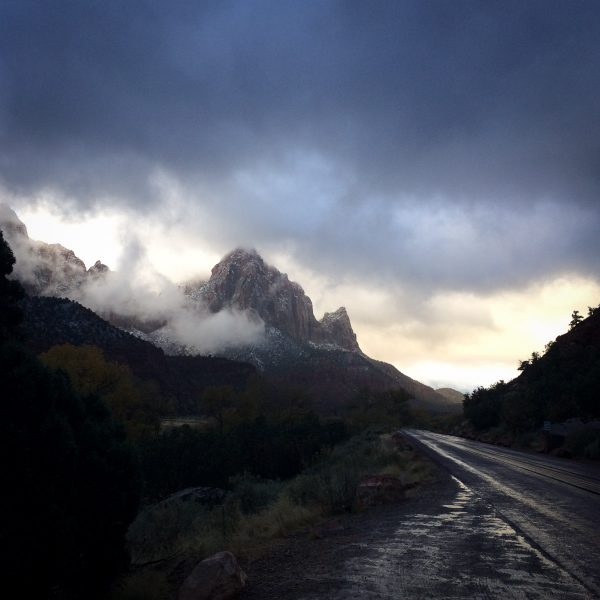 The clouds, though, did not. I kept waiting and waiting for the peak to clear and the sun to shine in from the west. I checked the radar on my phone (yay technology!) and saw that the clouds would pass at 4:30pm…and sunset was something like 5:07pm. Time for maybe two tins. But while the clouds did mostly clear, they moved towards the Sun, and it never managed to peek out from beneath them. Next time!
I got back into the park earlier the next morning to try one more location before I headed home. The skies were clear and I had a good spot not too far from a safe parking area. Took me (and the rising sun) a while to balance out the dark valley with the brilliant rocky peaks, but I got a few tins that are alright.
My darkbox was in that valley, still in shadow, and it was pretty cold. I checked on my first plates that were in the rack and saw that the rinse water was freezing instead of drying. At first I thought this looked really cool (see the photo above), but after I put them in the sun and they did indeed dry, I realized that the freezing action marred the surface of the collodion. Fortunately I discovered this with the first plates, which were mostly test exposures, and no real damage was done.
Zion is another one of these places where I fear for my front teeth – I spend the entire time driving around hunched over the steering wheel so I can see straight up to the mountains towering above. One good bump and I'd eat the steering wheel.
I don't know what was wrong with me (and no, I'm not soliciting suggestions) the last two times I was at Zion National Park, but I was not at all impressed. Must have been…2002 and 2008. Maybe I was still in my "if it isn't a giant mountain it isn't interesting" phase. Maybe I was just an idiot. Anyhow, Zion is amazing. I was so wrong before. Glad I gave it a third chance!
Grand Canyon National Park and the Road Home
After reluctantly leaving Zion I basically hightailed it south towards home. Made it to the shores of Lake Powell where I pitched my tent in the sand a few yards from the water. After that miserable night on Muley Point I had been staying in hotels, which was not at all what I had intended for a budget. It was good to be back in a tent on a free site…and the night was again frigid and miserable. I need a warmer sleeping bag!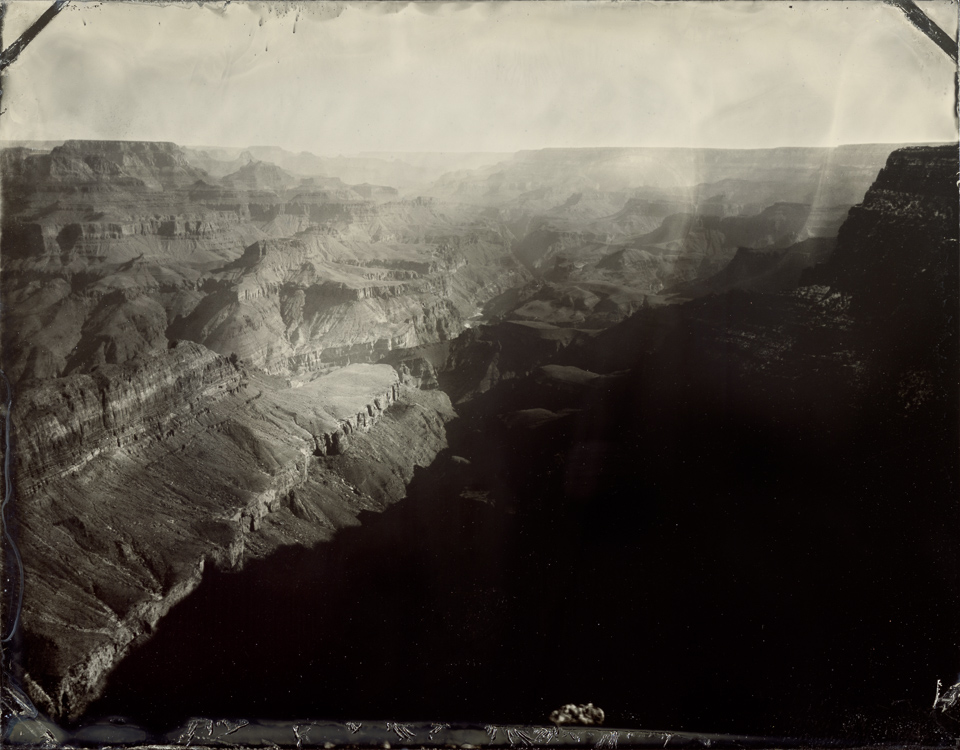 The next day I popped into Grand Canyon National Park and stopped back at Lipan Point, one of the spots that is easy to access with my car/darkbox. This time I had better luck than before, since my darkbox is properly dark, and I made a few tintypes of the canyon before hitting the road to Tempe.
While I was there a California condor decided to check out what was going on, but he didn't sit still long enough for a tintype. Not only did the condor not land, I'm not sure it ever even flapped its wings. Just soared around on the currents. It made several passes right over our heads and we could clearly hear the air passing through its wing feathers.
All in all it was a good trip. I mean, any road trip in this area of the country would have to be. Since I was staying mostly in hotels I spent far more than planned, and the cold – and short – winter days created some anxiety about making enough work to make the trip worthwhile. But I have a few tins to show for it, lots of location notes for the next excursion (in warmer weather), and fun experiences from amazing places!