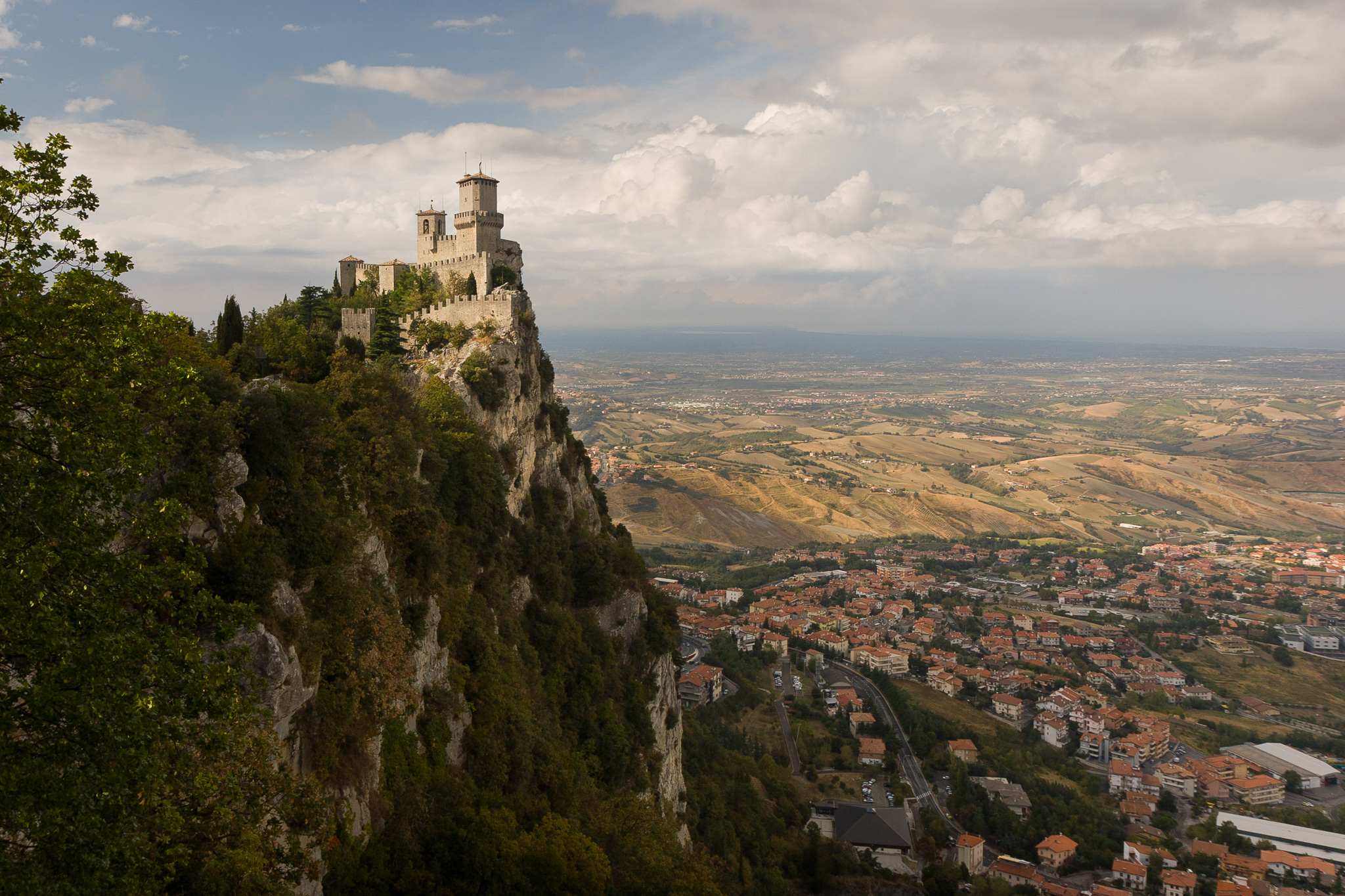 The hotel has a very friendly front desk manager and a perfectly good WiFi network, but for some inexplicable reason they would rather hand me their laptop to use than to give me access to the WiFi network. Needless to say, their laptop leaves much to be desired, not the least of which is that the operating system, all applications, and the keyboard are in Italian. So I'm typing this up in my room on my laptop, in the hopes that I can post it some day.
But that doesn't help me with my next problem: I don't know where I'm going tomorrow, or how. I had planned on planning from the hotel, but lacking a guidebook for Italy or an internet connection, that's kind of difficult. How would I have done it before the internet? Well, I'd have had a guidebook for Italy (which costs as much as a decent meal with wine) and would have wasted a lot of time trying to figure out train schedules at the station or discussing ferry schedules with tourist information people who don't know the ferry schedules.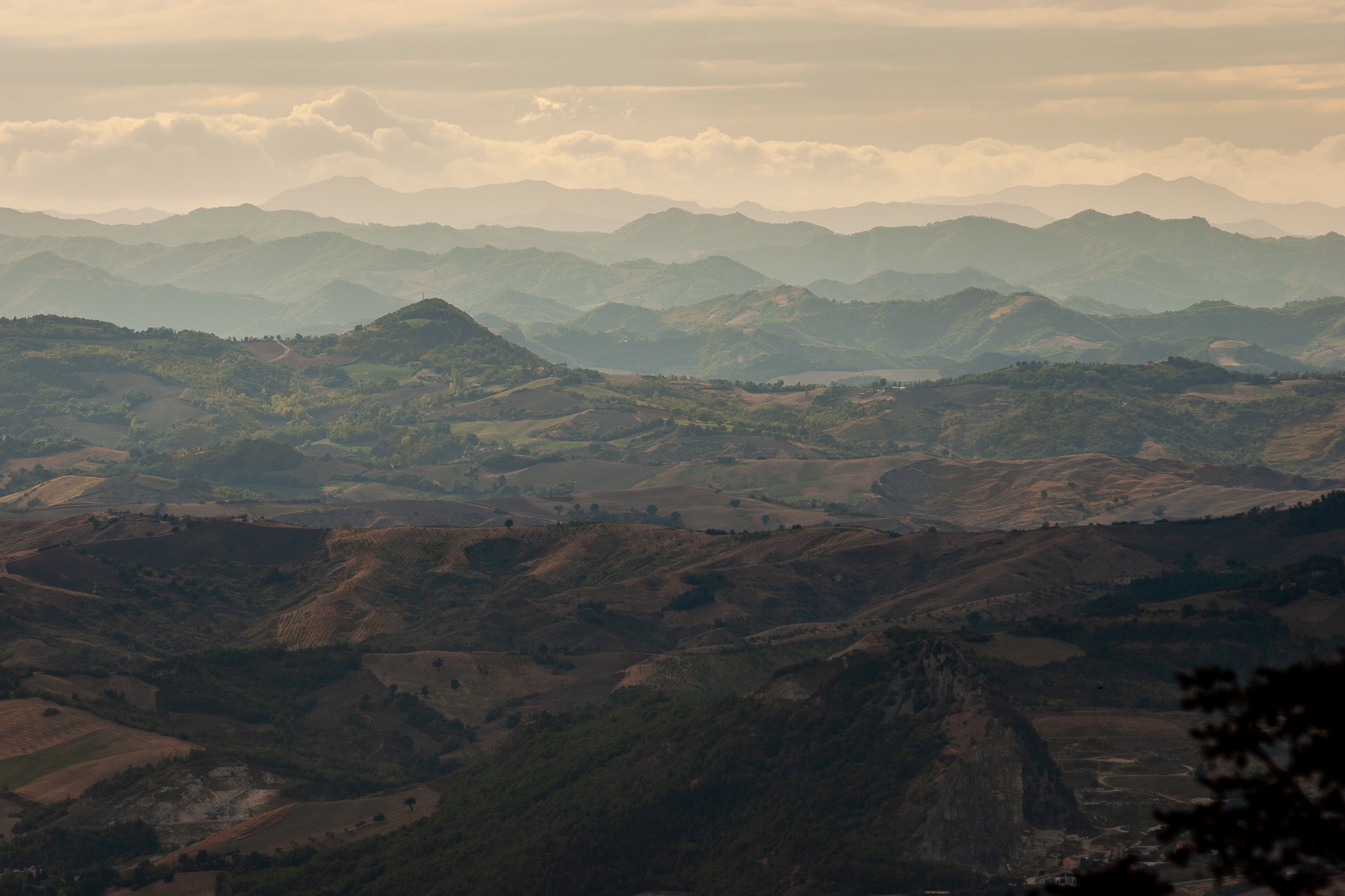 And those people at train stations typically don't care so much about my budget, and here in Italy, for example, the train you take can make up to 100% difference in price: I took a train from Bologna to Rimini that took 1:25 hours, cost 7.80 euros. An express train would have been 30 min faster, but cost 14.30 euros. That's the cost of a decent bottle of wine around these parts: I'd rather drink that than get to Rimini 30 minutes faster: it's not that exciting anyhow.
But my main problem isn't really cost, it's time and information: there is so much out there on the internet that I should sacrifice some time to go through it and make the best decision I can. And as for guidebooks, these days they frequently abbreviate the info and say "for more info see www…"
I knew what it would be like, but still, from the comfort of home and an ADSL or cable internet connection it's easy to forget what a pain in the ass it is to use an internet cafe's disgusting computers with tiny monitors and grungy weird-layout keyboards and slow connections shared with 20 computers (and some geeky local playing WoW on one of them hogging bandwidth).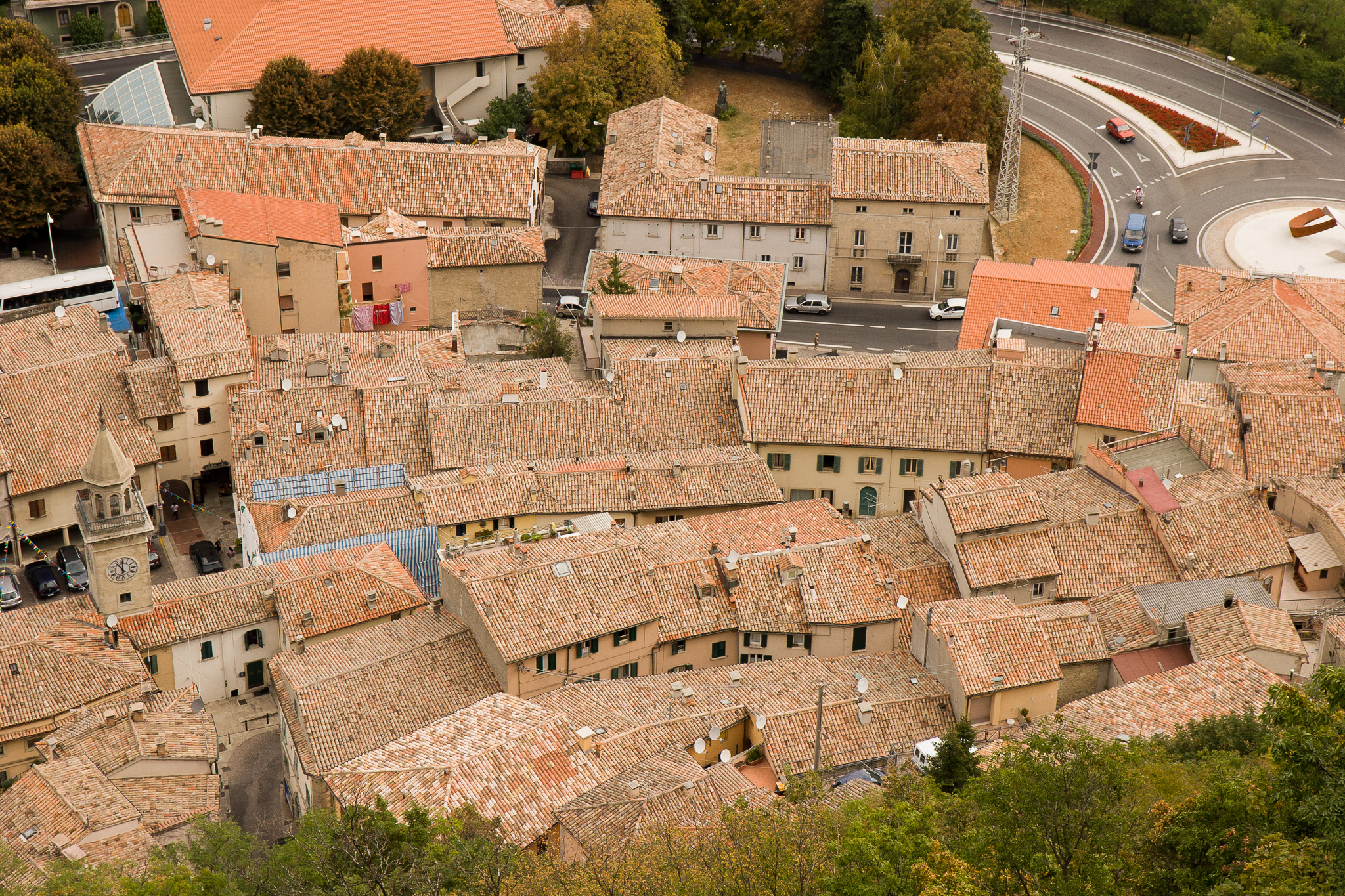 Anyhow, enough whining about that, because there are (mildly) more exciting things to report, like visiting a new country, the Most Serene Republic of San Marino. Whoop whoop.
It's…well, not completely overrun by cheap crap and tax-free non-crap. And if I tried real hard I could get angles without throngs of tourists (or thongs of tourists, given how the prevailing Russian tourists dress). It helped that a few rain showers came through, which conveniently washed away the poor tourists who were in danger of melting. My pack's raincover and my raincoat did just fine, and were rewarded with freshly washed scenes and a rainbow over the countryside when the sun came back out.
Had a Sammarese beer (not sure how to spell Sammarese, the adjective for something from San Marino, but lacking a %!@#$ internet connection I can't google it) and was not impressed, despite its credentials as a carefully crafted microbrew. My ravioli with tomatoes and rucola was also not inspiring, but my piadina with prosciutto crudo and formaggi was tasty, and the Hacker-Pschorr beer I guiltily ordered next washed it down nicely. (The waiter asked if I didn't like the San Marino beer, but since it only came in 1/2L bottles and I could get a .2L tap beer I diplomatically said "it's just too big".)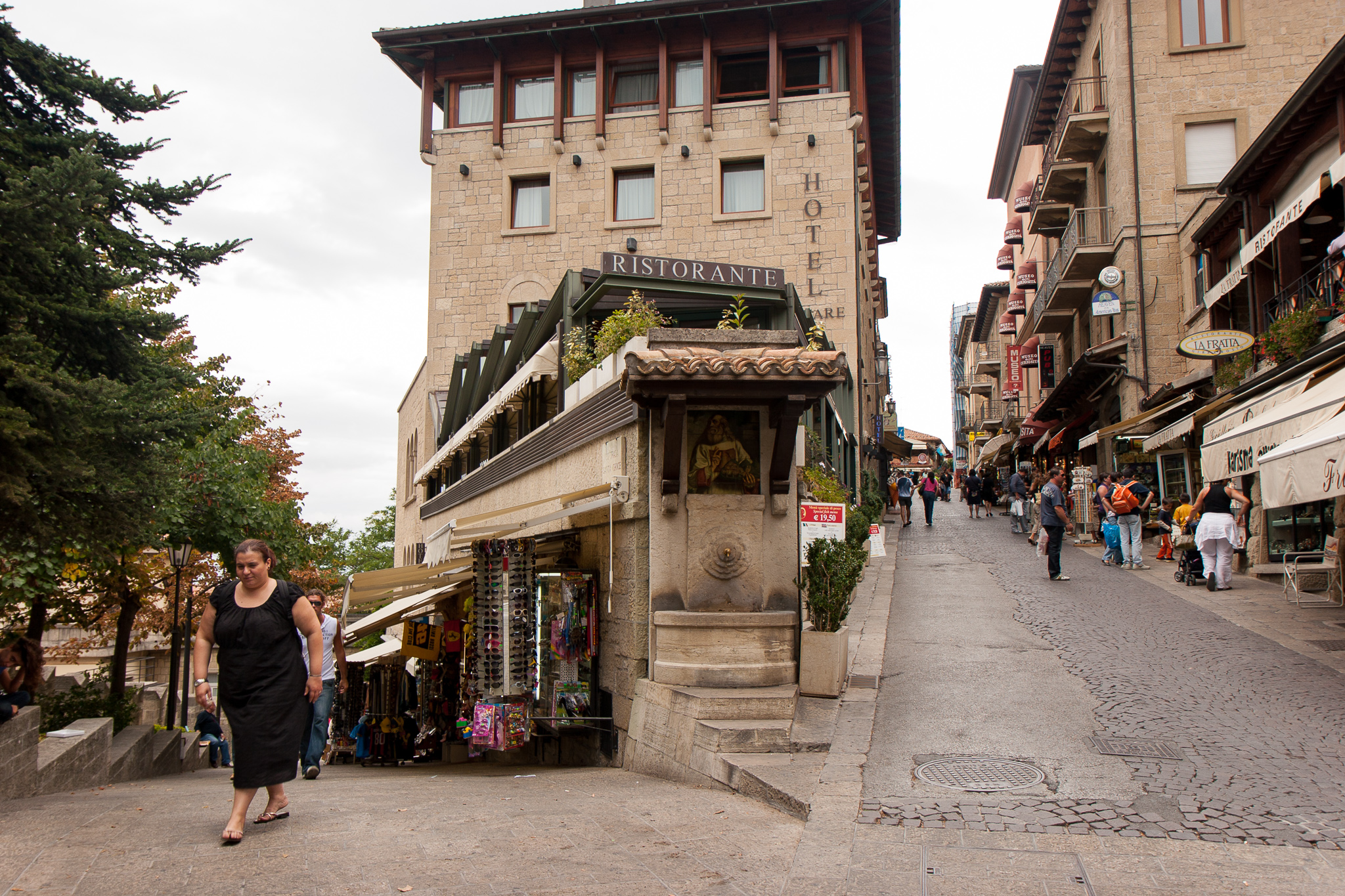 My room has A/C, which I am also guiltily enjoying. It also has a TV, which appears to only have Italian channels (fair enough, although CNN or the Beeb would be nice) but the shows and movies are dubbed, so I could enjoy Walker: Texas Ranger in Italian, or watch scantily-clad women compete for something on a cheesy Italian talk show. Hmm.
This morning when the bus came to Rimini a bunch of cattle…er, I mean, rude pushy people stampeded and shoved their way onto the normal bus, which quickly filled. I was a tad worried, but neither the driver nor the ticket lady seemed concerned that 20 people still needed a bus, so I hung out and waited to see what would happen. A few minutes later a nice double-decker tour bus pulled up to take the rest of us in spacious comfort. Ha.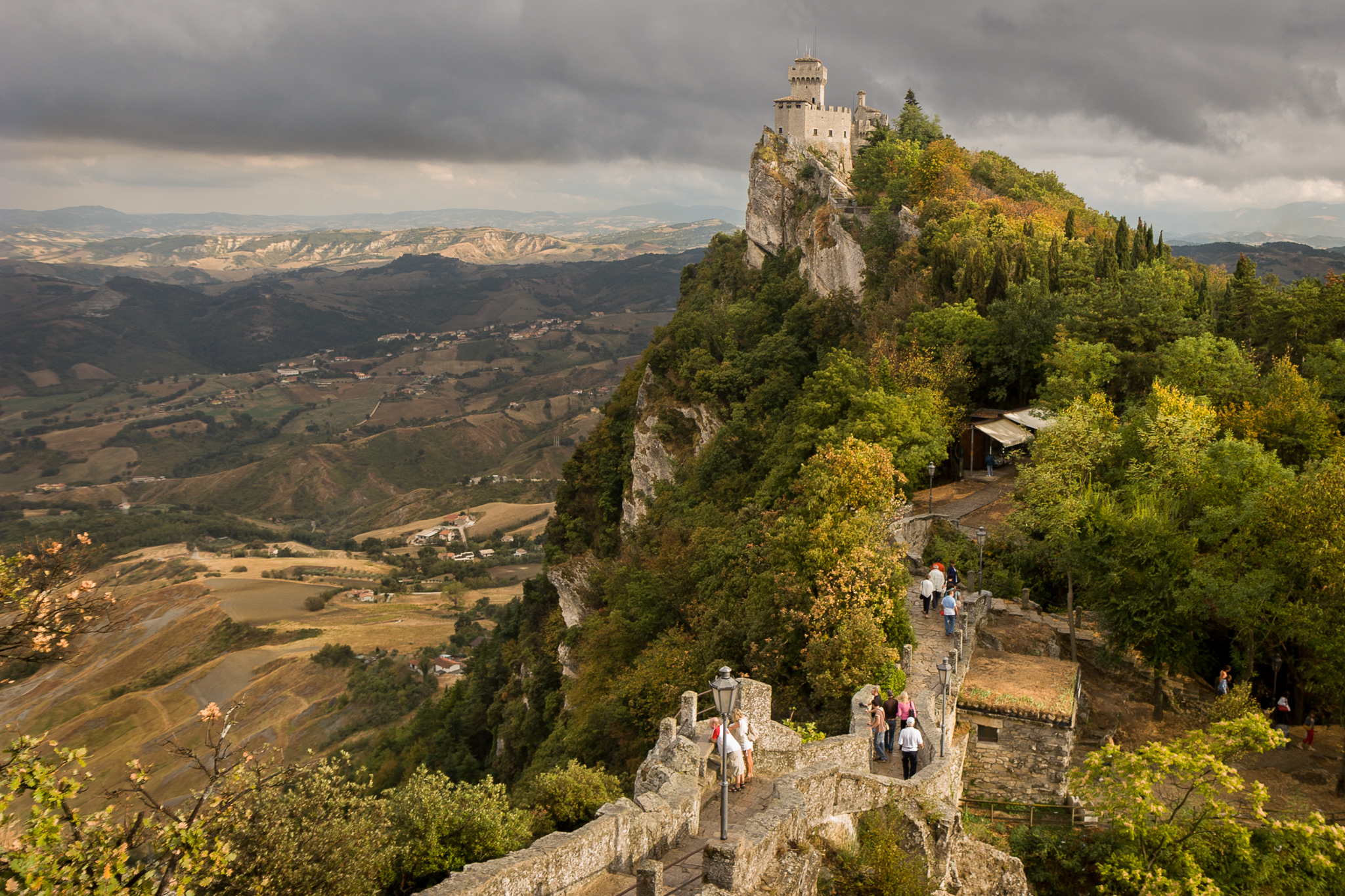 I've carried an umbrella all the way from Amsterdam. Today, the first day I really need it, I'd left it in the hotel room. Maybe that's a sign that I need to ditch it to cut weight. And the 1/4L of single malt, the 10 Clif energy bars (emergency stash…I haven't been in danger of getting hungry, much less starving, on this entire trip)…probably some other junk I could get rid of.
OK, enough of this – I need to figure out where I'm going tomorrow. The cost of living here is too high to get stuck already.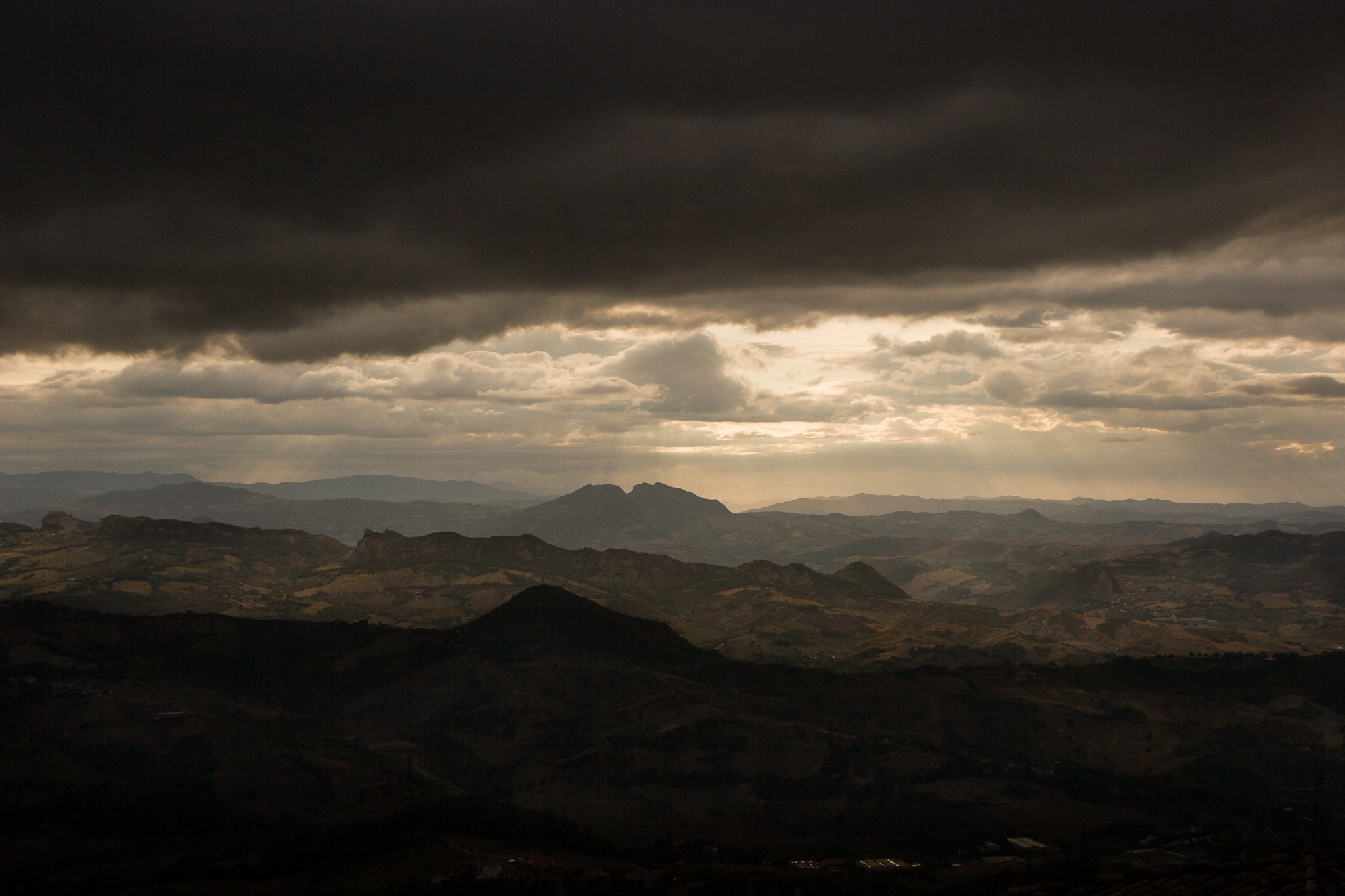 [I actually reposted this in 2015. I've been working on organizing my photos and preparing to teach a Lightroom workshop. As a result I've seen lots of old memories fly by. As an exercise to go through the Lightroom workflow I decided to revisit a few trips or events, such as the day I spent in San Marino back in 2008.]
An interesting side-effect of this exercise has been the opportunity to see how I process photos differently than I did nearly seven years ago when these photographs were made. (Also how much better the 2015 camera RAW processing is today versus 2008.)
These photos were also pre-grad school, back in the era when I mostly waited for people to walk out of the frame. In general was there to photograph Gothic buildings and foreign landscapes and such, plus I was too shy to photograph people even if I wanted to. The things (people) I find interesting, as well as my composition more broadly, are quite a bit different today.