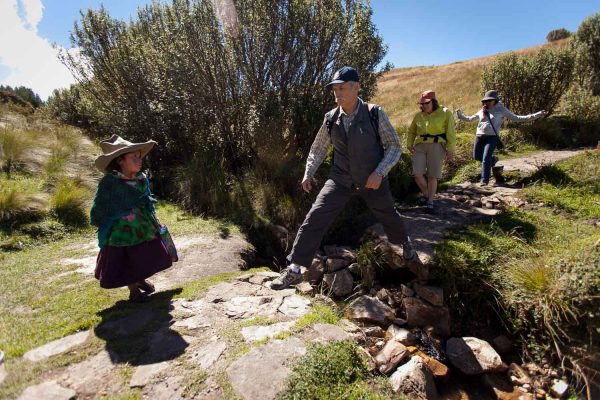 Start location:
Cajamarca, Peru
Other location:
Cumbe Mayo, Peru
Min altitude:
8750 ft
Max altitude:
11,550 ft.
Today got off to a rough start, but it was all my own fault. A late night in Usha Usha, after a rich meal with wine and Pisco does not make for a happy day of hiking at nearly 12,000ft. Still, it's hard to be miserable in surroundings like what we saw today at Cumbe Mayo, and the people in our group are just so positive and happy that it really makes living with a head cold, hangover, altitude, and everything much more bearable. Took me a while to convince the docs that I was suffering from very identifiable causes, and that diamox (altitude sickness pills) weren't going to help much.  ;-)
I was worried, also, that the dulcolax would hit me at some random and very inopportune moment in the mountains. I woke up feeling fine, from that perspective, so I didn't have a clue when it would take effect. I needn't have worried – for about two minutes my stomach felt like it was going to explode, I dashed to the hotel's toilet (Mat was showering in ours) and within 5 minutes it was all over and I felt like a new man. Neat stuff.
David: "We're each having one and a half leches", on ordering the classic dessert Tres Leches to share with somebody.
At some point during our walk around Cumbe Mayo we came across a large round stone used for ancient sacrifices, complete with a channel to allow the blood to run off into an aqueduct (eww). I needed a human to give the thing some scale and relevance, so of course we sacrificed Shah.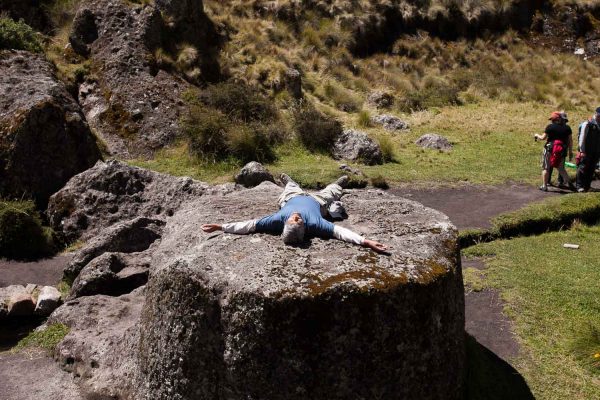 Once he found out my watch had an altimeter on it our guide made a point of asking me what the altitude was at the starting point of the ancient Inca aqueduct. He was a little miffed when, 4 kilometers further "downstream" my altimeter read that the water had flowed about 5 meters uphill. (He didn't quite understand when I explained that my watch was only accurate to within a football field, give or take.)
Beth: "Can azythromycin be taken on an empty stomach?"
Shah, our team's expert pharmacist: "…@#!$…whatever."
After we got back to Cajamarca we had some free time to explore and check out the souvenir situation. I don't have too many notes from today – breathing was about all I could muster for most of it.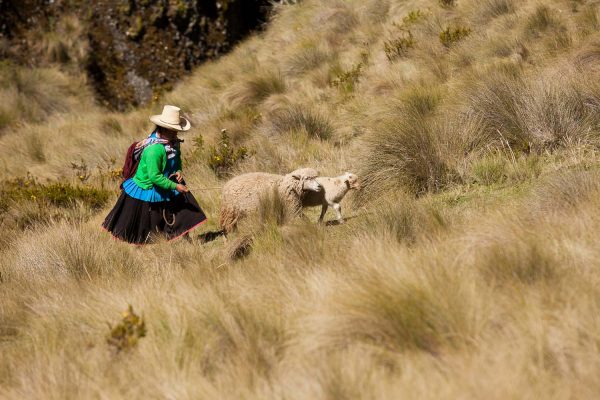 Since it is a slow news day, I'll briefly explain the process I go through to write one of these entries. Hopefully this will also help explain why it doesn't always get done while I'm still traveling.
Download photos from cameras. This is usually anywhere between 2GB and 8GB or more. Takes some time, especially since I need to concentrate and make sure I don't delete anything. It should take even more time, since I should make backups every time, but, um… well…
Replace memory cards in the cameras, format, and charge batteries if necessary.
Edit RAW image files in Photoshop. This is both a technical and artistic step that usually takes between 2-5 minutes per photo, sometimes less, frequently more. I also add copyright and caption information to every photo at this stage.
Batch process the large images into smaller web-friendly copies.
Create online photo album on my photo website. At this point I add a little bit of text to explain the album, make sure the dates are correct, etc. Since my website operates very slowly (I need to yell at my web host about that) this is a tedious process.
Upload all of the small photos to this new album.
Create a new post in my blogging software (WordPress). I use a template which I created, so that helps streamline the process, but it also is time consuming since I force myself to include a map (very slow application) and some basic statistics about altitude, temperature, etc. Creating the map, in particular, takes several minutes. (And all of the online stuff is slow to start with – add in a crappy third-world internet connection and it is usually a hair pulling experience.)
Write some blah blah blah about the day.
Insert photos from the online album. Again, the software is very slow in doing this. Sometimes so slow that the web page times out and it is impossible. Any techies out there want to help me with this?
Format the post, make changes to the photo layout and format, proofread, publish. Obsess about every detail and make a few rewrites.
Since the whole point of the online journal is to wrap words around the images, it is essential that the photos are processed before I post an entry on the journal. Since there are so many slow steps to get to that point, I frequently don't have energy or time – especially when traveling on a group's schedule – to get it all done while on the road.