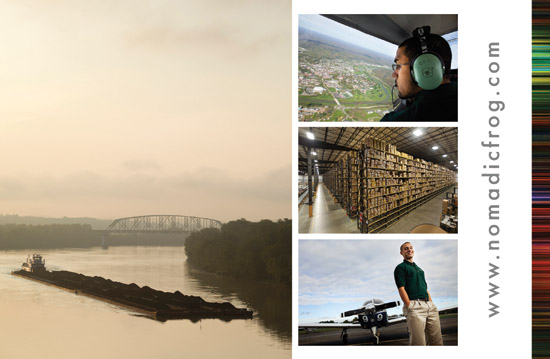 A while back I had lunch with a couple of my profs from grad school. Larry… or maybe it was Gary… suggested I get in touch with industries active in the Marcellus Shale exploration of eastern Ohio, western PA, West Virginia, and southern New York. It's certainly one of the few growth industries in the area. I finally brought some relevant images together, designed a couple of promotional post cards, and started the campaign earlier this week.
It's something of a chicken and egg situation: many times the locations I'd like to be photographing restrict access – and how to get access if I don't have images to show to get hired? Fortunately, primarily as a result of photographing for Rocky Brands and the Russ College of Engineering at Ohio University, I have a stock of images to use that show a variety of situations.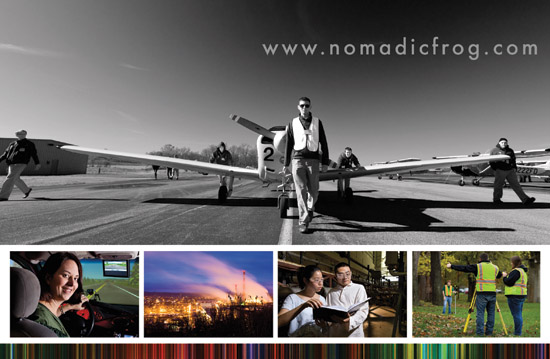 Once I started thinking about those companies I started to expand to other industries as potential clients. A lot of them tend to be global entities, and that means travel. Somebody once told me of a job they had – they spent something like two months flying around the world photographing a company's installations for their annual report. Earned a decent rate and got paid to travel all over the place. Sounds about right to me.
It's been easy to find email addresses for people in "media relations", "external marketing", or similar departments at the companies (no idea if there will be a response, of course), and phone numbers are generally available, but it's surprisingly hard to find snail-mail addresses in some cases, especially for the larger corporations.
With a little bit of luck (or more likely, a lot of emails, phone calls, post cards, etc.) I'll eventually be posting photos of me hanging off the top of a wind turbine on a mountain ridge or SCUBA diving to photograph some installation in the Red Sea. Or driving around the hills of southeastern Ohio some more – works for me.